Dust off your golf clubs—the NEIU Foundation's biggest scholarship fundraiser of the year is coming up! Find out how to sign up for the Chuck Kane Scholarship Golf Event featuring former Chicago Bulls great Bob Love, check out the latest photos of The Nest residence hall and watch the first video in a new series featuring President Sharon Hahs and Provost Richard Helldobler.
Around the Commons
Chuck Kane Scholarship Golf Event
The Northeastern Illinois University Foundation's annual Chuck Kane Scholarship Golf Event will be back at Chevy Chase Country Club on Aug. 8, and the mission is to grow the Kane scholarships by number and size, and to support even more Northeastern students who are doing great things! Former Chicago Bulls great Bob Love will be the celebrity guest and speaker, and Chicago Police Department Commander Marc Buslik (B.A. '88 Criminal Justice) will be the alumni speaker. Sign up now!
Hahs and Helldobler: Week 1
Today marks the first in a weekly series of short video clips featuring Drs. Sharon Hahs and Richard Helldobler. The videos are informal chats between president and interim president that cover a variety of topics, including how the presidency has changed in the past decade, the future of Northeastern and Illinois public universities, and lessons learned from accomplishments and challenges along the way. In this first installment, Interim President Helldobler asks President Hahs about why she accepted the position 10 years ago and what attracted her to Northeastern. She explains that it wasn't just one thing but many things.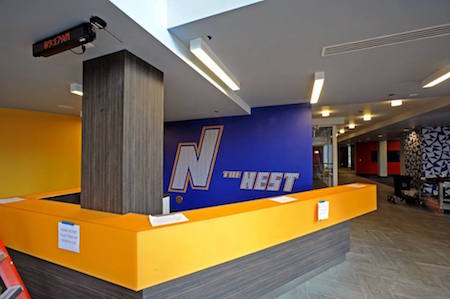 The Nest is coming!
With move-in day only a couple of weeks away, check out the latest photos of The Nest residence hall. Find lots more information on tours, pricing and amenities at neiustudenthousing.com!
And there's more!
Northeastern will host a One Stop Enrollment Express from 10 a.m.-6 p.m. in Alumni Hall on Aug. 11. Departments from across the University will come together to help students prepare for the fall semester.
The Office of Alumni Relations is collecting backpacks for children in need through Aug. 15.
The NEIU Alumni Association is accepting nominations for the 2016 Distinguished Alumnus Award through Aug. 19. The award will be presented at Commencement on Dec. 11, 2016.
In the media
Promoting in Polish
Mathematics Chair Lidia Filus made an appearance on the Polish-language channel Polvision. She spoke about Northeastern's Polish and European Academic Center for Exchange and Research as well as the University's Workshops on Mathematical and Statistical Modeling of Complex Systems. She also talked about the Kosciuszko Foundation, of which she is president of the Chicago chapter.
Bipartisan accolades
Chicago Sun-Times columnist Mark Brown commended a pair of Northeastern alumni among the state legislators who preserved a health insurance program for low-income children, including undocumented kids. Sen. Iris Martinez and Rep. Lisa Hernandez were chief sponsors of the bill to save the Covering All Kids program that was quickly signed by the governor. Brown reported that a group including Archbiship Blase Cupich will celebrate the bill's success in Chicago on Aug. 5.
Also in the media ...
Evanston Now reported that Evanston Fire Chief Greg Klaiber (M.S. '85 Exercise Science - Cardiac Rehabilitation) has been hired as director of emergency management at Northwestern University.
To do
Jazz on a Summer's Evening
The NEIU Jazz Band will perform a summer evening concert on the University Commons. Bring your blankets, lawn chairs and picnic snacks and enjoy an evening of big band jazz music directed by Mayo Tiana. The concert is scheduled for 7 p.m. on Aug. 10.
Chicago Historical Clarinet Workshop
Marie Ross will perform in the Recital Hall on August 8, 9 and 10 at 7:30 p.m. as part of the Chicago Historical Clarinet Workshop sponsored by the Chicago Clarinet Ensemble. Ross is one of the most innovative leaders of the next generation of early music performers. Performing regularly on historical clarinets from the Baroque period through the early 20th Century, Ross is a true specialist of the clarinet.
Mark your calendar!
Thursday Night Live: The Braided Janes, 10 p.m. Aug. 11, Student Lounge
Do you have a story tip? Let the public relations office know!
Mike Hines, Director of Public Relations, m-hines@neiu.edu, (773) 442-4240