November has arrived, and so has the 2017 President's Report. Find out where to read the annual Northeastern Illinois University publication, which student earned a major scholarship with the help of a USDA grant and which faculty members lent their academic expertise to the week's news coverage in this edition of Noteworthy at Northeastern.
Around the Commons
2017 President's Report
The 2017 President's Report is now online! The annual publication includes all of the highlights from the previous year, including inspirational student stories, accreditations, faculty awards, university distinctions, NEIU Foundation fundraising reports and much more.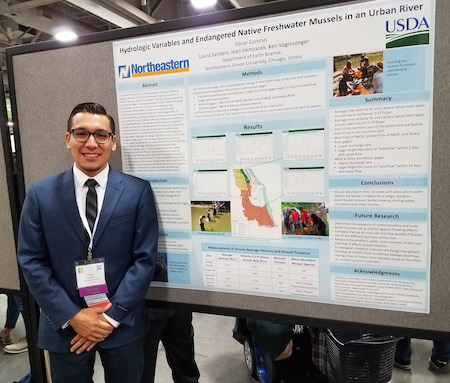 AGUA scholarship
Earth Science major Oscar Coronel has been awarded the USDA-NEIU AGUA Scholarship. Part of the Agriculture and Undergraduate Achievement program, the $25,000 scholarship is funded by a grant to Northeastern from the United States Department of Agriculture. Earth Science faculty members Laura Sanders, Ken Voglesonger and Jean Hemzacek secured the funding to support an Earth Science major. "The AGUA scholarship will allow Oscar to focus on his studies and relieve some of the financial pressure that Northeastern students feel as they balance school, work and family responsibilities," Sanders said. "Oscar was selected because of his strong academic record, his demonstrated research abilities, and his intent to pursue a degree in an agriculture-related field." Oscar spent last summer researching hydrologic factors affecting native mussel species in the North Branch of the Chicago River, and recently presented his findings at the Diversity in STEM Conference in Utah.
Tour of conferences
Linguistics master's student John Cummings presented at three conferences in October, and he was joined by fellow student Erin Marks at the conference in Poland. The presentations were:
And there's more!
In the media
New York attack
Two members of the faculty shared their expertise with the media in the wake of the Oct. 31 terror attack in New York City. Associate Professor of History Mateo Farzaneh was a guest on WBEZ's "Worldview," and Anthropology Professor Russell Zanca spoke with NBC about Uzbekistan, the attack suspect's native country. "To associate Uzbekistan with terrorism is not the way to see the country, because it really represents a tiny fraction of what's going on there," Zanca told NBC.
Also in the media …
To do
Fitness Fest
The Health and Physical Education student organization will host Fitness Fest in the P.E. Complex from 9:30 a.m.-1 p.m. Nov. 4. Fitness Fest will offer classes in yoga, Zumba and high-intensity interval training taught by local instructors. It will also include vendors with promotions, clothing, organic/herbal drinks, food and coffee. The event is free, though donations to the student organization will be accepted. Advance registration is preferred.
Community Conversations
The College of Arts and Sciences continues its new series of conversations on the important and urgent topics of the day with the goal of engaging the scholars and experts of the Northeastern community to discuss and work through the many issues that challenge us, confuse us and move us to think and explore together in collective inquiry and conversation. The third installment features Economics Professor Scott Hegerty and is titled "International Economic Issues in the Age of Trump." The event is scheduled for 6:30 p.m. Nov. 7 in the Golden Eagles Room.
TRIO Learning and Leading Week
TRIO Student Support Services will host TRIO Leading and Learning Week from Nov. 6-10. The week of workshops covers the financial aid process, scholarships, team building and much more. View the complete schedule online. Space is limited, and registration is required.
Political Science Career Day
Illinois Rep. Laura Fine and Voices for Illinois Children President Tasha Green Cruzat will deliver the keynote speeches during Political Science Career Day: Future Forward on Nov. 9. This year's Career Day will focus on experts in immigration policy and law; Illinois state, county and local government; national government; advocacy for the the LGBTQ community in the courts and public policy; globalization; and electoral politics. The event will run from 9:25 a.m. to 9 p.m. in Student Union 214.
Mark your calendar
#FollowFriday
Take in some TRIO
Are you following TRIO Student Support Services on Facebook and Twitter? You should! Follow along to get information on TRIO events such as Learning and Leading Week, as well as info on scholarships, financial planning, communication skills and job searches.
Do you have a story tip? Let the public relations office know!
Mike Hines, Director of Public Relations, m-hines@neiu.edu, (773) 442-4240