Northeastern Illinois University started the week with a visit from a U.S. congressman and ended it with a call for volunteers to assist with President Obama's new immigration plan. What happened in between was pretty great too!
Around the Commons
A congressional visit
U.S. Rep. Mike Quigley visited the main campus on Nov. 17 and delivered a guest lecture to an American National Government class. He told the class that the most vital voters are people their age, and he called on them to invest in their future by making sure they go out and vote every election.
Community support
President Sharon Hahs announced Nov. 16 that the NEIU Foundation had set up a website for students, faculty and staff to donate to help families affected by the recent deadly fire a few blocks from the main campus. The NEIU Foundation provided $2,500 in matching funds, and the link expires Nov. 21.
Well done, Northeastern
Volunteers collected eight boxes of food and clothing donations for children and adults during two Nov. 18 screenings of "The Homestretch" co-sponsored by the Social Work department and the office of Cultural Events. The Chicago-based documentary about youth homelessness attracted about 275 people. The donations will be distributed to La Casa Norte, the Heartland Alliance and the Northeastern Social Work department's "power closet" collection for students in need.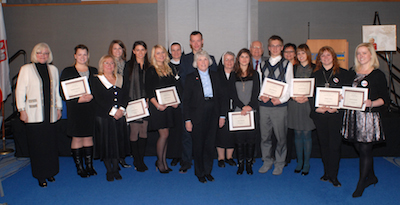 Polish-American awards
Seven Northeastern students were awarded scholarships during the Polish-American Heritage Awards Celebration on Nov. 14 in Alumni Hall. They were: Magdalena Ignaciuk (Council of Educators in Polonia Future Teacher Award), Anna Tacikiewicz (Mr. & Mrs. Shea Award), Joanna Nowacka (LJ Investment Award), Anna Godlewska (Blessed Mother Celine Borzecka, C.R. Award), Karol Dubrawski (Sister M. Edward Gira, C.R. Award), Anett Zlotorzycki (Venessa Przybylo Kolpak Award) and Paulina Cekiera (Marlene Wilczynski-Gill Award).
Immigration action
In response to President Obama's plan for Immigration Administrative Relief, President Sharon Hahs announced on Nov. 21 that Northeastern will join the effort to educate the public, assist with applications for benefits and minimize fraud. If you wish to participate in these efforts, please click here.
And there's more!
Northeastern will not hold classes from Nov. 27-30 for Thanksgiving break.
In anticipation of finals week, the Ronald Williams Library will be open for extended hours from Monday, Dec. 1 through Friday, Dec. 12.
Jennifer Blair of the Nontraditional Degree Programs and Alan Jones of the Career Development Center presented a roundtable at the Council for Adult and Experiential Learning's International Conference on Nov. 12-14 in Chicago. Their talk focused on the use of a narrative approach in academic and career counseling with adult students.
In the media
El Centro goes global
EFE, the Spanish international news agency, sent a TV crew to El Centro's Nov. 10 Behind the Scenes event with the Chicago Architecture Foundation and produced a Spanish-language report on the building and architect Juan Moreno.
Also in the media ...
Crain's Chicago Business ranked the Nov. 21 Jewel Box Series performance by the Modern Mandolin Quartet No. 1 on its list of Top 10 things to do this week.
CBS DC quoted Political Science department chair Jeffrey Hill in a story about Hillary Clinton's challenges if she decides to run for president.
The Chicago Tribune mentioned the Ruth Page Civic Ballet's Dec. 6 and 7 performances of "The Nutcracker" in its holiday entertainment guide.
To do

On the stage
Stage Center Theatre debuted its new production, "Why Torture is Wrong and the People Who Love Them," on Nov. 20. The satirical play runs Nov. 20-22 and Dec. 4-5 at 7:30 p.m. and Dec. 6 at 2 p.m. and 7:30 p.m.
Breaking ground
Northeastern will host a groundbreaking ceremony for the expansion of the Angelina Pedroso Center for Diversity and Intercultural Affairs on Nov. 24. Attendees are encouraged to bring a non-perishable food item to be donated to charity.
Business trade show
About 80 students will present new product ideas and marketing plans to a team of judges during the College of Business and Management Trade Show on Nov. 25 in Mossadegh Servant Leaders Hall. Judges (professors and members of the COBM Advisory Board) will evaluate the work during two sessions: 12:15-1:30 p.m. and 5:40-6:55 p.m.
Out of the shadows
Northeastern undocumented students will share their personal challenges in higher education and educate the community during Coming Out of the Shadows Day from noon-2 p.m. Nov. 22 at El Centro. College and high school students, parents, the Northeastern community and undocumented student allies are welcome to attend.
Mark your calendar!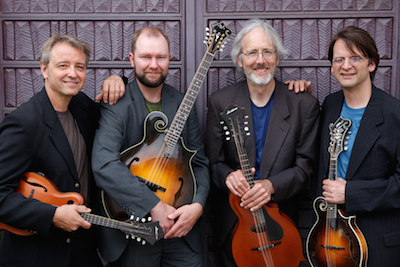 Jewel Box Series: Modern Mandolin Quartet ($5-$25), 7:30 p.m. Nov. 21, Recital Hall
Greg Carr lecture on "Developing an African Historiography" (free), 7 p.m. Nov. 21, Carruthers Center Donn Bailey Legacy Hall
Mozart's Cosi Fan Tutte (free), 7:30 p.m. Nov. 21, Auditorium
International students evening (free), 6:55 p.m. Nov. 21, Pedroso Center
Mozart's Cosi Fan Tutte (free), 7:30 p.m. Nov. 22, Auditorium
Classic brass and percussion (free), 7:30 p.m. Nov. 24, Auditorium
Misconceptions of Islam with Mufti Hussain Kamani and Fisal Hammouda (free), 6 p.m. Nov. 25, Alumni Hall
Brass showcase (free), 3:05 p.m. Nov. 25, Recital Hall
NEIU Orchestra (free), 7:30 p.m. Nov. 25, Auditorium
#FollowFriday
For the students
Northeastern's Division of Student Affairs is on Facebook and Twitter to share relevant divisional and University news and information with—who else?—the students. Student Affairs announces the events, programs, services and activities that come from the division and its student organizations, clubs and affiliated groups. If you follow these social media accounts, there is never an excuse to be bored at this busy university!
Do you have a story tip? Let the public relations office know!
Mike Hines, director of public relations, m-hines@neiu.edu, (773) 442-4240