Northeastern Illinois University is the only university in the Midwest that will partner with Google on an exciting new program for incoming freshmen who are interested in computer science. Read about the new summer program, the 10th anniversary of Alternative Spring Break and much more in Noteworthy at Northeastern.
Around the Commons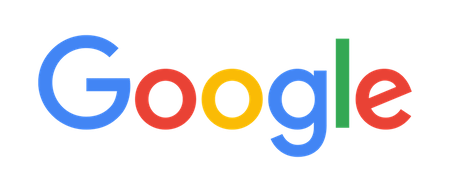 Google Summer Institute
Northeastern is one of nine colleges and universities from around the nation—and the only institution in the Midwest—that have partnered with Google to pilot the Computer Science Summer Institute Extension Program during the summer of 2019. This experience will take place at El Centro. CSSI-Extension is a three-week introduction to computer science for graduating high school seniors with a passion for technology—especially students from historically underrepresented groups in the field. Northeastern is now accepting applications at neiu.edu/googlesummer.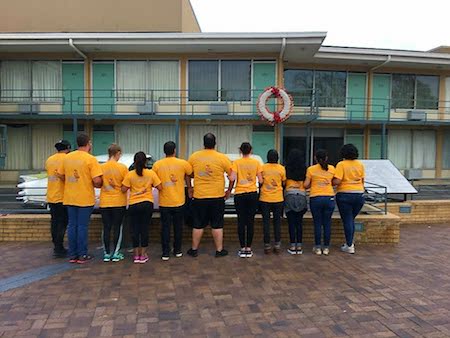 Alternative Spring Break
Spring break may bring to mind thoughts of wild beach parties or relaxing staycations—but at Northeastern, the annual week with no classes can be so much more. For the past 10 years, students have been using the time to immerse themselves in the service of others through a program called Alternative Spring Break (ASB). About 300 students have participated in ASB over the past decade, traveling to locations as close as Chicago's Bronzeville neighborhood and as far away as Guatemala. "It's not necessarily about building a house and having it be done," Assistant Director of Student Leadership Development Rae Joyce Baguilat said. "It's about questioning why there is housing insecurity and things of that nature and how we can help in the future." To mark the program's 10-year anniversary, Northeastern is inviting past participants back for a reunion on March 28.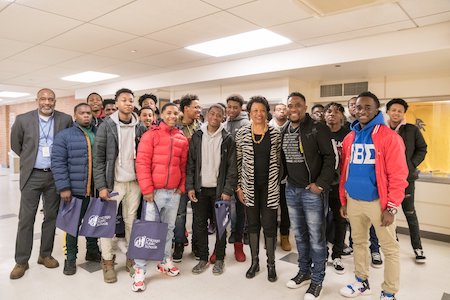 Young Men of Color Summit
More than 350 high school students visited the Main Campus on March 15 as Chicago Public Schools hosted its 6th Annual Young Men of Color Summit at Northeastern. The event was sponsored by the CPS Office of School Counseling and Postsecondary Advising (OSCPA). Students participated in workshops and campus tours. Admitted seniors had the opportunity to meet with Northeastern Admissions staff to discuss next steps for enrollment. President Gloria J. Gibson greeted the students with a powerful message and Interim Associate Provost for Student Success and Retention Francisco Gaytán addressed the students at the closing of the event. Peer mentors and GEAR UP staff assisted with campus tours and directing students. Omega Delta Phi Fraternity Inc. performed for the students, and Goldie made a special appearance to engage with students.
And there's more!
In the media
To do
A sweet celebration
The NEIU Foundation will host the Sweet Success Shindig from 3-5 p.m. March 27 in Alumni Hall North to celebrate the successful completion of the Transforming Lives fundraising campaign. The event will include make-your-own sundaes and other treats.
Mark your calendar!
#FollowFriday
El Centro
The Avondale location will host an exciting new venture with Google this summer. Stay on top of all of El Centro's latest news on Facebook!
Do you have a story tip? Let the Office of Public Relations know! Mike Hines, Director of Strategic Communications, m-hines@neiu.edu, (773) 442-4240