Northeastern Illinois University is making it easier for Chicago Police Department officers to advance their careers. Find out more about the opportunities, a new State Department grant and more in Noteworthy at Northeastern.
Around the Commons
Officer education
Times have changed since John Escalante, now chief of Northeastern's Police Department, entered the Chicago Police Department (CPD). These days, officers need at least 60 college credit hours, which is equivalent to an associate degree, to join the force. However, the journey doesn't have to end there. Whether for personal reasons or to create opportunities for professional advancement, police officers can decide to pursue bachelor's or master's degrees. The nature of the job can present obstacles, but Northeastern is easing that burden through academic program opportunities that reduce the time it takes to earn a degree and through a tuition deferral that is tied to CPD's tuition reimbursement program.
U.S. Study Abroad grant
Northeastern has been selected to receive a small grant as part of the U.S. Department of State's 2019 Capacity Building Program for U.S. Study Abroad. Northeastern is one of 21 colleges and universities from across the United States selected from over 120 applications to create, expand and/or diversify American student mobility overseas in support of foreign policy goals.
Praying mantis publication
Biology Instructor Frederick Prete published an article titled "Rhythmic Abdominal Pumping Movements in Praying Mantises" in the journal Fragmenta Entomologica. The article was co-authored by Associate Professor of Biology Aaron Schirmer and former undergraduate students Salim Patel, Christina Carrion and Greg Prete. Fragmenta Entomologica is published by Sapienza University of Rome, Italy. Founded in 1303, it is one Europe's largest and most prestigious universities. Prete's publication is the culmination of two decades of research on the praying mantis, which includes his two books, "The Praying Mantises" (John Hopkins University Press) and "Complex Worlds from Simpler Nervous Systems" (MIT Press).
And there's more!
Northeastern will host a One Stop Enrollment Express from 10 a.m.-5:30 p.m. June 11 in Alumni Hall. Departments from across the University will come together to help students prepare for the fall semester.
Mathematics Instructor Emma Turian delivered a paper presentation titled "Tumor Dynamics under Immunotherapy: A Modified Predator-Prey Model" during the Cancer Risk Analysis session of the 8th International Conference on Risk Analysis and Design of Experiments on April 23-26 in Vienna, Austria.
In the media
Valuing educators
WBEZ interviewed Daniel L. Goodwin College of Education Dean Sandra Beyda-Lorie for a story about a bill addressing the videotaping requirement of the edTPA test. "We're asking a lot of our educators, and we don't value them near enough as a society, and I'd love to see that change," Beyda-Lorie told WBEZ.
Also in the media ...
To do
'Flamenco Passion'
Ensemble Español will host "Flamenco Passion: A Tribute to Dame Libby Komaiko" featuring their popular live dance and music performances as part of the company's 43rd American Spanish Dance & Music Festival from June 14-16. The performances are in honor of founder Libby Komaiko, who passed away earlier this year. The "Flamenco Passion" performances will feature more than 40 dancers and musicians, including guest artists in a fusion of classical, folkloric, traditional, contemporary and flamenco styles.
Coming next week!
#FollowFriday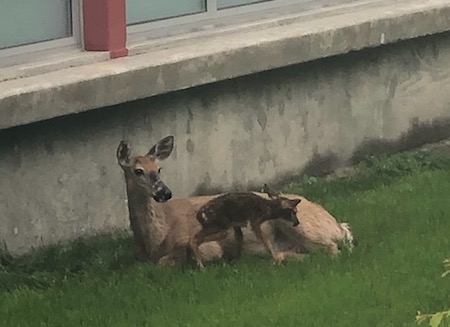 NEIU on Facebook
We were heading into the Memorial Day weekend last Friday, but it turned into Mother's Day in the late afternoon when a doe gave birth to two fawns outside of the Pedroso Center. Follow along on Facebook to keep up with the latest news, events and yes, even wildlife photography, from the University.
Do you have a story tip? Let the Office of Public Relations know!
Mike Hines, Director of Strategic Communications, m-hines@neiu.edu, (773) 442-4240