Memorial Day weekend has arrived! Head into the holiday weekend with the latest news from Northeastern Illinois University's Daniel L. Goodwin College of Education, details on Ensemble Español's annual festival and an update on a National Science Foundation grant that has brought robots to campus.
Around the Commons
Education meets innovation
When Sandra Beyda-Lorie (pictured above) was appointed dean of the Daniel L. Goodwin College of Education in January, one of the first things she did was look outside of the college. Beyda-Lorie's goal: innovation through collaboration. "New information and cutting-edge strategies are constantly being revealed in the field of education and beyond," she said. "We will be a part of these conversations." Read more about Beyda-Lorie's goals and vision.
New CAPE courses
The Office of Community and Professional Education (CAPE) has added a number of non-credit programs this summer and fall. CAPE offers a variety of non-credit classes and workshops to University members and the surrounding community. Fees vary. Northeastern students, faculty, staff and alumni receive discounts on most classes.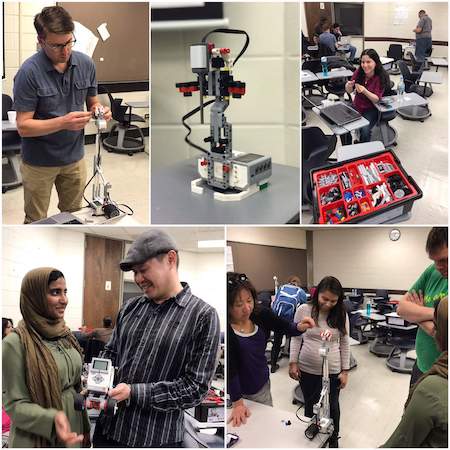 Robots on campus!
As part of a National Science Foundation STEM + C grant, Northeastern faculty members are working with nine STEM and education students this summer to integrate robotics into science and math courses for future middle school teachers. Shirley Disseler, department chair and STEM coordinator from High Point University of North Carolina, hosted a robotics workshop at Northeastern on May 18-19 with the Lego Mindstorm system. Students learned to program the robots to navigate a maze, measure distance traveled and record data such as temperature and light.
And there's more!
Northeastern will be closed on Monday, May 29, in observance of Memorial Day.
Ensemble Español will perform June 2 at Studebaker Theater in the grand finale of the Third Annual Stomping Grounds series.
In the media
Budget effects on seniors
Associate Professor and Gerontology Program Coordinator Lisa Hollis-Sawyer appeared live on CLTV's "Politics Tonight" to talk about the possible effects of the Trump administration's budget proposals on senior citizens. "The budget trends we're seeing do not keep pace with the aging population," Hollis-Sawyer said. "We've got to ethically re-examine what's going on here because more than one generation will be affected."
Also in the media ...
The Chronicle of Higher Education mentioned Erick Howenstine, chair of the Department of Geography and Environmental Studies, in its list of 2017-18 ACE Fellowships.
The Pioneer Press reported that Lindsey Rose (M.A. '16 Educational Leadership) has been named director of languages for District 112 in Highland Park.
To do
American Spanish Dance & Music Festival
The stage of the North Shore Center for the Performing Arts will see the world premieres of three new choreographies in "Raices – Yesterday is Tomorrow," part of Ensemble Español Spanish Dance Theater's 2017 American Spanish Dance & Music Festival that runs June 7-24. The annual event includes performances, classes, seminars and lectures showcasing the elegance and passion of Spain's dance, music and culture.
Mark your calendar!
#FollowFriday
Daniel L. Goodwin College of Education
Be sure to follow the Daniel L. Goodwin College of Education on Facebook to stay in the loop on all of the College's events, photos, news and more!
Do you have a story tip? Let the public relations office know!
Mike Hines, Director of Public Relations, m-hines@neiu.edu, (773) 442-4240