Congratulations to 16 newly tenured members of the Northeastern Illinois University faculty! We've got the details and bios to mark the accomplishment, plus news on a new faculty book, a new video of the Main Campus and much more!
Around the Commons
16 faculty members earn tenure
Northeastern has awarded tenure and promotions to associate professor to 16 members of the faculty, who were introduced during the June 18 Board of Trustees meeting at El Centro. "I congratulate the newest members of our faculty to earn tenure," Provost and Vice President for Academic Affairs Richard J. Helldobler said.
Golden Eagle's eye view
Northeastern has unveiled the first in a series of three new videos promoting the University. Shot with a drone camera, the videos provide a unique perspective on Northeastern and the city of Chicago. The first video covers the Main Campus. Videos of El Centro and the Carruthers Center will be released in the coming weeks.
Justice Studies calls on U.N.
The Department of Justice Studies joined more than 100 national and international rights groups in co-signing a joint statement calling on the United Nations Human Rights Council calling for accountability for the CIA torture program. Human Rights Watch named Northeastern when reporting on the story.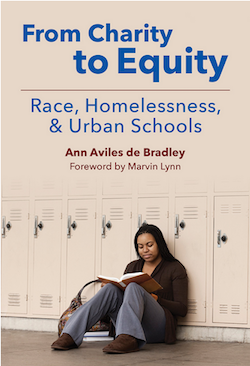 'Race, Homelessness and Urban Schools'
Assistant Professor of Educational Inquiry and Curriculum Studies Ann Aviles de Bradley has released a book about what individuals can do in an effort to address and reduce housing instability and homelessness among school-age youth. "From Charity to Equity: Race, Homelessness and Urban Schools" is published by Teachers College Press.

Smoke-free Northeastern
By Illinois law, all state university property will become smoke-free beginning July 1. Find more details on what that means for Northeastern's locations.
And there's more!
Northeastern will be closed Friday, July 3, in observance of Independence Day.
Steven Riess, a retired History professor, has won the 2015 North American Society for Sport History award for his book "A Companion to American Sport History." In addition, "Black Baseball Entrepreneurs, 1902-1931: The Negro National and Eastern Colored Leagues," a book in a series that Riess edits, was co-winner of the 2015 Society for American Baseball Research Award.
Economics Coordinator Michael Wenz published a data-focused analysis of lineup balance in Baseball Prospectus.
Provost and Vice President for Academic Affairs Richard J. Helldobler was presented with the ACE Council of Fellows Service Award in Washington, D.C., in recognition of his outstanding contributions and exemplary commitment to the Council of Fellows. Winners are nominated by their peers and vetted through committee.
Check out a photo album from the June 16 athletic alumni event at the Nil Tap. A group of Golden Eagles gathered at the alumni-owned establishment to share memories and Northeastern pride.
In the media
Rave reviews
The Chicago Tribune, the Sun-Times and the Chicago Stage Standard all raved about Ensemble Español's "Flamenco Passion" performances in the 39th American Spanish Dance & Music Festival.
Also in the media ...
CNBC posted a story that quoted Associate Professor of Human Resource Development Sandra Williams about the accreditation status for Elsevier's DirectCourse. Williams is president of the International Association for Continuing Education and Training.
Chicagoist reported on Northeastern's new partnership with the Northwest Chicago Film Society.
Leadership Takeoff podcast featured Chaim Shapiro (B.A. '95 History), who described Northeastern as the place he came out of his shell as part of student government.
To do
Roll out the red carpet
On July 1, the Department of Communication, Media and Theatre will launch its partnership with the Northwest Chicago Film Society that makes Northeastern the institutional home for the NWCFS screenings of 35mm film prints. The series begins with a 7 p.m. screening of the 1930 film "Follow Thru." Film scholar David Pierce will introduce the screening and sign copies of his new book, "The Dawn of Technicolor."
Join the celebration
The LGBTQA Resource Center and the Angelina Pedroso Center for Diversity and Intercultural Affairs invite the University community to a Marriage Equality Celebration on Tuesday, June 30, from 11:30 a.m.-1:30 p.m. in the Angelina Pedroso Center Building B-159. The Center will serve light refreshments and celebrate and discuss the historic Supreme Court ruling.
One Stop Enrollment Express
While it may seem like an eternity from now, the start of the fall semester will be here before we know it. Departments from across Northeastern Illinois University will come together June 30 to host "One Stop Enrollment Express," to help students prepare.
Tee it up for charity
The invitations are out! The NEIU Foundation will host the 43rd Annual Chuck Kane Golf Event at Chevy Chase Country Club in Wheeling on Monday, Aug. 17. You are invited to register and/or sponsor the event. Proceeds benefit the Chuck Kane Memorial Scholarship Fund.
Mark your calendar!
#FollowFriday
Arts at NEIU on Facebook
Here we are, now entertain us! Add flavor to your summer by attending any or all of Northeastern's event options. The Arts at NEIU rounds up what's on offer, from theater and concerts to art gallery exhibitions and film screenings. Follow the Facebook page and make the arts a part of the season's fun.
Do you have a story tip? Let the public relations office know!
Mike Hines, director of public relations, m-hines@neiu.edu, (773) 442-4240