Don't look now, but Commencement is only nine weeks away! As the clock ticks on the spring semester, the activity around Northeastern Illinois University is heating up. Check out this week's news on Northeastern's most recent awards, an upcoming job fair and a campaign to ensure students take advantage of their tax breaks.
Around the Commons
Hosting the ILACHE conference
The Illinois Latino Council on Higher Education has selected Northeastern to host the 2015 conference on April 24. This year's theme is "A New Era in Higher Education: The Latino Effect." More than 300 Latino students, faculty and staff from around the state are expected to attend.
Elliot Judd Award
Teaching English as a Second Language Professor Theodora Helene Bofman won the 2015 Elliot Judd Outstanding Teacher Award at the Illinois Teachers of English to Speakers of Other Languages - Bilingual Education Convention on Feb. 27-28 in Naperville. "Perhaps Dr. Bofman's most singular achievement is her outstanding teaching and mentoring of our field's newest members," the announcement said.
A website for neighbors
The University has created a neighbors website for those who live in the main campus area that features news and information about Northeastern that is relevant to the community. On Monday, the site was updated with the news that Northeastern's first residence hall will be built just south of the parking facility and is expected to be completed by fall 2016.
And there's more!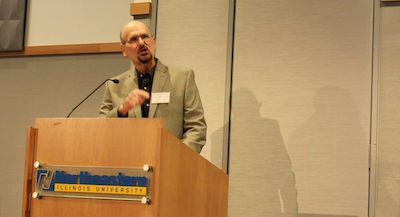 On behalf of the University, Board of Trustees Chair Carlos Azcoitia spoke to about 400 students during ASPIRA, Inc. of Illinois' ATREVETE Youth Leadership Conference on Feb. 20 in Alumni Hall, where he encouraged the students to continue on their path toward seeking a college degree.
President Sharon Hahs testified at the Illinois House Appropriations-Higher Education hearing in Springfield on March 5 to stress Northeastern's need for sufficient and sustained state funding. She was joined by Vice President for Finance and Administration Michael Pierick, Provost and Vice President for Academic Affairs Richard Helldobler, Office of University Budgets Director Ann McNabb and Executive Director for Governmental Relations Suleyma Perez.
English grad student Brendan Dabkowski's paper "From the Middle of the Road to Building Walls on the Side: Recovering Usefulness and Reconstructing the Self in Dave Eggers' A Hologram for the King" was accepted into the Midwestern Conference on Literature, Language and Media on March 27-28 at Northern Illinois University. English senior Sarah Vaid's paper "'Contamination': Negotiating Identity in Ms. Marvel" was accepted to the St. John's University Graduate English Conference on March 28.
Three of the seven Northeastern students who attended the LSAMP Spring Symposium in STEM came home with awards. The award winners were Cesar Bustos, Oscar Herrera and Fernando Limon.
Reminder: Students from Northeastern's Accounting Club are providing free income tax filing services to the community to assist low- and fixed-income families.
The Independent student newspaper won fourth place for four-year schools publishing less than weekly at the National College Journalism Convention on Feb. 26-March 1 in Los Angeles.
M.B.A. students Jason Alba, Batnasan Garamjav, Janusz Maka, Georgi Milushev and Doljinsuren Nergui finished in fourth place at the Great Lakes District 2015 Student Case Competition.
The Department of Special Education and the Student Council for Exceptional Children will co-host the Research to Practice: Strategies that Make the Difference conference on March 7.
In the media

Ask her anything
Ann Aviles de Bradley, assistant professor of Educational Inquiry and Curriculum Studies, was the latest faculty member featured in Northeastern's partnership with The Mash, the Chicago Tribune's weekly publication for teens. Aviles de Bradley answered questions about succeeding without the guidance of parents and whether good grades in high school translate to good grades in college.
Also in the media ...
Catalyst Chicago profiled Social Work student Vonzell White in a story about the challenges faced by non-traditional students.
U.S. Tech reported that Brian Betti (B.S. '06 Business and Management - General Business Administration) has been appointed Americas Sales Director of The Electronics Group of Henkel.
The Illinois Times quoted Economics Professor Emeritus Edward Stuart in a story about right-to-work zones. Stuart also appeared on WBEZ to talk about Chicago's economic stability.
To do

Women of graphic novels
As a part of the Visiting Writers Series, graphic novelists A.K. Summers, Nicole Georges and Phoebe Gloeckner will engage in a panel discussion about their individual work as well as the medium of graphic narratives. University of Chicago professor and expert on comics and graphic narratives Hillary Chute will moderate the discussion. The Windy City Times published an interview with Summers to preview the event.
Business and Management Job Fair
Northeastern will host a College of Business and Management Job and Internship Fair on Wednesday, March. 11. The free event, which will draw about 50 employers, is scheduled from noon-3 p.m. in Alumni Hall.
CALJE is coming
Chicago Afro-Latin Jazz Ensemble (CALJE), one of the most present forces in the Latin jazz scene, will perform in the Auditorium on Saturday, March 14. The ensemble has performed with some of the world's most respected artists, including Grammy Award winners Howard Levy and Brian Lynch.
Mark your calendar!
Start Smart Salary Negotiation Workshop (free), 9 a.m. March 6, Fine Arts 202
Faculty Authors' Reception (free), 3 p.m. March 9, Alumni Hall
Jazzy Mondays: Mike Harvey ($10), 6:30 p.m. March 9, Carruthers Center
Chicago Clarinet Ensemble ($10 general public; free for students and employees), 7:30 p.m. March 9, Recital Hall
Pi(e) and Performance (free, including slice of pie), noon-6 p.m. March 10, Village Square
Environmental Health is Human Health Career Panel (free), 3 p.m. March 10, Pedroso Center
"Bridegroom" film screening and panel discussion (free), 4:30 p.m. March 10, Alumni Hall
Lawrence Frank Lecture by Robert Launay (free), 5 p.m. March 10, Golden Eagles
Bryan Hughey Senior Percussion Recital (free), 7:30 p.m. March 10, Recital Hall
Health Fair (free), 11 a.m.-2 p.m. March 11, Carruthers Center
HERstory with Milka Ramirez (free), 2:25 p.m. March 11, Pedroso Center
"Wrinkles" film screening (free), 6:10 p.m. March 11, El Centro Room 201
"Prison Terminal: The Last Days of Private Jack Hall" film screening and director Q&A (free), 7 p.m. March 11, Alumni Hall
Woodwind Studios Showcase (free), 7:30 p.m. March 11, Recital Hall
Sarah L. Hoagland Speaker Series: Jacqueline Scott (free), 3 p.m. March 12, Golden Eagles
Red Tent Revolution: A Positively Periods Discussion and Film Screening (free), 3 p.m. March 12, Student Union 003
Guitar Studio Showcase (free), 3:05 p.m. March 12, Recital Hall
El Centro Open House (free), 5 p.m. March 12
Margaret Austin Flute Graduate Lecture-Recital (free), 7:30 p.m. March 12, Recital Hall
NEIU Repertory Dance Ensemble Spring Dance Concert ($10 general public; free for students and employees), 8 p.m. March 12-13, Auditorium
Chicago Brass Festival, March 13-15
#FollowFriday
Tax breaks for students
Northeastern joined Rep. Danny K. Davis' social media publicity campaign to encourage eligible students and families to take the education tax breaks for which they qualify. The #TaxBreaks4Students campaign during the week of March 2 was intended to increase awareness about education tax breaks and encourage students to check out IRS resources to determine whether they qualify.
Do you have a story tip? Let the public relations office know!