As the spring semester closes in on finals week, everyone is getting in on the action as Northeastern Illinois University faculty, students and staff have collected honors, grants and speaking engagements. We've got all the exciting news, media coverage and save-the-date events you could possibly handle.
Around the Commons
Joining the Chicago Leadership Collaborative
Northeastern has been approved by Chicago Public Schools (CPS) to be a partner in its Chicago Leadership Collaborative. Under the agreement, Northeastern will be one of 10 institutions that will assist in the recruitment and training of future CPS principals and assistant principals.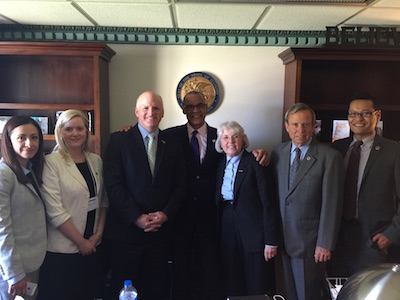 Lobby Day
Check out the Northeastern Lobby Day delegation meeting with Senate Appropriations Chair Dan Kotowski in Springfield on April 23. From left: NEIU Executive Director of Government Relations Suleyma Perez, NEIU student Joanna Nowacka, state Sen. Dan Kotowski, NBA referee and NEIU alumnus Danny Crawford, NEIU President Sharon Hahs, NEIU Trustee Bob Biggins and NEIU Chief Communications Officer Mike Dizon. The delegation advocated for the University's state funding.
New opportunities for grad students
The College of Graduate Studies and Research and the Research and Creative Activities Advisory Group have announced the inaugural set of Graduate Dean's Research and Creative Activities Assistantships for graduate students. The goal of these awards is to give graduate students an extended opportunity to experience and participate in the conduct of a research or creative activity project with a Northeastern faculty member.
COBM students go global
Two teams from the College of Business and Management have advanced to the global student challenge rounds of the Fresh Connection APICS Global Student Challenge. Team Eagles is Georgi Milushev, Hilal Ayirici, Carlos Landa and Maria Lazanyi. Team Golden Eagles is Jason Alba, Janusz Maka, Batnasan Garamjav and Doljinsuren Nergui.
And the provost goes global, too!
Provost and Vice President for Academic Affairs Richard J. Helldobler was one of 15 higher education senior leaders from North America selected to be part of an international think tank at Penn State on the challenges, public needs, expectations and demands for public higher education.  The think tank will include senior leaders from the United States, United Kingdom, Malaysia, Australia and Canada.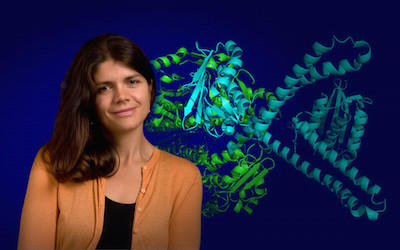 Brommel award winner
Associate Professor of Biology Emina Stojkovic has been honored with the 2015 Bernard J. Brommel Distinguished Research Professor award, to be presented at Commencement. Stojkovic will receive a cash award of $5,000. She will make a presentation about her research and creative activities to the Northeastern community during the fall 2015 semester.
A grant for Earth Science
The Department of Earth Science is the newest recipient of an $86,589 grant from the National Science Foundation. The award, which starts May 1, will fund global warming-related research into how dominant western United States tree species have responded in the past to growing season warming of the magnitude projected to occur by 2100.
Student travel awards
Several students received student travel awards this month from the NEIU Foundation's Leader Fund. They were:
And there's more!
In the media
Remembering J. Fred MacDonald
The Sun-Times and media writer Robert Feder published obituaries for Professor Emeritus of History J. Fred MacDonald. "It was always like a magic carpet ride to visit Fred," Jeff Spitz, an associate professor at Columbia College, told the Sun-Times. "He would transport you to anywhere you wanted to go in the 20th century."
Also in the media ...
To do

Nest Fest
Nest Fest is back to bring some electricity to the end of the semester! The annual festival, headlined by the platinum-selling band Hellogoodbye (pictured above), will be held on Friday, May 1.
Frank Solivan & Dirty Kitchen Band
Critically acclaimed bluegrass band Frank Solivan & Dirty Kitchen Band will perform at Northeastern on Friday, May 15. The group integrates bluegrass and newgrass with singing and songwriting to craft a sound that is unique to this genre.
Mark your calendar!
#FollowFriday
Department of Music
What's going on in the Department of Music, where most events are free? Find out by subscribing for the department's newsletter! The weekly email includes links to the concert calendar, the Arts at Northeastern website, the NEIU Box Office, as well as maps and directions. Sign up by visiting neiu.edu/music and clicking on the blue "Join Our Mail List" button. Select "Music Department Events" to receive the weekly newsletter. You may also choose to be on mailing lists for the Jewel Box Series, Lectures and Visiting Writers, Dance, Films, and Stage Center Theatre and more!
Do you have a story tip? Let the public relations office know!
Mike Hines, director of public relations, m-hines@neiu.edu, (773) 442-4240