The Pedroso Center is about to get bigger! Find out what's in the works for the Center and around Northeastern Illinois University in this week's roundup of news and events.
Around the Commons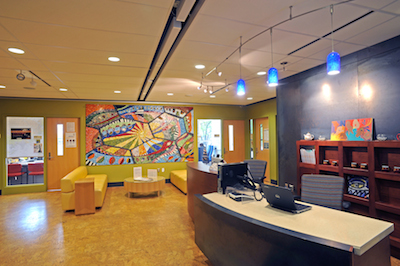 Pedroso Center groundbreaking
Northeastern will host a groundbreaking ceremony for the expansion of the Angelina Pedroso Center for Diversity and Intercultural Affairs on Monday, Nov. 24. The center is growing to include the Women's Resource Center and LGBTQA Resource Center, which currently are housed in separate offices. The project also will create additional programing space for students, a gender-inclusive restroom and a lactation room.
Diamond Award
Vice President for Institutional Advancement Melba Rodriguez received the Diamond Award on Nov. 11 at Delta Tau Lambda Sorority's Salute to Latinas Fuerza de la Mujer reception. The award is given annually to "an empowering Latina who inspires, encourages and mentors others to achieve their dreams."
Commuter alert
The intersection of Bryn Mawr and Kimball will be closed to traffic in both directions starting on Saturday, Nov. 15. Drivers should look for detour signs, which will be posted along Kimball. The current detour route for northbound Kimball is Foster to Kedzie; southbound Kimball drivers should take Peterson to Jersey/Kedzie. The No. 82 Kimball bus will also follow this detour route.
And there's more!
Northeastern alumnus Hecky Powell (B.A. '78 University Without Walls) was honored Nov. 9 by the city of Evanston. The corner of Green Bay and Emerson received the honorary designation of Hecky Powell Way.
Center for Teaching and Learning Coordinator of Learning Technologies Thomas Tobin delivered the keynote lecture and a series of workshops for the University of West Georgia's National Distance Education Week program Nov. 10-14.
In the media
'Rotas' in review
Ensemble Español's production of "Rotas" continued to draw media attention, with ABC7 and Spanish Public Radio featuring the domestic violence-themed performance.
Giving sound advice
As part of Northeastern's new partnership with The Mash, the Chicago Tribune's newspaper for teens, Assistant Professor of Social Work Francisco X. Gaytan became the second faculty member to answer questions from readers in an "Ask Me Anything" column.
Education reform
Educational Leadership and Development Assistant Professor Gabriel Cortez was quoted by Diverse: Issues In Higher Education in a story about efforts to reform urban education. "It's exciting to see people who are doing similar work and who are committed to cultural relevant pedagogy," he said.
Homelessness awareness
Northeastern alum Maria Rivera wrote a column for Huffington Post about youth homelessness in Chicago. Rivera appears in the new documentary "The Homestretch," which will screen at the main campus on Nov. 18.
Also in the media ...
To do
Appearance at DuSable
Philosophy instructor Josef Ben Levi will appear Nov. 20 in the DuSable Museum of African American History's Missing Pages Lecture Series. His lecture, which was mentioned in N'Digo, is "The Ancient African Kingdom of Kush."
USDA career choices
Career paths in the U.S. Department of Agriculture will be profiled on Thursday, Nov. 20, in the Student Union. A panel of USDA professionals representing various agencies from specialty crop inspection to risk management to natural resource conservation will be highlighted from 12:15-1:30 p.m. in Golden Eagles, followed by a Career Fair from 1:30-4 p.m.
Mark your calendar!
Works in Progress: Student dance recital (free), 8 p.m. Nov. 14, Auditorium
Opera fall scene recital (free), 7:30 p.m. Nov. 14, Recital Hall
Chicago International Dance Forum ($10-$20), 3 p.m. Nov. 16, Auditorium
"The Homestretch" screenings and panel discussions (free), 3 p.m. (Fine Arts 202) and 7 p.m. (Recital Hall) Nov. 18
Erica R. Meiners lecture, "Critical Junctures: Rethinking Safety in a Prison Nation" (free), 4 p.m. Nov. 18, Student Union 214
Genocide Research Symposium (free), 8:30 a.m.-6 p.m. Nov. 18, Student Union 105 and Golden Eagles
Jazz combos workshop (free), 3:05 p.m. Nov. 18, Recital Hall
Composers and songwriters showcase (free), 7:30 p.m. Nov. 18, Auditorium
Robert Luther on trumpet (free), 3 p.m. Nov. 19, Recital Hall
Woodwind showcase (free), 7:30 p.m. Nov. 19, Recital Hall
William Foster lecture, "An Economist Examines the War on Drugs, Gambling and Prostitution" (free), 7:15 p.m. Nov. 19, Golden Eagles
Student recital (free), 3:05 p.m. Nov. 20, Recital Hall
Stage Center Theatre: "Why Torture is Wrong and the People Who Love Them" ($6-$10), Nov. 20-22 and Dec. 4-5 at 7:30 p.m. and Dec. 6 at 2 p.m. and 7:30 p.m.
Greg Carr lecture,  "Developing an African Historiography" (free), 7 p.m. Nov. 21, Carruthers Center Donn Bailey Legacy Hall
Jewel Box Series: Modern Mandolin Quartet ($5-$25), 7:30 p.m. Nov. 21, Recital Hall
Mozart's Cosi Fan Tutte (free), 7:30 p.m. Nov. 21, Auditorium
Do you have a story tip? Let the public relations office know!
Mike Hines, director of public relations, m-hines@neiu.edu, (773) 442-4240