Another semester is underway at Northeastern Illinois University, and it's the last push for the students who will graduate in May. Read about the ambitious plans of one such student, Management major Alecia Martin, plus get the latest news on a new theater series, this year's Dr. Martin Luther King Jr. celebrations and much more in the year's first edition of Noteworthy at Northeastern.
Around the Commons
A future Marketing star
Alecia Martin has an entrepreneurial spirit and has her sights set high. "I want to be the CEO of a company looking out of a glass window to the city," Martin said. Don't bet against her. Now a Management major and University Honors Program scholar, Martin is on track to graduate in Spring 2019. "I love the Northeastern community," Martin said. "Everybody is so community-oriented. If you know somebody, you know somebody else. You know the dean's name, the president's name. I can say hello and have a conversation with the president herself."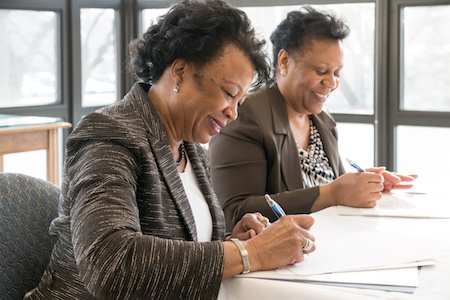 Jackie Taylor's Anti-Racism Drama Series
Northeastern and Black Ensemble Theater signed an agreement on Jan. 11 to launch Jackie Taylor's Anti-Racism Drama Series and a theater residency program from January through March of 2019. (Pictured above: Northeastern President Gloria J. Gibson (left) and Black Ensemble Theater Founder and CEO Jackie Taylor.) "As a person with an arts background, I immediately thought this was a perfect relationship to build, addressing issues that are important to all of us," Gibson said. As part of this arrangement, Black Ensemble Theater will present three one-act plays at two of Northeastern's locations, beginning Jan. 19 on the Main Campus. Tickets for all performances are free for all students (regardless of which school they attend), Northeastern employees and alumni by calling the Welcome Desk at (773) 442-4636. The general public can purchase tickets online for $20. A full series package is available for $45 and can be reserved by calling the Welcome Desk.
And there's more!
In the media
To do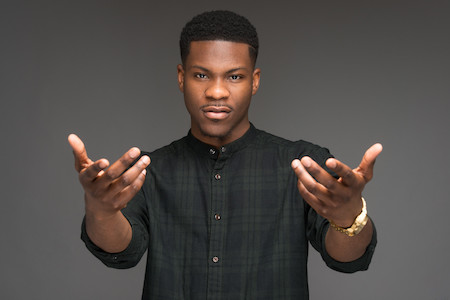 Dr. Martin Luther King Jr. celebrations
Chicago journalist Dometi Pongo will deliver keynote addresses at the Jacob H. Carruthers Center for Inner City Studies and on the Main Campus during Northeastern's Dr. Martin Luther King Jr. celebrations from Jan. 15-24. Among the events are:
The celebrations are organized by the Angelina Pedroso Center for Diversity and Intercultural Affairs in partnership with the Carruthers Center, the NEIU Foundation, Black Caucus, Student Leadership Development, Sigma Gamma Rho Sorority Inc., ChiMexLA and the Muslim Student Association.
'Narrative of a Slave Woman'
LaToya Lain (pictured above) and Casey Robards will perform "Narrative of a Slave Woman: Songs of Suffering, Hope and Freedom" as part of the Jewel Box Series at 7:30 p.m. Jan. 18 in the Recital Hall. Lain's rich soprano voice has afforded her the opportunity to perform throughout the United States and internationally. Robards is a pianist and vocal coach known for her versatility, sensitive musicality and expert collaborative skill.
Mark your calendar!
#FollowFriday
Angelina Pedroso Center for Diversity and Intercultural Affairs
In addition to the Martin Luther King Jr. programs listed above, the Pedroso Center invites you to get involved with its upcoming Heritage Month programs and discussion groups, and to request trainings and workshops. To learn more, follow along on Facebook and Instagram.
Do you have a story tip? Let the Office of Public Relations know!
Mike Hines, Director of Strategic Communications, m-hines@neiu.edu, (773) 442-4240