From the studio of a Pakistani morning talk show to the bookshelves, Northeastern Illinois University is again demonstrating its international reach. Find out how students ended up on TV in Pakistan, which professor published a book about working with immigrants and refugees, and much more!
Around the Commons
Live from Pakistan
Your home DVR wasn't going to work for this TV appearance. Seven students joined Department of Social Work Chair Jade Stanley on a study tour to Pakistan in late March and early April—and ended up on a morning talk show. While the two-week trip drew plenty of media coverage, it was primarily about learning. The experience included visits to community-based schools, hospitals, orphanages, historical sites, and scholarly lectures and exchanges.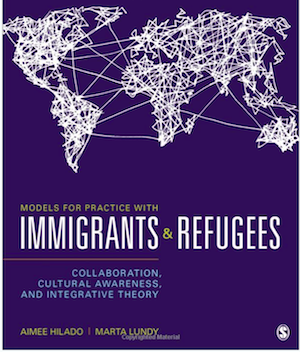 A book for helping immigrants
Assistant Professor of Social Work Aimee Hilado has co-written and co-edited her first book, "Models for Practice With Immigrants and Refugees: Collaboration, Cultural Awareness and Integrative Theory." The book, from Sage Publishing, brings together leaders in the field to share information about culturally sensitive approaches to providing therapy to trauma-exposed populations. Designed to establish a foundational framework for working with trauma-exposed immigrants and refugees, the book introduces innovative approaches to address client mental health problems while supporting adjustment to life in a new country.
And there's more!
The College of Business and Management will host a Business Students Trade Show on April 25 from 12:15-1:30 p.m. in Mossadegh Servant Leaders Hall.
Northeastern will celebrate Arbor Day from 3-4 p.m. on April 25 in the University Commons with a tree-planting demonstration, a tree giveaway and more.
Linguistics Professor Richard Hallett presented his paper "More than a few esoteric terms: Lonely Planet's Middle East Phrasebook and Dictionary as a transcultural text," at the Popular Culture Association/American Cultural Association Conference on April 12-15 in San Diego.
The Department of Biology will host its annual spring plant sale from 10 a.m.-4 p.m. on April 25 in Village Square.
In the media
Solar Eclipse Mania
Earth will experience a solar eclipse in August, and the excitement is already building—including for President Emerita Sharon Hahs, a longtime eclipse-chaser. The Associated Press quoted Hahs about her experiences watching 14 eclipses around the world with her husband, Billy. "There is nothing else in our universe that looks like a total solar eclipse," Hahs told The Associated Press. "The air gets cool. You have 360-degree dusk. Nature sounds really happen: the cock crows, birds get quiet. We even had a horse cross our viewing area to return to the stable."
Transgender support
The Human Rights Campaign shared a video on its Facebook and Twitter accounts that was submitted by Professor of English and Women's and Gender Studies Vicki Byard and her students, in collaboration with Communication, Media and Theatre Professor Cyndi Moran. The video was made in response to the federal guidelines recommending that schools allow transgender students to use the bathrooms and locker rooms that match the gender with which students identify.
Also in the media ...
The Chicago Tribune included Los Angeles Guitar Quartet's April 21 performance among its recommended concerts.
To do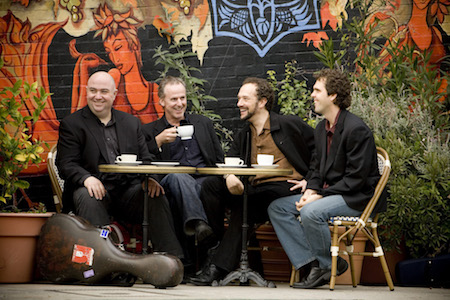 Jewel Box Series
The Grammy Award-winning Los Angeles Guitar Quartet (LAGQ) will perform April 21 as part of the Jewel Box Series. LAGQ is one of the most multifaceted groups in any genre. LAGQ is comprised of four uniquely accomplished musicians bringing a new energy to the concert stage with programs ranging from bluegrass to Bach. Their inventive, critically acclaimed transcriptions of concert masterworks provide a fresh look at the music of the past, while their interpretations of works from the contemporary and world music realms continually break new ground.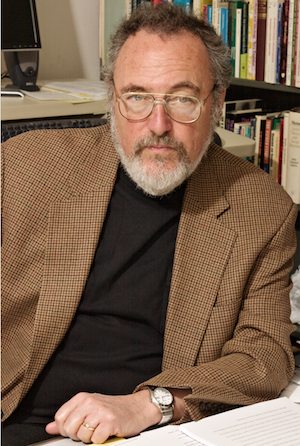 Dr. Jean B. Carlson Memorial Lectureship 
The Daniel L. Goodwin College of Education will host professor and author Michael W. Apple for the fifth annual Dr. Jean B. Carlson Memorial Lectureship on April 25. Apple is the John Bascom Professor of Curriculum and Instruction and Educational Policy Studies at the University of Wisconsin-Madison. A former elementary and secondary school teacher and past president of a teachers union, he has worked with educational systems, governments, universities and unions around the world to democratize educational research, policy and practice.
Mark your calendar!
Annual Juried Student Art Exhibition, through April 28, Fine Arts Gallery
Annual Juried Student Art Exhibition Reception and Awards, 6-9 p.m. April 21, Fine Arts Gallery
"End Days," April 21, 22, 27 and 28 at 7:30 p.m.; April 29 at 2 and 7:30 p.m., Stage Center Theatre
Piano Studio Showcase, 7:30 p.m. April 24, Recital Hall
Percussion and Brass Studios Showcase, 3:05 p.m. April 25, Recital Hall
Songwriters Showcase, 7:30 p.m. April 25, Auditorium
Voice Studios Showcase, 7:30 p.m. April 26, Recital Hall
Computer Science Alumni Panel and Job Fair, 3-5:30 p.m. April 27, Alumni Hall
NEIU Wind Ensemble, 7:30 p.m. April 27, Auditorium
Thursday Night Live: Honeystone, 10 p.m. April 27, Student Lounge
NEIU Orchestra, 7:30 p.m. April 28, Auditorium
Golden Eagle 5K, 9 a.m. April 30, Main Campus
#FollowFriday
Department of Social Work
Whether they're publishing new research or doing study tours overseas, stay up-to-date with the Department of Social Work on Facebook and Twitter.
Do you have a story tip? Let the public relations office know!
Mike Hines, Director of Public Relations, m-hines@neiu.edu, (773) 442-4240