What a week to live and learn in Chicago as we celebrated the Cubs' dramatic World Series championship! We've got a congratulatory message from Interim President Richard Helldobler, news of a major student award, a video from Thank-a-Professor Day and lots more in this week's edition of Noteworthy at Northeastern.
Around the Commons
Lincoln Laureate
Northeastern has nominated Alicia Ozier (pictured above) as the Northeastern 2016 Lincoln Academy Student Laureate. The student laureates will be honored at a Nov. 12 reception in the Hall of Representatives in Springfield at the Old State Capitol followed by a luncheon at the Abraham Lincoln Hotel. "We need leaders who have a sense of community engagement," said Ozier, who will graduate in December with a Bachelor of Arts in Interdisciplinary Studies. "This honor recognizes that I am stretching my leadership capacity but also maintaining that connection to the grassroots community."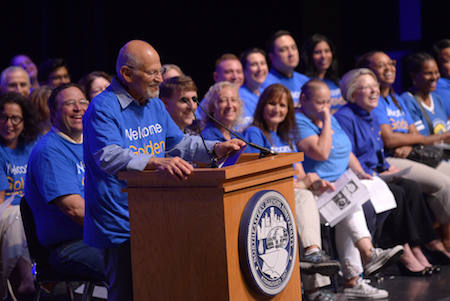 An inspiration to give back
In 1965, Marge Csakai and Jim Blair took a Creative Writing class at Northeastern. The teacher was none other than Pulitzer Prize winner Gwendolyn Brooks, who three years later also was appointed poet laureate of Illinois, but that exciting fact is a mere footnote in their family story. Four years after taking the class together, Marge and Jim were married—and each had earned their degrees. "It was quite an experience," Jim said. "It was a confluence of important events in our lives." In 2016, Jim Blair told that story to hundreds of incoming students during the inaugural Golden Eagle Welcome Day and drew a long "Awwwwwwww!" from the crowd. What those students heard was not just an "awww"-inspiring love story but also a message of giving back to Northeastern. Blair, who serves on Northeastern's Alumni Advisory Board, donated $1,000 toward the Class Gift Scholarship Fund, but with an interesting twist.
Thank-a-professor rewind
More than 250 students, alumni, faculty and staff members took the time to thank their favorite professors for Thank-a-Professor Day on Oct. 13. Messages were posted on the bulletin board near Village Square and have been sent to the individual professors. If you missed Thank-a-Professor Day, you can catch up with this short video and thank a professor now in the comments on YouTube!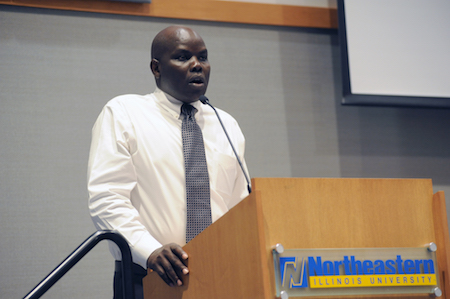 Genocide symposium recap
A record number of more than 300 people attended the 4th Annual Genocide Research Symposium on Nov. 1. The theme of the conference was "Revisiting and Rethinking Genocide and Resistance in Africa and the Diaspora." Keynote speakers Kurt Mills and Obang Metho (pictured above) both said they were impressed by the conference and requested to participate in future years.
And there's more!
Northeastern will host a One Stop Enrollment Express event from 10 a.m.-6 p.m. in Alumni Hall on Nov. 15. Departments from across the University will come together to help students prepare for the spring semester.
Three Northeastern students were awarded scholarships during the Polish-American Heritage Awards Celebration on Oct. 27. They were: Beata Soltys (Elementary Education), Joanna Gwizdz (Business Management) and Weronika Blaszkiewicz (Accounting).
Early voting is taking place at El Centro through Nov. 7. Hours for El Centro voting are listed online.
Lt. Governor Evelyn Sanguinetti visited the Main Campus on Nov. 3.
In the media
Time for memoirs
Conrad Worrill, director of the Jacob H. Carruthers Center for Inner City Studies, will retire at the end of the year after 40 years with Northeastern. "At the age of 75, it is time for me to focus on the massive archives I've accumulated and to write my memoirs," Worrill told Sun-Times columnist Mary Mitchell. "Although I've written hundreds of articles, it is time for me to produce a few books while my health is OK."
Skinny Trees Podcast
Biology undergraduate student Da In Lee, who participated in Chicago Cancer Health Equity Collaborative's inaugural Summer Research Fellowship program, has helped launch a Chicago-based podcast that focuses on health inequities in and around Chicago. Skinny Trees Podcast spotlights history, varying perspectives and stories of health equity success. (Lee's segment begins at 33:23.)
Also in the media ...
To do
Career day summit
Becoming a Man Program Supervisor Derrick M. Fleming Jr. and Northeastern Illinois University Associate Professor of Educational Inquiry and Curriculum Studies Lance Williams will serve as keynote speakers at Northeastern for a career day summit for African and African-American men on Nov. 12. The event, titled A Prepared Generation: Developing Leaders, is free and open to African and African-American men of all ages.
INDIGENOUS PEOPLES Heritage Program
The Asian/Global Resource Center will host an Indigenous Peoples Heritage Program on Nov. 8. The event, titled Wisdom From the Mongolian Shamans, will begin with a presentation from Assistant Professor of Mathematics Joseph Hibdon and Professor Emeritus Dan Creely. It will continue with an afternoon peace fire near the P.E. Complex. Traditionanl Mongolian shamen and elders will share their traditions and ceremonies. 
Mark your calendar!
Tyler Bohm exhibition, through Nov. 18, Fine Arts Gallery
Food Truck Friday, 4-7 p.m. Nov. 4, Lots D and J
Micro Recital, 7:30 p.m. Nov. 4, Auditorium
U.S. Presidential Election in Historical Perspective panel discussion, 7:30 p.m. Nov. 7, Library Room 002
Hunger and Homelessness Brown Bag Discussion, 3:05 p.m. Nov. 8, Student Lounge
Faculty Recital, 3:05 p.m. Nov. 8, Recital Hall
Las Comadres womyn's group, noon Nov. 10, Pedroso Center
NEIU Jazz Combo, 3:05 p.m. Nov. 10, Recital Hall
Thursday Night Live: Eldon Olmstead, 10 pm. Nov. 10, Student Lounge
#FollowFriday
#FlyTheW
Cubs win! Cubs win! Interim President Richard Helldobler was quick to congratulate Chicago's latest championship team on behalf of Northeastern. Be sure to subscribe to Northeastern's official YouTube channel to get all of the latest videos!
Do you have a story tip? Let the public relations office know!
Mike Hines, Director of Public Relations, m-hines@neiu.edu, (773) 442-4240