New student orientations (like the one pictured above) are a familiar sight on the Main Campus this summer as we point toward the new academic year. With the fall semester creeping closer, we've got the latest on the new Social Work master's program, a back-to-school backpack drive for children in need and more.
Around the Commons
Social Work expansion
Northeastern will launch a Social Work master's program in Fall 2016, the result of years of hard work and preparation. "We will develop professionals who have a serious commitment to justice, social change and high ethical standards that can serve our city, state and region," said program director Troy Harden, who has a long history in research and fieldwork in Chicago communities. "We will have a local and global presence."
Backpack drive
The Office of Alumni Relations has teamed up with Cornerstone Community Outreach to collect backpacks for 150 children who are without permanent housing. Cornerstone Community Outreach is a not-for-profit organization dedicated to raising the quality of life for low-income residents in the Uptown neighborhood of Chicago. Find out how to contribute.
Research on display
Biology undergraduate students (pictured above, from left) Raluca Ciupuliga, Terry Blaszczak and Fareha Nazneen attended the Allied Genetics Conference in Orlando, Fla., from July 13-17. The students presented a poster, "Analysis of effects of acetyl-para-aminophenol on Drosophila melanogaster development," which was based on research performed with their mentors, Biology faculty members Elyse Bolterstein and Mary Kimble.
Your guide to Universal Design for Learning
Thomas J. Tobin, coordinator of learning technologies in the Center for Teaching and Learning, delivered a featured presentation at the Desire2Learn Brightspace Fusion conference on July 19 in Washington, D.C. Tobin talked, in part, about how his Northeastern colleagues reach out to everyone through good design in their course interactions. The presentation also was a "pre-session" toward his forthcoming book, "Reach Everyone, Teach Everyone: A Practitioner's Guide to Universal Design for Learning in Higher Education."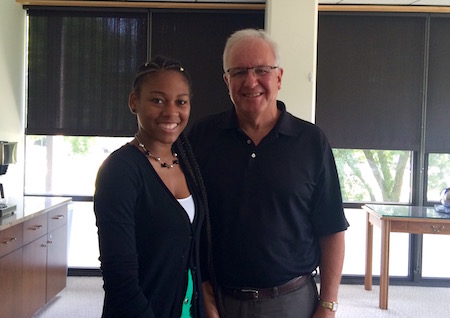 Visit to Northeastern
State Sen. Pat McGuire visited the Main Campus on July 22 to learn about the University and for the administration to share its concerns and challenges with the ongoing budget impasse. The meeting was attended by President Sharon Hahs, Provost Richard J. Helldobler, Vice President for Finance and Administration Michael Pierick, University Planning and Budget Council Chair Jon Hageman, Faculty Senate Chair Erick Howestine, Student Trustee Olivia Clark (pictured above with the senator) and Executive Director of Government Relations Suleyma Perez. McGuire is the Chair of the Senate Higher Education Committee and a member of the Senate Appropriations II Committee.
And there's more!
In the media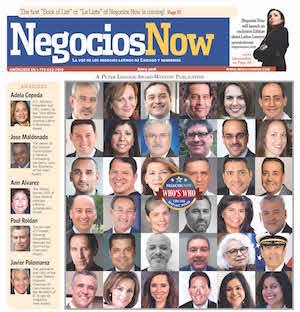 Who's Who in Hispanic Chicago
More than a dozen people with connections to Northeastern have been named to Negocios Now's 2016 Who's Who in Hispanic Chicago list. Find out who made the list.
Also in the media ...
The Chicago Tribune published an obituary for Richard K. Rogers Sr. (B.A. '75 University Without Walls), an emeritus member of the NEIU Foundation Board of Directors.
The Chronicle of Higher Education reported on the Sept. 30 resignation of President Sharon Hahs.
To do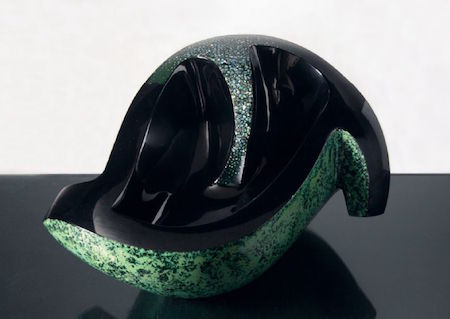 Lacquer artist reception
Artwork by 16 contemporary visiting lacquer artists from China will be on display through July 29 in the Fine Arts Center Gallery. There will be a reception for the artists from 6-9 p.m. July 22. Participating artists include: Zheng Xin, Chen Yu, Zheng Pin, Wu Xin, Lai Dengyun, Zou Hong, Luo Fanglin, Lin Zhentuan, Wu Jiahuang, Wu Xiahong, Wang Zhongmin, Chen Bing, Zhu Chonghua, Cui Xiaolin, Zhang Xi and Zhao Bin.
Mark your calendar!
Do you have a story tip? Let the public relations office know!
Mike Hines, Director of Public Relations, m-hines@neiu.edu, (773) 442-4240