You can now count another Emmy Award winner among Northeastern Illinois University's alumni. Read about PJ Randhawa's award for investigative reporting, the next Jewel Box Series event and much more in this week's edition of Noteworthy at Northeastern.
Around the Commons
An Emmy winner
In the midst of growing profit in the pharmaceutical industry and growth in the number of medical prescription errors in recent years, television reporter PJ Randhawa decided to take a closer look at the reason why. Randhawa's report, published in April 2018, found stressed-out pharmacists who were facing pressure to fill prescriptions quickly or risk losing their jobs. The result: Many patients were receiving wrong—sometimes life-threatening—medications. For her investigative work, the Northeastern alumna earned a Health and Science Mid-America Emmy Award. Read about Randhawa's journey from Northeastern to award-winning TV journalist.
And there's more!
Northeastern will be closed on Jan. 21 in observance of Martin Luther King Jr. Day.
Northeastern will host an Undergraduate Open House on Feb. 27.
The College of Business and Management graduate programs will host an open house and networking event on Jan. 29.
Assistant Professor of English Ryan Poll published an article in PopMatters titled "Disclosure, Dasein, and the Divine in Terrence Malick's 'The Tree of Life.'"
View photos from the Daniel L. Goodwin College of Education's ceremony to induct 14 students into the Kappa Delta Pi International Honor Society in Education.
In the media
Talking about financial aid
Executive Director of Financial Aid, Scholarships and Student Employment Maureen Amos joined Chief of Staff Mike Dizon for the latest Northeastern appearance on CAN TV to discuss student financial options. President Gloria J. Gibson and Director of Undergraduate Admissions LaMont Vaughn have also joined Dizon on recent editions of the series.
Also in the media ...
Broadway World, Chicago Plays and Make it Better have covered Northeastern's partnership with the Black Ensemble Theater (BET) for the Jackie Taylor's Anti-Racism Drama Series. College of Arts and Sciences Acting Associate Dean Tim Libretti will appear on Al Bresloff's WCPT radio show with members of BET at 2 p.m. Jan. 20 to discuss the series.
Communication, Media and Theatre Instructor Sommer Austin and Assistant Professor of Theatre Sarah Fabian joined Illinois Arts Council Board Member and The Agency Theater Collective company member Tim Touhy on "The Patti Vasquez Show" on WGN Radio to talk about the arts, theater and Northeastern. (The interview begins at the 46:15 mark.)
To do
'National Anthem'
Jackie Taylor's Anti-Racism Drama Series debuted Jan. 17 at Northeastern Illinois University with "National Anthem," a dramatic one-act play that speaks to the controversy surrounding professional athletes and their right to peacefully protest. The series continues with performances at 7:30 p.m. Jan. 18 and 5 p.m. Jan. 19. In the play, a star college athlete and pro prospect must decide whether or not to make a political stand in light of the possible consequences to his professional career. Tickets are free for all students, regardless of which school they attend. Tickets are also free for Northeastern employees and alumni by calling the Welcome Desk or picking up tickets at the box office the night of the show.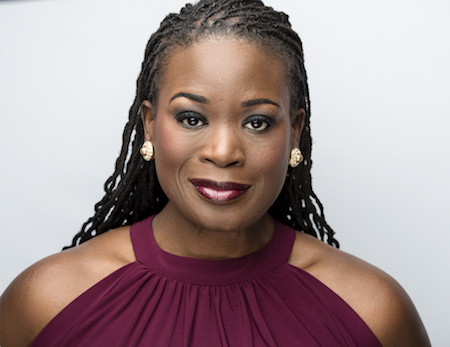 'Narrative of a Slave Woman'
LaToya Lain (pictured above) and Casey Robards will perform "Narrative of a Slave Woman: Songs of Suffering, Hope and Freedom" as part of the Jewel Box Series at 7:30 p.m. Jan. 18 in the Recital Hall. Lain's rich soprano voice has afforded her the opportunity to perform throughout the United States and internationally. Robards is a pianist and vocal coach known for her versatility, sensitive musicality and expert collaborative skill.
'Nuevas Voces'
The Department of Communication, Media and Theatre and the Office of Community and Professional Education will present Nuevas Voces: A Ten-Minute Play Festival and Contest in Stage Center Theatre on Jan. 25-26. We thank all contestants for their play submissions. There were many wonderful plays to judge in this year's submission pool, and it was a delight to read them all. Directed by Nathon Santana, Teatro Vista Ensemble member, the winning plays will be performed Jan. 25 at 7:30 p.m. and Jan. 26 at 2 p.m. and 7:30 p.m.
Mark your calendar!
Biennial Faculty Exhibition, through Feb. 1, Fine Arts Center Gallery
Biennial Faculty Exhibition reception, 6 p.m. Jan. 18, Fine Arts Center Gallery
Jesse Howard art workshop, 3 p.m. Jan. 22, Pedroso Center
Biennial Faculty Exhibition artist talk, 3 p.m. Jan. 22, Fine Arts Center Gallery
"Don't Bother to Knock" screening, 7:30 p.m. Jan. 23, Auditorium
Live the Dream Monologues, 3 p.m. Jan. 24, Alumni Hall
#FollowFriday
The Arts at NEIU
From the Jewel Box Series to theater performances, follow The Arts at NEIU on Facebook to stay up to date on all of Northeastern's cultural events!
Do you have a story tip? Let the Office of Public Relations know!
Mike Hines, Director of Strategic Communications, m-hines@neiu.edu, (773) 442-4240