Sometimes a little help is all a student needs to stay focused on school and finish a degree. Two new initiatives have been created to help students in a financial pinch. Find out more about the funds—how to apply, and how to donate—plus lots more in this week's Noteworthy at Northeastern.
Around the Commons
Emergency Funds
When Adella Robinson (pictured above) found herself in a financial jam, she turned to Northeastern's Student Emergency Fund. Within a week, she had a check to help pay the monthly rent bill. "If it had not been for that emergency fund of $500, I probably would have a five-day notice," said Robinson, an Interdisciplinary Studies major. "I don't even know where I would be today." The Student Emergency Fund and the University Professionals of Illinois Faculty and Students Together (FAST) Fund are new avenues for Northeastern students to seek immediate assistance during financial emergencies such as housing insecurities, unexpected medical hardships and job loss that might derail their academic progress.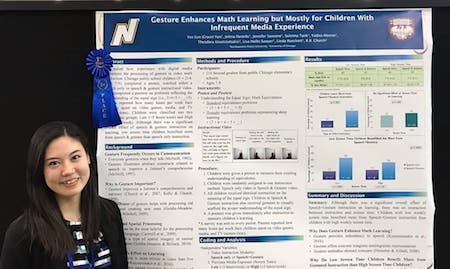 Research reward
Psychology major Yeo Eun (Grace) Yun was one of six recipients of the Student/Early Career Council (SECC) poster award during the Society for Research in Child Development (SRCD) Biennial Meeting, which took place March 21-23 in Baltimore, Md. Yun's poster was titled "Gesture Enhances Math Learning but Mostly for Children with Infrequent Media Experience." "I believe it is imperative to look at the holistic perspective of children's learning environments," Yun said. "Children are coming from various backgrounds, and many researchers do not consider how this could affect their education. I believe that gestures can help enhance children's learning and level the playing field to ensure every child will have the opportunity to succeed in their aspirations—especially women interested in STEM fields."
ISGAP fellowship at Oxford
Professor of Political Science Ellen Cannon has been awarded a spot in the Institute for the Study of Global Antisemitism and Policy's Oxford Summer Institute for Curriculum Development in Critical Contemporary Antisemitism Studies. The summer institute will take place in St. John's College at Oxford University in July and August. The Selection Committee recommended Cannon for a full ISGAP Fellowship as a Scholar in Residence for the ISGAP Oxford Program 2019.
Illinois Writing Project Summer Workshops
Registration is now open for four Illinois Writing Project summer workshops. Workshops are open to Chicago-area teachers and prospective teachers, and are geared toward the teaching of writing in K-12 schools. The mission of the Illinois Writing Project is to help teachers employ the best of what is known about writers and writing. For more information, please contact Professor Katy Smith.
And there's more!
In the media

Underwater in Alaska
The Center for College Access and Success sent its Chicago STEAM students to Alaska from April 2-7 to share their underwater robotic skills with their TRIO Upward Bound partner from the University of Alaska Anchorage. "The purpose of these programs is to make sure students that are low-income, first-generation and differently abled have the opportunity to be college ready," Northeastern's Aaron Cortes said in a local NBC affiliate news story on the visit. This was the first event planned for the 2019 STEAM Academy for Social Impact. Later this year, students will travel to Puerto Rico and Medellin, Columbia.
Also in the media ...
Inside Higher Ed and the Chicago Daily Law Bulletin reported on Northeastern's announcement that Maria Woltjen will deliver the Commencement address in May.
The Pioneer Press reported that alumnus Jeffrey T. Sherwin (B.A. '75 History) was inducted into the Triton College Wall of Fame.
The Polish Daily News published a story about World Languages and Cultures Instructor Czeslawa Kolak and a scholarship that is being created in her honor.
To do

Distinguished Research Professor lecture
Professor of Physics Paulo Acioli, the recipient of the 2018 Brommel Distinguished Research Professor Award, will deliver his lecture titled "Computational Modeling: From the Classroom to Condensed Matter Physics" at 3:30 p.m. April 24 in SU 214. The award is given annually to the tenured or tenure-track member of the Northeastern faculty who best demonstrates excellence in research and scholarship.
Audrey Reynolds Award lecture
Professor of Women's and Gender Studies Laurie Fuller, the recipient of the 2018 Audrey Reynolds Distinguished Teaching Award, will deliver her lecture titled "Cultivating Anti-Racist Feminist Pedagogy" at 3 p.m. April 25 in SU 214. The award is given annually to the tenured member of Northeastern's faculty who best demonstrates distinguished teaching—innovation, high standards and a positive impact on students at the University.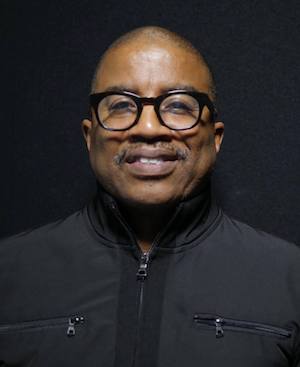 Brommel-Hahs Lecture
Dr. Guthrie Ramsey of the University of Pennsylvania will deliver this year's Brommel-Hahs Lecture, titled "The Serious Work of Musical Play," at 3 p.m. April 23 in the Recital Hall. An alumnus of Northeastern, Dr. Ramsey will discuss how music works as a powerful cultural transaction with allegorical potential. His current book project, "Sound Proof: Black Music, Magic and Racial Intimacies," is a history of African American music from slavery to the present.
Jewel Box Series
Neave Piano Trio will perform as part of Northeastern's Jewel Box Series on April 19. Since forming in 2010, Neave Trio—violinist Anna Williams, cellist Mikhail Veselov and pianist Eri Nakamura—has earned enormous praise for its engaging, cutting-edge performances. Neave has performed at many esteemed concert series and at festivals worldwide, including Carnegie Hall's Weill Recital Hall.
Coming next week!
#FollowFriday
#Proud2bNEIU
The annual #Proud2bNEIU giving day returns on April 24. Share your reasons for Golden Eagle pride on social media using the hashtag as the NEIU Foundation raises funds to help students achieve their academic dreams.
Do you have a story tip? Let the Office of Public Relations know!
Mike Hines, Director of Strategic Communications, m-hines@neiu.edu, (773) 442-4240