With only a few days left to register to vote for Chicago's next mayor, Northeastern Illinois University is making the process faster and easier. Find out how to register, who was in the news and which events are coming up in this week's edition of Noteworthy at Northeastern.
Around the Commons
Get out the vote
With the Chicago mayoral election approaching on Feb. 24, Northeastern is encouraging eligible voters to register to vote by the Jan. 27 deadline. The University has partnered with TurboVote to make the voter registration process quick and easy for Northeastern students and staff.
A tribute to MLK
Expounding on themes of racial inequality and nonviolent response, TV personality and author Touré applauded last year's national cry for justice during his Jan. 20 keynote speech for Northeastern's "Because He Lived" tribute to Martin Luther King Jr.
Save the date for Kane
The date for the 43rd annual Chuck Kane Scholarship Golf Event has been chosen: Monday, Aug. 17, 2015. The NEIU Foundation's largest fundraiser has brought in more than $217,000 for student scholarships since 1973.
And there's more!
President Sharon Hahs and Executive Director of Government Relations Suleyma Perez hosted a community roundtable on Jan. 21 with Chicago Treasurer Kurt Summers.
Vice President for Finance and Administration Michael Pierick was introduced Jan. 20 as a new member of the Community and Economic Development Association of Cook County Board of Directors.
English Professor Bradley Greenburg will conduct a seminar on Shakespeare's use of humor and wit for serious purposes at the Newberry Library on Jan. 30.
The second open meeting to discuss the Kimball Avenue Art Project is scheduled for 6:30-8:30 p.m. on Jan. 28 at El Centro. Community members, local organizations, Northeastern faculty and students, Ald. Rey Colon (35th) and state Sen. Iris Martinez's office have all been involved in planning the project.
Education Professor Emeritus Edward Odisho's latest paper, "Some Primary Sources of Accent Generation in the Pronunciation of Arabic by Native Speakers of English," has been published in Mediterranean Language Review, Vol. 21.
In the media
Economics in the news
It was a busy week for the Economics department. Associate Professor Christina Ciecierski made a live appearance on Polskie Radio (1030 AM) on Jan. 22 to talk about her Fulbright grant to teach at the Warsaw School of Economics in Poland, Obamacare and national economics. Department Coordinator Michael Wenz talked with WTTW about the renewed push for more casino gambling in Illinois. And Professor Emeritus Ed Stuart appeared on WTTW's "Chicago Tonight" to talk about Chicago's recovery from the recession.
REPORTING FROM GERMANY
The Augsburger Allgemeine of Germany published a story about Daniel Strassner, a graduate student on exchange from the University of Augsburg. In the story, he tells the newspaper about the diversity of the students he studies with and his first impressions of Chicago.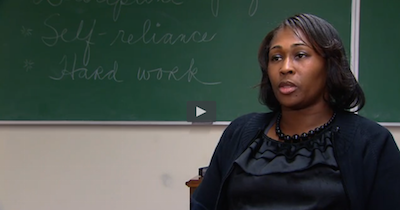 'I want to be that voice'
Social Work senior Tawana Pope spoke with WTTW about her inspirational personal story as she prepares to graduate in May. "I hope to make a difference in the lives of those individuals that may have faced trials and tribulations in their lives and didn't have a voice to speak for them," she said. "I want to be that voice to advocate for the things they need to make the transition into the life they deserve."
Also in the media ...
The Chicago Tribune published a feature on Education student Kevin Kucbor, who has cerebral palsy and competes internationally in karate.
Elmhurst Patch reported that U.S. Rep. Mike Quigley invited York Community High School teacher Patty Iverson (M.A. '96 History) to be his guest at the State of the Union address Jan. 20 in Washington, D.C.
Political Science Chair Jeffrey Hill appeared on CJOB radio in Winnipeg, Canada, on Jan. 20 to talk about Hillary Clinton's chances of earning a presidential nomination and what kind of president she would be.
The Chicago Tribune reported that Northeastern Fine Arts Gallery Curator Heather Weber will judge a student art event produced by the St. Charles Arts Council on March 6-8.
The Lawndale News featured Milly Santiago (B.A. '86 Nontraditional Degree Program – Kaskaskia), who is running for alderman of Chicago's 31st Ward.
To do
Spanish Film Fest
El Centro will host the NEIU Spanish Film Fest beginning Feb. 11. The five-week festival will consist of five unique films from different Spanish-speaking countries. Sponsored by the Department of World Languages and Cultures, the series features a diversity of themes.
Mark your calendar!
Jewel Box Series: Calmus ($25), 7:30 p.m. Jan. 23, Recital Hall
Pandora's Box feminist writing discussion (free), 12:15 p.m. Jan. 27, Pedroso Center
Las Comadres Latina student dialogue (free), 3 p.m. Jan. 27, Pedroso Center
Middle East Current Issues with Ipek Yosmaoglu (free), 7:05 p.m. Jan. 28, Pedroso Center
Faculty artist Nazar Dzhuryn, cello, and guest artist Irina Feoktistova, piano (free), 7:30 p.m. Jan. 29, Recital Hall
EmpowHERment Group (free), 3 p.m. Jan. 29, Pedroso Center
The Importance of Civic Engagement discussion (free), 3:05 p.m. Jan. 29, Fine Arts Room 203
#FollowFriday
Meet William Adler
The assistant professor of Political Science is all over Twitter, where he focuses largely on politics and academia but also includes a good dose of talk about technology, sports and pop culture. Adler primarily uses Twitter to engage on important issues of the day and connect newsworthy events to knowledge from the discipline of political science.
Do you have a story tip? Let the public relations office know!
Mike Hines, director of public relations, m-hines@neiu.edu, (773) 442-4240