What a rush! Hundreds of graduates participated in Northeastern Illinois University's Commencement ceremony on Dec. 13. Whether you missed it or were there and want to relive the magic, we've got all the videos, stories and photos you need. 
Around the Commons
'We are so proud of you'
Dame Libby Komaiko encouraged graduates to be lifelong learners during Commencement on Dec. 13 at UIC Pavilion in Chicago. "As you step forward to receive your diplomas exhibiting well-earned self-esteem and confidence, we are so proud of all of you," she said. "Continue forward and remember that the inevitable times of falling backward will ultimately challenge you to create the opportunity to redirect your energy and plans in a new direction." Komaiko was presented with the highest honor Northeastern bestows upon alumni, the Distinguished Alumnus Award. Check out more from Commencement:
Professors emeriti
Northeastern has awarded emeritus status to eight retiring faculty members. The University awards the prestigious status to eligible retiring faculty members upon the recommendation of the department or program, with the concurrence of the dean and the provost, and with the approval of the University president.
Another grant for the Ensemble
Ensemble Español Spanish Dance Theater has been awarded a $35,000 grant by The Chicago Community Trust. The grant will help fund the Ensemble's special collaboration with world-renowned Spanish dancers and choreographers Ángel Rojas and Carlos Rodríguez, who will work with the Ensemble's professional company, perform at the historic 40th Annual American Spanish Dance and Music Festival, and set a new choreography on the company.
And there's more!
Northeastern will be closed from Dec. 24 through Jan. 3 for winter break.
In the media
The gift from Goodwin
Daniel L. Goodwin's historic matching pledge of $2.5 million to Northeastern was mentioned in a Crain's Chicago Business story about the sale of the company he founded, Inland Real Estate. Northeastern has renamed the College of Education in his honor and will host an official ceremony and fundraising kickoff event early in 2016.
Also in the media ...
To do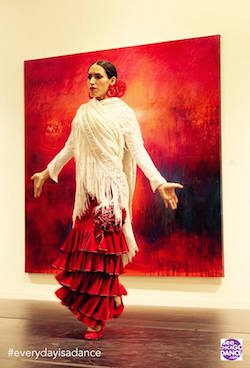 Ensemble Español holiday concert
Ensemble Español will present its annual Concierto Familiar on Dec. 18 at 7:30 p.m. in the Auditorium on the Main Campus. The Ensemble's full company of 40 dancers will perform the dances of Spain in all three styles of Spanish dance.
#FollowFriday
On the big screen
Whether you weren't at Commencement or you want to relive the experience, check out the #NEIUgrad images that flashed across the big screens!
Do you have a story tip? Let the public relations office know!
Mike Hines, Director of Public Relations, m-hines@neiu.edu, (773) 442-4240