Daniel Goodwin made his first visit to Northeastern Illinois University after announcing his historic financial pledge, and the College of Education took the opportunity to thank him for the commitment that will help not just Education students, but also students from all colleges through the Goodwin Gift Challenge. Get more details on Goodwin's visit, this year's recipient of the Distinguished Alumna Award and more!
Around the Commons
A visit from Daniel L. Goodwin
Daniel L. Goodwin, who recently made a historic matching pledge of $2.5 million to Northeastern, visited the Main Campus on Nov. 17 to meet with members of the University community, including faculty and staff from the newly renamed Daniel L. Goodwin College of Education. The college will be dedicated during an official ceremony and fundraising kickoff event early in 2016. The college posted photos of Goodwin's visit on its Facebook page.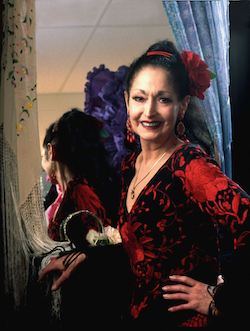 Distinguished Alumna Award
Dame Libby Komaiko, founder of the internationally acclaimed Ensemble Español Spanish Dance Theater, has been selected as Northeastern's 2015 Distinguished Alumna and will be honored during the Dec. 13 Commencement ceremony at UIC Pavilion.
English honors
Sigma Tau Delta (English Honors Society) members Rosalind Dorne, Mark Gunter, Kathryn Hudson, Sarah Vaid and Billy Peters had their panel, "Reading 'Others' Mail: The Epistolary Tradition and the Racialized Reader of Ta-Nehisi Coates's Between the World and Me" accepted into the Sigma Tau Delta 2016 International Convention in Minneapolis, Minn., in March.
And there's more!
Northeastern will be closed Nov. 26-29 for Thanksgiving weekend.
The 2015 President's Report is now published online.
Ensemble Español will participate in the annual McDonald's Thanksgiving Parade along Chicago's iconic State Street from 8-11 a.m. on Nov. 26. The appearance was mentioned in a story by La Raza.
Patricia Jones Thurmond (M.A. '75 Inner City Studies) has published "Let Me Tell You a Story ... A Memoir."
In the media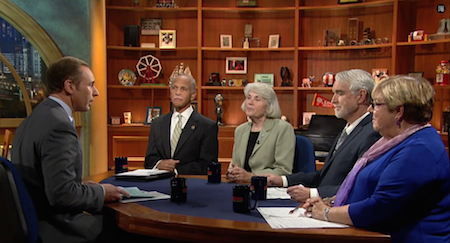 'Chicago Tonight'
President Sharon Hahs joined University of Illinois President Timothy Killeen, Chicago State University President Wayne Watson and Governors State University President Elaine Maimon on WTTW's "Chicago Tonight" for a panel discussion about the the state budget impasse.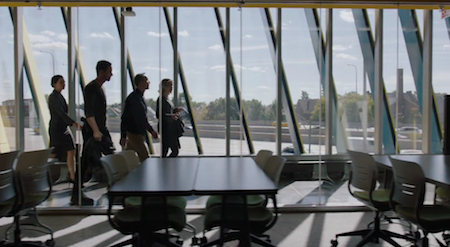 El Centro on 'Chicago PD'
If you noticed a familiar building on the Nov. 11 episode of "Chicago PD," your eyes were not deceiving you—that was El Centro! The building appears around the 11-minute mark of the episode.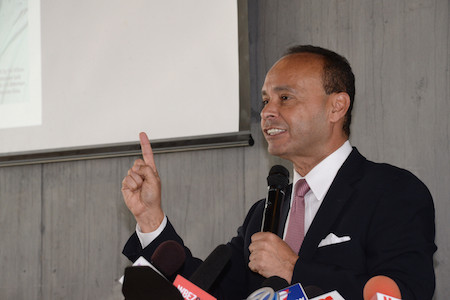 Citizenship workshop
DNAinfo Chicago, Progress Illinois and several other news outlets visited El Centro to cover a citizenship workshop and information session hosted by Chicago Alderman Carlos Ramirez-Rosa and Congressman Luis V. Gutierrez.
Also in the media ...
WGN broadcast a story about the Special Olympics of Illinois regional floor hockey tournament in the P.E. Complex.
The Polish Daily News published a story about the Nov. 6 Polish-American Heritage Celebration at Northeastern.
To do
'Get Your Act Together'
The Department of English will host alumnus Dorian Alexis Santiago (B.A. '05 English) for a talk at 3 p.m. on Nov. 24 in CBM 113. An award-winning director, successful acting/improv coach, and author of "Get Your Act Together: Living an Oscar-Worthy Life," Santiago will share his set of rules and principles that can be applied to create success and abundance in any facet of one's life.
The sound of flamenco
Cuban-born flamenco guitarist Josué Tacoronte will perform with members of Ensemble Español Spanish Dance Theater on Nov. 20 as Part of the Jewel Box Series.
Mark your calendar!
Show Closing Reception, 6 p.m. Nov. 20, Fine Arts Gallery
MUNTU Dance Theatre of Chicago performance, 6 p.m. Nov. 20, Carruthers Center
"Wealth," Nov. 20 at 7:30 p.m. and Nov. 21 at 2 p.m. and 7:30 p.m., Stage Center Theatre
NEIU Opera Workshop Fall Scene Recital, 7:30 p.m. Nov. 20 and Nov. 21, Auditorium
Psychology Clubs and Psi Chi hot cider sale, 2-4 p.m. Nov. 24, Village Square
Piano Showcase, 3:05 p.m. Nov. 24, Recital Hall
Thursday Night Live: Pygmy Tribe, 10 p.m. Nov. 24, Student Lounge
#FollowFriday
Student leaders
The Office of Student Leadership Development provides students with meaningful opportunities through co-curricular activities. They were extra busy helping others during Hunger and Homelessness Awareness Week! Follow them on Facebook to keep up with all the good work that they do.
Do you have a story tip? Let the public relations office know!
Mike Hines, Director of Public Relations, m-hines@neiu.edu, (773) 442-4240