What can $10 million do for Northeastern Illinois University? We're about to find out. The University publicly launched the first fundraising campaign in its 150-year history last week with a kickoff event attended by presidents past and present, trustees, students, alumni, faculty, staff, NEIU Foundation Board members and close friends of Northeastern.
Find all of the details on the Transforming Lives campaign and much more in this week's edition of Noteworthy at Northeastern.
Around the Commons
Transforming Lives
Northeastern's first fundraising campaign centers around two initiatives: Extraordinary Scholarship Support and Exceptional Learning Environments. Through the effort, Northeastern will build strong resources for scholarships and for colleges, departments and programs that are necessary for the future. "Our students are the future of this country and the leaders we so desperately need," Interim President Richard Helldobler said. "Yes, Northeastern transforms lives, and it has never been more important than right now to help us continue that work."
Safest university
Northeastern was named the state's safest university in a new report by YourLocalSecurity, the security analysis division of ADT Security Services. Using data and statistics from the FBI and U.S. Department of Education, YourLocalSecurity isolated the safest college campus in each state, based on low crime rates and programs designed to provide on-campus protection.
An ACE Fellowship
The American Council on Education (ACE) has announced that Erick Howenstine, chair of the Department of Geography and Environmental Studies, has been named an ACE Fellow for the 2017-18 academic year. Established in 1965, the ACE Fellows Program is designed to strengthen institutions and leadership in American higher education by identifying and preparing faculty and staff for senior positions in college and university administration.
Another NEH grant
Associate Professor of History and Latino/Latin American Studies Christina Bueno has been awarded a National Endowment for the Humanities Summer Stipend grant to work on her second book project, "Excavating Identity: Archaeology in Revolutionary Mexico, 1920-1940," a comprehensive study of the different facets of government-sponsored archaeology during the two decades following Mexico's 1910 revolution.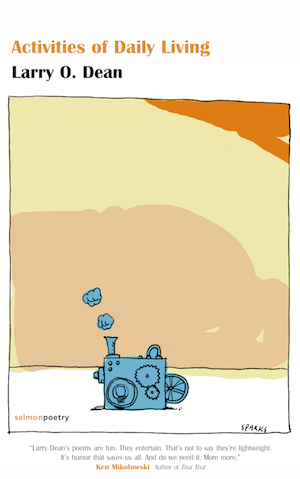 'Activities of Daily Living'
English Instructor Larry O. Dean has written a new full-length book of poetry. "Activities of Daily Living" was published Feb. 8 in Ireland and the U.K. by Salmon Poetry and will become available in the United States on April 15. The book's title refers to routine occupations that people do every day without needing assistance. Dean examines those ordinary enterprises—reading and writing email, watching TV, going out to eat, working a job, parking the car, grocery shopping, online purchasing—while considering the juxtaposition between revelation and irreverence, employing an objective but no less passionate appraisal of popular culture and its byproducts.
And there's more!
Anthropology Professor and University Honors Program Professor Jon Hageman and co-author David Goldstein presented a paper titled "From Quelites to Crop Indices: Thinking Through Maya Chenopods" at the 82nd Annual Meeting of the Society for American Archaeology in Vancouver, B.C., Canada, on April 2.
Associate Professor of English and African American Studies Chielozona Eze and English Instructor Larry Dean will be featured performers during The Book Cellar's Local Author Night on April 19.
In the media
NBC5 reported the news of Northeastern's top safety ranking in the state.
To do
Stomping Grounds
Ensemble Español will participate in four performances during the Third Annual Stomping Grounds series. The Chicago Human Rhythm Project (CHRP), in collaboration with Ensemble Español, Mexican Folkloric Dance Company of Chicago, Muntu Dance Theatre of Chicago and Trinity Irish Dance Company, spotlights Chicago's exceptionally diverse percussive dance community with the free citywide series of community performances and education programs that run through June 2.
'End Days'
The Stage Center Theatre will debut the Spring 2017 production of "End Days" on April 20. The comedy observes the Stein family trying to hold it all together after 9/11. Students and employees can attend for free by presenting a current Northeastern ID card at the Information Center in the Student Union. Performance dates and times are: April 20, 21, 22, 27 and 28 at 7:30 p.m.; April 29 at 2 and 7:30 p.m.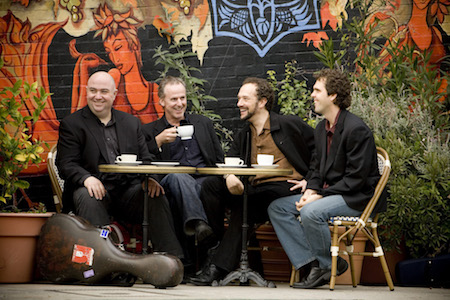 Jewel Box Series
The Grammy Award-winning Los Angeles Guitar Quartet (LAGQ) will perform April 21 as part of the Jewel Box Series. LAGQ is one of the most multifaceted groups in any genre. LAGQ is comprised of four uniquely accomplished musicians bringing a new energy to the concert stage with programs ranging from bluegrass to Bach. Their inventive, critically acclaimed transcriptions of concert masterworks provide a fresh look at the music of the past, while their interpretations of works from the contemporary and world-music realms continually break new ground.
'Flipping the Narrative'
Students in the graduate course EDFN 497: Critical Race Theory in Education have prepared an event titled "Flipping the Narrative From the Classroom to the Community: Critical Race Theory and Praxis" that is scheduled for April 21. The University of Illinois at Chicago's David Stovall, professor of Educational Policy Studies and African-American Studies, and prominent CRT scholar, will provide the keynote address. Five breakout sessions will follow Stovall's address. Further details and registration information are available online.
Breaking down borders
Students will give two presentations about their Alternative Spring Break experiences along the border with Mexico. The first will be at 4 p.m. April 18 in El Centro Room 201, and the second will be at 3 p.m. April 20 in the Pedroso Center.
'Populism in Europe' talk
Associate Professor of Political Science Martyn De Bruyn will host a talk titled "Populism in Europe: Reflections on the Elections in the Netherlands and France" at 7 p.m. April 18 in FA 107. The event is sponsored by the Department of Political Science and the Polish and European Academic Center for Exchange and Research (PEACER).
Mark your calendar!
Annual Juried Student Art Exhibition, through April 28, Fine Arts Gallery
Senior Cello Recital, 6 p.m. April 14, Recital Hall
Senior Voice Recital, 2 p.m. April 17, Recital Hall
COBM Job Fair, noon-3 p.m. April 18, Alumni Hall
NEIU Chamber Singers and Chorus, 7:30 p.m. April 18, Auditorium
Thursday Night Live: Snow Burial, 9 p.m. April 18, Student Lounge
Las Comadres womyn's group, noon April 19, Pedroso Center
Senior Guitar Recital, 2:30 p.m. April 19, Recital Hall
Woodwind Studios Showcase, 7:30 p.m. April 19, Recital Hall
"Who Killed Teddy Bear," 7:30 p.m. April 19, Auditorium
Student Recital, 7:30 a.m. April 20, Recital Hall
Thursday Night Live: Bosley Mongo, 10 p.m. April 20, Student Lounge
Annual Juried Student Art Exhibition Reception and Awards, 6-9 p.m. April 21, Fine Arts Gallery
#FollowFriday
University Police Department
The University Police Department has helped make Northeastern the safest university in the state. How did they do it? Follow the department on Facebook for safety tips, news updates and invitations to informational sessions.
Do you have a story tip? Let the public relations office know!
Mike Hines, Director of Public Relations, m-hines@neiu.edu, (773) 442-4240