Spring break started with the Chicago Brass Festival and never looked back. Check out the latest on publications, media appearances and more!
Around the Commons
Brass Fest's best
The Chicago Brass Festival on March 13-14 was a huge success, drawing attendees from around the country. Northwestern University's Max Briggs won the solo competition on tuba, and second prize went to Edward Dealecio of the University of Texas-Arlington on trombone. Members of Axiom Brass judged the competition. The event was spearheaded by the Department of Music, Associate Professor Travis Heath, and Christie Miller and the Office of Cultural Events. Check out photos from the event on the Arts at NEIU Facebook page!
National award winner
Associate Vice President for Student Affairs Daniel Lopez will receive this year's Latino/a Knowledge Community Outstanding New Program award from NASPA – Student Affairs Administrators in Higher Education at the annual conference March 21-25 in New Orleans. The award, which recognizes the people and universities behind new programs and services that better support and serve the Latino college community, goes to Lopez for his work on Northeastern's Undocumented Student Project.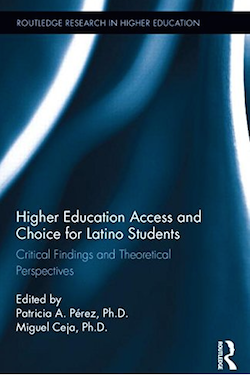 A chapter from Student Affairs
Vice President for Student Affairs Frank E. Ross and Assistant Vice President for Student Affairs Jermaine Williams have co-authored a chapter in the new book "Higher Education Access and Choice for Latino Students: Critical Findings and Theoretical Perspectives." The chapter details how Northeastern's Summer Transition Program leads to greater access and educational outcomes, particularly for Latino and African-American students, within the context of being a Hispanic Serving Institution.
DACA and DAPA assistance
El Centro will host two Deferred Action for Childhood Arrivals (DACA) renewal workshops (9 a.m. and noon) and a Deferred Action for Parental Accountability (DAPA) information session (9 a.m.) on Saturday, March 28. The event is free and open to the public.
Smoke-free Northeastern
By Illinois law, all state university property will become smoke-free beginning July 1. Stay tuned in the coming weeks for more details on what that means for Northeastern's locations.
And there's more!
In the media

Urban Warriors
Northeastern alumnus Eddie Bocanegra (B.A. '12 Social Work) was featured in a story on WTTW's "Chicago Tonight" about a new program he is spearheading through the YMCA of Metro Chicago that brings together teens from some of the city's roughest neighborhoods with post-Sept. 11 combat veterans.
Be sure to tune in
El Centro will be featured at 6 p.m. March 21 and 2:30 p.m. March 22 when ABC7 airs the latest edition of its "Ñ Beat" series about Chicago's Latino community. Spoiler alert: They love it!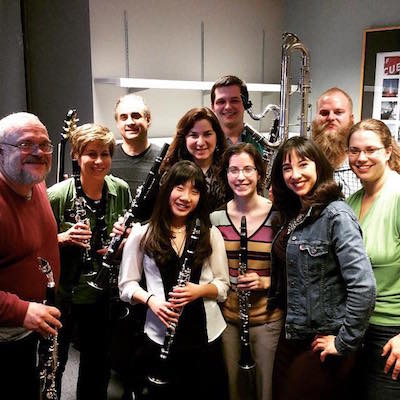 St. Patrick's soundtrack
The Chicago Clarinet Ensemble was featured March 16 on WGN Radio's "Pretty Late with Patti Vasquez." (The appearance starts around the 40-minute mark.) Students Caroline Chen and Konrad Pawelek; alumnus Matthew Bordoshuk; faculty Rose Sperrazza and Brian Torosian; and staff member Christie Miller performed Irish music for the St. Patrick's Day-themed show.
Also in the media ...
To do
'The Hijabi Monologues'
As part of Women's History Month, the Women's Resource Center and Asian and Global Resource Center will present a performance of "The Hijabi Monologues" at 3 p.m. Friday, March 27, in the Recital Hall. Established in 2006, "The Hijabi Monolgues" creates a theater space for the experiences of Muslim women. Founder Sahar Ullah, Kamilah Pickett and Rafiah Jones will perform, and a panel discussion will immediately follow.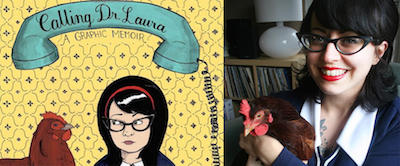 Women of graphic novels
As a part of the Visiting Writers Series, graphic novelists A.K. Summers, Nicole Georges and Phoebe Gloeckner will engage in a panel discussion about their individual work as well as the medium of graphic narratives on Tuesday, March 24. University of Chicago professor and expert on comics and graphic narratives Hillary Chute will moderate the discussion.
Incarceration conversations
Two groups will present free events addressing mass incarceration from March 23 through April 2 that are open to public. The effort begins March 23 with an art exhibit in the Ronald Williams Library and a discussion with artists Damon Locks and Sarah Ross, as well as Art Assistant Professor Vida Sacic.
Graduate Open House
Northeastern's College of Graduate Studies and Research will host a Graduate Open House at 6 p.m. March 26 in Alumni Hall. The event is for prospective students interested in furthering their education in post-baccalaureate courses or programs.
Mark your calendar!
HERstory with Maria De La Torre (free), 4:15 p.m. March 23, Pedroso Center
Pandora's Box open discussion (free), 12:15 p.m. March 24, Pedroso Center
Middle East Current Issues with Dr. Sholeh Shahrokhi (free), 7:05 p.m. March 25, Pedroso Center
NEIU Varsity Big Band (free), 7:30 p.m. March 25, Auditorium
Mini-Kane Mini-Golf event (fundraiser), noon-5 p.m. March 26, Alumni Hall and El Centro
EmpowHERment group (free), 3 p.m. March 26, Pedroso Center
Social Work Day (free), 9 a.m. March 27, Alumni Hall
Fahimeh Mehrabkhani, soprano - Elective Voice Recital (free), 7:30 p.m. March 27, Recital Hall
#FollowFriday
College of Education
We learn something new every day … the College of Education has relaunched its Facebook page! As one of the oldest education colleges in the Chicago area, the Northeastern Illinois University College of Education is committed to preparing competent and socially just educators. Its students and faculty are committed to research as it relates to teaching practice, and many of its alumni have taken on leadership positions that positively effect the communities in which they serve. 
Do you have a story tip? Let the public relations office know!
Mike Hines, director of public relations, m-hines@neiu.edu, (773) 442-4240