That's it, folks! Northeastern Illinois University's year is over, but before we get too excited about 2016, let's take a look back at the year that was with a couple of stories about some of the University's accomplished recent alumni and a video slide show.
Around the Commons
The beach means business
On a balmy August afternoon in Chicago, Raffe Paulis mingles among a crowd of professional volleyball players at North Avenue Beach. In about 20 minutes, Paulis and his playing partner will compete in their first match of the AVP Chicago Open. This is not just another stop on the tour for the athlete—it's in his home city, and only a few miles from where he earned his Bachelor of Science in Finance at Northeastern in 2009. Three years after earning his degree, Paulis moved to California to pursue his beach volleyball dreams. "The college degree is the base for everything," said Paulis, who plans to become a financial analyst after his volleyball career is over—whether that's next year or in 10 years. "If volleyball doesn't work out I have a base, and Northeastern provided me with that base."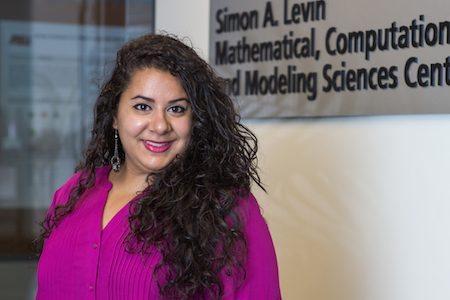 The science behind shootings
Mass shootings are contagious. That was the headline-grabbing conclusion of a research project that Maryam Khan began working on when she was a senior at Northeastern. Almost as soon as the paper was published by PLoS ONE journal in July 2015, lead researcher Sherry Towers' phone began to ring with calls from news outlets such as NBC, NPR and The Washington Post. "It was really exciting to hear how widely spread this paper was receiving attention," said Khan, who graduated with a Bachelor of Arts in Mathematics in 2013 and now is enrolled in Arizona State University's Ph.D. program for Applied Mathematics for the Life and Social Sciences. "At the same time, I realized this paper is talking about media attention for mass shootings, and I found that ironic."
And there's more!
In the media
The Windy City Times published a column about legislation over bathroom access that was co-authored by Professor Erica Meiners.
To do
NWCFS films for spring
The Northwest Chicago Film Society has announced its spring slate of movies that will be shown on the Main Campus. Similar to the fall screenings, there will be a silent film with live accompaniment slated for the Feb. 3 showing of "Old Ironsides."
#FollowFriday
#NEIU2015
What a year! When we weren't receiving awards, grants and honors in 2015 we were writing books, releasing albums and painting murals. It was a year of achievement, excellence, and very special guest stars such as Touré and Rita Moreno. Follow this hashtag on Twitter, Facebook and Instagram over the winter break to take a look back. And you can contribute! What was your most memorable #NEIU2015 moment?
Do you have a story tip? Let the public relations office know!
Mike Hines, Director of Public Relations, m-hines@neiu.edu, (773) 442-4240