Next week is finals week at Northeastern Illinois University. As we all buckle down for the final push to the end of the semester—and Commencement for some—we have some exciting news to share from the City of Chicago, Ensemble Español and more.
Around the Commons
City honors
The City of Chicago has issued a resolution congratulating Northeastern on the sesquicentennial of the University. The resolution, which was introduced by Alderman Margaret Laurino, an alumna, passed on Nov. 8. Available on the City Clerk's website, the resolution concludes, "Be it resolved, that we, the City of Chicago and members of the City Council gather here to congratulate Northeastern Illinois University on its sesquicentennial celebration and extend our best wishes for continuing success and achievement." You can read more about Northeastern's 150-year history in the new book, "Northeastern Illinois University: The First 150 Years," written by alumnus Richard Lindberg.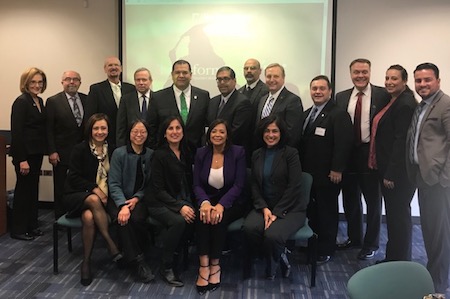 Illinois Legislative Latino Caucus Foundation Town Hall
Northeastern was the site of the Illinois Legislative Latino Caucus Foundation Town Hall on Dec. 1. Above, the University's trustees pose with members of the caucus during a breakfast hosted by Northeastern. Univision and ABC7 reported on the town hall.
And there's more!
In the media
Undocumented success
Vice President for Student Affairs Daniel López and Director of Undocumented Student Resources Luvia Moreno co-authored an article for the Association of American Colleges & Universities about building pathways to success for undocumented students. "It is not sufficient to provide access or to claim that we embrace diversity," the article says. "We must work together to remove the barriers preventing our students from reaching their full potential so they can be better equipped to contribute to American society and the world."
Wind Ensemble concert for charity
The Northeastern Wind Ensemble, conducted by Department of Music Acting Chair Travis Heath, was filmed by ABC7 during its coverage of the Salvation Army Benefit Concert at the Salvation Army Mayfair Community Church. More than 500 people attended the concert.
SitStayRead
The Center for College Access and Success has been a partner in literacy program for low-income children that has a special twist. Featured by RedEye, SitStayRead uses certified reading assistance dogs to facilitate reading and writing development. SitStayRead has 79 Dog Teams and 149 volunteers, known as Book Buddies, according to RedEye.
Also in the media ...
Sports Illustrated interviewed former Northeastern student Alan Rood for a story in its eight-part series titled "Football in America." The story mentions that Rood's Von Steuben High School football team practices at Northeastern.
A Dallas Morning News column about sexual misconduct in the Muslim clergy quoted Associate Professor of History Mateo Farzaneh.
WTTW's "Chicago Tonight" invited Economics Professor Emeritus Edward Stuart onto the show to discuss the latest Republican tax bill.
To do
Ensemble Español Holiday Concerts
The Ensemble Español Spanish Dance Theater will perform its annual holiday concert in the Auditorium on Dec. 15 and Dec. 16. The Ensemble's full company will perform all three styles of Spanish dance: classical, folkloric/regional, and Flamenco in the traditional and contemporary forms. Tickets range from $15-$30, with a $5 discount for Northeastern students, faculty and staff.
Mark your calendar!
"No Child," Dec. 8 at 7:30 p.m. and Dec. 9 at 2 p.m. and 7:30 p.m., Stage Center Theatre
Thursday Night Live: Rosaries, 10 p.m. Dec. 14, Student Lounge
#FollowFriday
NEIU Students
If you are a current student, be sure to follow NEIU Students on Facebook to stay up to date on events, deadlines and tips for making the most of your time at Northeastern.
Do you have a story tip? Let the public relations office know!
Mike Hines, Director of Public Relations, m-hines@neiu.edu, (773) 442-4240