Recent Psychology graduate Andrè Herrera Charpentier (pictured above) is making plans to start a Ph.D. program in Behavioral Neuroscience in the fall on a full scholarship. Read about his inspirational journey, a current student's teaching honor and more in Noteworthy at Northeastern.
Around the Commons
DACAmented and determined
The science of success isn't an exact formula. Yet, Andrè Herrera Charpentier figured it out. After earning his bachelor's degree in Psychology from Northeastern in May, Herrera Charpentier is now preparing to begin a Ph.D. program in Behavioral Neuroscience on a full scholarship at Michigan State University in the fall. Though he comes across as kind of shy, Herrera Charpentier can't contain his enthusiasm when he talks about science. "I always wanted to do something with medicine, something with science," said Herrera Charpentier, who minored in Biology and Chemistry at Northeastern. "I've had that in me since I was young." Read more about Herrera Charpentier's journey.
And there's more!
Assistant Professor of English Ryan Poll will participate in the 2019 PCA-BGSU Summer Research Institute from June 23-28 at Bowling Green State University. Poll is working on a chapter on the intersections of the Great Depression, the New Deal and the development of Superman.
In the media
To do
Coming next week!
#FollowFriday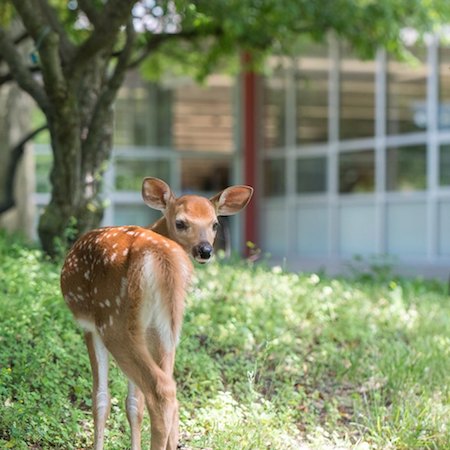 Goslings and fawns
Summer has arrived, and so have the cute baby animals. As long as they keep appearing on campus, we'll keep sharing photos on Instagram!
Do you have a story tip? Let the Office of Public Relations know!
Mike Hines, Director of Strategic Communications, m-hines@neiu.edu, (773) 442-4240