Northeastern Illinois University is playing an increasing role in the education of future Latinx business leaders. Find out more about Northeastern's efforts, an education alumna who saved the life of one of her fifth-grade students and more in this week's edition of Noteworthy at Northeastern.
Around the Commons
Future is now FOR LATINX BUSINESS COMMUNITY
Francisco Sebastian (pictured above) always carries a pen and paper with him. "A business deal can be done in a minute," he likes to say. Sebastian is a senior Accounting major at Northeastern, a federally recognized Hispanic Serving Institution (HSI). Sebastian also is a symbol of the changing demographics of the talent available to the business community. While HSIs make up only 17 percent of higher education institutions, they graduate 66 percent of all Latinx undergraduate students. What does that mean? As the Hispanic population continues to grow, the future of the college-educated Latinx workforce in Chicago and beyond will pass through universities like Northeastern.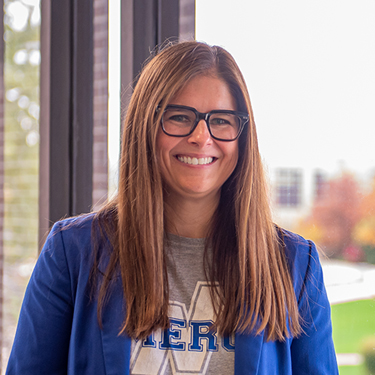 Distinguished Teaching Award
Northeastern has selected Associate Professor of Mathematics Sarah Cordell as the 2019 recipient of the Audrey Reynolds Distinguished Teaching Award. Professor Emerita of Linguistics Audrey Reynolds established the award to be given annually to a tenured member of the Northeastern faculty who best demonstrates distinguished teaching. "My main goal as a math teacher is to create comfortable, non-intimidating learning spaces within my math classrooms that support culturally diverse students in simultaneously strengthening their participation, identities as math learners, and their access to and appropriation of mathematics," Cordell said. "I hope the experiences that students have in my classrooms helps them to develop a growth mindset about their math abilities. I hope they leave my class thinking 'I can be a math person' or 'I am a math person.'"
Art and sound
Communication, Media and Theatre Instructor Matthew Sage designed the sound for artist Pope.L's "Choir," which is installed at the Whitney Museum of American Art through this year and into 2020. Sage layered the sounds of a massive water tank being installed and tested with samples of choirs that he heavily treated. Sage (pictured above, right, with Pope.L) designed a four-mic system to amplify the sound of the tank filling and draining in the gallery space. All these sounds are fed into a four-speaker system in the gallery space that offers a deeply spatial viewing/listening experience. It is as much an exercise in deep listening and chance operation as it is an exploration of hautological sound collage, segregation and racism, and the unpredictability of water. Finally, Sage created a series of cartoony water drips that play on constant loop in the lobby of the museum.
And there's more!
In the media
A hero alumna
Northeastern alumna Melissa Sagat (B.A. '08 Elementary Education-Teacher Education), a fifth-grade teacher at Washington Elementary School in Glenview, saved the life of a choking student earlier this month, drawing attention from WGN. "It was very scary, but your instincts kick in," Sagat told WGN.
Also in the media ...
To do
Career Fair and Symposium
American's Urban Campus, an organization that includes Northeastern as a member, will present a career fair and symposium for Chicago-area college undergraduate and graduate students majoring in the life, physical and social sciences. The Career Fair and Symposium will run from 1-4 p.m. Oct. 29 at the UIC Student Center East with employers such as Caterpillar, USDA, bioStrategies and the Peace Corps! There will be a networking reception from 4-5 p.m. with light refreshments.
NETT Day
NETT Day, a celebration of technology and how we use it to improve society, returns to Northeastern on Oct. 31. The day's schedule includes keynote speakers and workshops that make us think about human interaction with technology, as well as give us hands-on experience with new ways of using technology to interact with the world, and features vendors that help promote new technology to our students.
The 82
The Department of English will continue its literary series, The 82 (Creative Writing Minor Reading Series), on Tuesday, Oct. 29, at 4 p.m. in CBM 149. The featured speakers will be:
Kristiana Rae Colón, poet, playwright ("Octagon," "Good Friday")
Jac Jemc, author of "False Bingo" and "The Grip of It"
Jacob Saenz, poet and editor
TRIO Leading and Learning Week
TRIO Student Support Services will host the Fall 2019 TRIO SSS Leading and Learning Week from Oct. 28 through Nov. 1. TRIO Leading and Learning Week is an opportunity to engage with students, faculty, staff and community members with one goal in mind: to promote success in college and in life. Topics covered during the daily sessions include the financial aid process, financial literacy, scholarships, study skills and strategies, professional development, career readiness, work-life balance, and personal wellness and growth. Space is limited. To ensure a space, advance registration is strongly recommended.
Coming next week!
LGBTQ+ Domestic Violence: Innovations in Survivor Services, Policies and Research, 12:15 p.m. Oct. 29, Pedroso Center
Jazz Combo, 3:05 p.m. Oct. 29, Recital Hall
Filipino American History Month: Open Mic Night, 6 p.m. Oct. 29, Pedroso Center
NEIU Chamber Singers and University Chorus, 7:30 p.m. Oct. 29, Recital Hall
"Ghost Catchers" screening, 7:30 p.m. Oct. 30, Auditorium
SLAM Open Mic Poetry Club Thursday Show, noon Oct. 31, Cafeteria
Student Recital Hour, 3:05 p.m. Oct. 31, Recital Hall
View all of the University's future events at neiu.edu/events.
 
#FollowFriday
Take in some TRIO
Are you following TRIO Student Support Services on Facebook and Twitter? You should! Follow along to get information on TRIO events such as Learning and Leading Week, as well as info on scholarships, financial planning, communication skills and job searches.
Do you have a story tip? Let the Office of Public Relations know!
Mike Hines, Director of Strategic Communications, m-hines@neiu.edu, (773) 442-4240