From California to Wisconsin, Northeastern Illinois University's Biology graduates are earning national recognition. Read about what four of them have accomplished, which conferences are coming to Northeastern and much more!
Around the Commons
Kudos to Biology grads
Four Biology graduates have earned National Science Foundation Graduate Research Fellowships in the past three years. Congratulations to Anna Baker, Christopher Craddock, Angela Varela and Daniel Westcott!
Ready to Lead
The Congressional Hispanic Caucus Institute and its Ready to Lead college readiness program will host a day of workshops and trainings at Northeastern on April 18. Executive Director of Government Relations Suleyma Perez will provide greetings on behalf of Northeastern, which has hosted the event every year since 2009. In addition to providing the space, Northeastern (now through the Center for College Access and Success) recruits the students, speakers and mentors for the event.
A race for scholarships
Several members of the Northeastern community organized a team that participated in the Recorrido del Sol and Illinois Dream Fund Scholarships 5K Run/Walk on April 12. The Recorrido del Sol is the first major running event from the Pilsen community to benefit first-generation immigrant college students from Illinois.
And there's more!
Former Vice President for Institutional Advancement Carla Knorowski discussed and signed copies of her new book, "Gettysburg Replies: The World Responds to Abraham Lincoln's Gettysburg Address," at 6 p.m. April 16 at the Barnes & Noble in Chicago's Loop.
The Chicago Architecture Foundation will visit El Centro on April 18 for its Schools by Bus Tour.
The Department of Literacy Education and Chicago Area Reading Association will host the 2015 Spring Conference on April 18 at the Center for College Access and Success.
Northeastern will participate in the Chicago Federal Reserve's Money Smart Week from April 18-25. Money Smart Week is a public awareness campaign to promote financial literacy across all age groups.
Northeastern will host the Cyberbullying/Bullying Network and Conference on April 20.
President Sharon Hahs and Executive Director of Government Relations Suleyma Perez will lead a contingent of University representatives to participate in the Annual NEIU Lobby Day in Springfield on April 23 as part of Northeastern's budget advocacy efforts.
Northeastern will host the Illinois Association for Multilingual Multicultural Education Spring Event on April 23.
Northeastern will host the Illinois Latino Council on Higher Education conference on April 24.
English Professor Bradley Greenburg will sign copies of his first novel, "When Lilacs Last in the Dooryard Bloomed," at an exclusive ticketed meet-and-greet on May 23.
Vice President for Student Affairs Frank E. Ross will be a featured plenary speaker for an event the American Association of State Colleges & Universities is hosting in conjunction with NASPA from June 4-6 in New Orleans. The panel will focus on collaboration to support civic engagement.
College of Arts and Sciences Associate Dean Katrina Bell-Jordan was re-elected to the Skokie Illinois District 68 School Board of Education.
In the media

More attention for Moreno
Following last week's announcement, the Sun-Times published a second story mentioning that Rita Moreno will deliver Northeastern's Commencement speech on May 11. The Windy City Times also published the news.
Also in the media ...
To do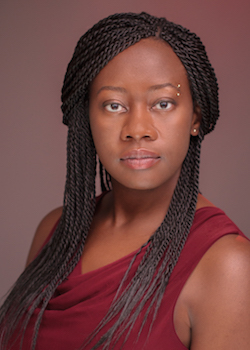 Meet the author
Assistant Professor of English Julie Iromuanya will read from her first novel, "Mr. and Mrs. Doctor," on Tuesday, April 21, at 3 p.m. at the Café Descartes located inside the Ronald Williams Library. The book tells the story of a Nigerian couple in an arranged marriage trying to begin their lives together in Nebraska amid deceit and the different challenges they experience along the way.
North by Northeastern
The Department of Communication, Media and Theatre will present the sixth annual North by Northeastern Media and Performance Festival plus the CMT Day Awards at 7 p.m. April 21 in the Recital Hall. The event will showcase a diverse array of short student videos: comedies, music videos, political works, autobiographies and documentaries. Recent audio work and student performances from Experimental Theatre will also be featured.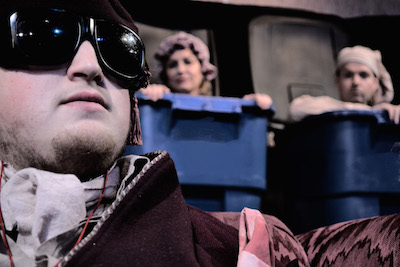 Stage Center's 'Endgame'
Stage Centre Theatre has debuted its newest production, "Endgame." Written by Irish playwright Samuel Beckett, "Endgame" is a uniquely crafted play that focuses on two characters—Hamm, a blind man who is unable to stand, and his servant, Clov, who is equally physically impaired.
Mark your calendar!
Jewel Box Series: Kontras String Quartet ($15/$25), 7:30 p.m. April 17, Recital Hall
ARTRAVAGANZA Juried Student Art Exhibition Reception and Awards (free), 6 p.m. April 17, Fine Arts Building
Junior Voice Recitals (free), 1 p.m. April 18, Recital Hall
Junior Guitar Recitals (free), 3 p.m. April 18, Recital Hall
Family Day (free), April 18, Carruthers Center
Pandora's Box open discussion (free), 12:15 p.m. April 21, Pedroso Center
Black Student Forum (free), 3 p.m. April 21, Golden Eagles
Student Recital (free), 3:05 p.m. April 21, Recital Hall
"Carmina Burana" ($4; free for students and employees), 7:30 p.m. April 21, Auditorium
Biology Department Spring Plant Sale (free), 10 a.m.-4 p.m. April 22, Village Square
Middle East Current Issues Series: Henri Lauziere on the historical origins of Islamic extremism (free), 7 p.m. April 22, Pedroso Center
NEIU Wind Ensemble (free), 7:30 p.m. April 22, Auditorium
Late Night Against Procrastination (free), April 22 until midnight, El Centro
What's in Our Water, Chicago and Beyond? (free), 11 a.m. April 23, Pedroso Center
EmpowHERment group (free), 3 p.m. April 23, Pedroso Center
NEIU Percussion Ensemble (free), 7:30 p.m. April 23, Recital Hall
NEIU Orchestra (free), 7:30 p.m. April 24, Auditorium
Junior Voice Recitals (free), 1 p.m. April 25, Recital Hall
Senior Voice Recital (free), 3 p.m. April 25, Recital Hall
#FollowFriday
Center for Academic Writing
The Center for Academic Writing is the home of the Writing Intensive Program and provides support to both faculty and students. Founded in 2007, the Center is located on the fourth floor of the Ronald Williams Library, but can also be found on Twitter and Facebook sharing their success stories. 
Do you have a story tip? Let the public relations office know!
Mike Hines, director of public relations, m-hines@neiu.edu, (773) 442-4240