What snow and cold? Northeastern Illinois University was red hot this week! With the addition of a graduate degree program, the release of a faculty member's new textbook (co-written with an alumna!) and the publication of a new Mash column, the Golden Eagles piled on the good news.
Around the Commons
Master of Social Work
The Illinois Board of Higher Education has approved Northeastern to offer a new graduate degree program in Social Work. The 60-credit-hour Master of Social Work program begins in fall 2016, and can be completed in two full-time or four part-time years. An advanced one-year program will be offered beginning in fall 2017. And that's not all for the Department of Social Work! In partnership with the Illinois Department of Children and Family Services, Northeastern also has begun to offer curriculum to prepare students in Social Work and related fields an opportunity to earn a pertinent certification to work in child welfare.
Teaming up on a textbook
Linguistics Professor Judith Kaplan-Weinger and alumna Char Ullman have published a new textbook, "Methods for the Ethnography of Communication: Language in Use in Schools and Communities." The book aids students in the study of communication in the classroom and community settings.
A healthier Chicago
Northeastern Education students Universal Prayther and Yasser Barbar are on one of five teams that have been selected by the Chicago Innovation Exchange and the Chicago Department of Public Health to pitch an idea on Feb. 9 for improving the health of Chicagoans. Prayther and Barbar's pitch will involve using technology for making nutritious choices in food deserts. Two teams will be selected to pilot their programs.
Smoke-free Northeastern
By Illinois law, all state university property will become smoke-free beginning July 1. Stay tuned in the coming months for more details on what that means for Northeastern's locations.
And there's more!
World Languages and Cultures Department Chair Paul Schroeder Rodriguez will give a presentation on Feb. 25 at the main Evanston Public Library on the work of Salima Riversa and other Chicago Puerto Rican poets.
Northeastern hosted the February meeting of the Illinois Board of Higher Education on its main campus on Feb. 3. University President Sharon Hahs and Northeastern Board Chair Carlos Azcoitia provided a greeting and opening remarks. At the meeting, IBHE approved Northeastern's new master's program in social work.
Reminder: All University locations will be closed on Thursday, Feb. 12, in observance of Abraham Lincoln's birthday.
In the media

Ask him anything
Timothy Scherman, associate professor of English, was the latest faculty member featured in Northeastern's partnership with The Mash, the Chicago Tribune's weekly publication for teens. Scherman answered questions about attending big universities, life outside the party scene and improving writing skills for college.
Grow Your Own success story
Northeastern alumna Idalia Vasquez (B.A. '13 Elementary Education - Teacher Education) told her inspirational story of transformation through the Grow Your Own Teacher program in an op-ed for Catalyst Chicago Magazine.
She speaks Polish?
Well, not quite. In case you missed it: Here is the video of Gerontology Coordinator Lisa Hollis-Sawyer's (dubbed over in Polish) appearance on PolvisionNEWS in December. Her segment starts at 24:30.
Also in the media ...
To do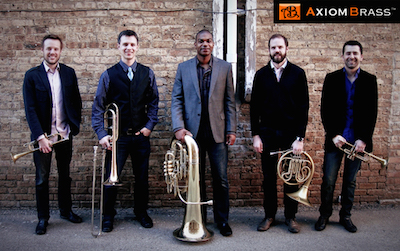 Chicago Brass Festival
The annual Chicago Brass Festival will return to Northeastern on March 13-14 for its seventh year. The event will feature performances from some of the world's most vibrant and incredible talents, including critically acclaimed and musically innovative acts Axiom Brass (pictured above) and CALJE, who will close the festival. Northeastern's own Faculty Brass will also perform.
Mark your calendar!
Learn & Lead Symposium (free), 9:30 a.m.-2:30 p.m. Feb. 9-11, Student Union
Jazzy Mondays ($10), 6:30 p.m. Feb. 9, Carruthers Center for Inner City Studies
Nancy Lu Rosenheim exhibit (free), Feb. 9-March 13, Fine Arts Gallery
"Ain't I a Woman" one-woman play (free), 1:40 p.m. Feb. 10, Pedroso Center
Music Convocation (free), 3:05 p.m. Feb. 10, Recital Hall
Las Comadres Latina student dialogue (free), 3 p.m. Feb. 10, Pedroso Center
"Pelo Malo" film screening, 6:10 p.m. Feb. 11, El Centro Room 201
Jazz Clinic and Performance: Luis Bonilla's Four Swingin' Bones (free), master class (4 p.m.) rhythm section workshop 5:30 p.m., performance 6:45 p.m., Q&A 7:45 p.m., Recital Hall
Richard D. Benson II discussion and book signing (free), 5:30 p.m. Feb. 13, Carruthers Center for Inner City Studies
10th Annual Jacob H. Carruthers Conference (free), 8:30 a.m. Feb. 14, Carruthers Center for Inner City Studies
#FollowFriday
More brass
How can you prepare for the Chicago Brass Festival? Get advance event and artist information on Twitter and Facebook!
Do you have a story tip? Let the public relations office know!
Mike Hines, director of public relations, m-hines@neiu.edu, (773) 442-4240