As hundreds of Northeastern Illinois University students and their families prepare for Commencement, many are reflecting on the skills they learned and the connections they made during their time at the University.
During the Graduate Recognition Ceremony on Dec. 4, two master's degree students from the College of Arts and Sciences told their stories of success.
Robert Luther, a trumpet student in the Music graduate program, explained that his "roundabout" journey to Northeastern began when his mother heard an advertisement on the radio and suggested that he investigate.
"I found some videos of Dr. Travis Heath, the trumpet teacher here, and said, 'Hey, that guy sounds pretty good,'" Luther said. "So I came for a lesson, and I was blown away.  That man changed everything for me, the way that I think about music, the way that I interpret music, the way that I approach the instrument, even the way that I approach myself. He taught me that self-worth comes from self-acceptance."
Luther now is holding down not one but two trumpet teaching positions.
"I attribute most of what I know, and any of my success, to my teachers here," he said. "But I know that everyone in this room is here because someone, somewhere showed them the way."
Evelia Giraldo, who is earning her master's in Latin American Literatures and Cultures, told a similar story of connecting with the faculty.
"Northeastern became my home and my family," said Giraldo, who also earned her bachelor's degree in Spanish from Northeastern. "Thanks to my bachelor's and now to my master's, my professional life has been enriched, enabling me to share more about my culture and about the lessons and significance of the Spanish language and its literature."
Giraldo praised two faculty members by name, Associate Professor of Spanish Lucrecia Artalejo and World Languages and Cultures department chair Paul Schroeder Rodriguez.
"We will never stop learning and working to enjoy our present and to build a better future," she said.
Northeastern's Commencement ceremony is scheduled for Dec. 14 at the UIC Pavilion in Chicago.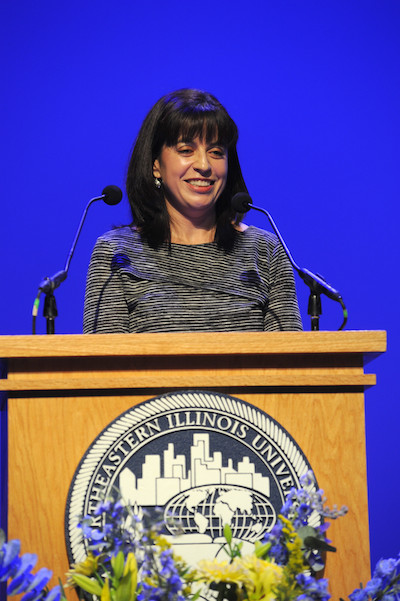 Evelia Giraldo