Dr. Shireen Roshanravan was named Northeastern Illinois University's first Executive Director of Equity, Diversity and Inclusion and began serving the University in this capacity in July 2021.  
Roshanravan, a Chicago native, said there were a number of reasons she applied for this position, one of which was the school's dedication to providing access to education for everyone.
"I was drawn to NEIU's visible commitment to provide quality education and mentorship to the vast diversity of Chicagoland communities and beyond," Roshanravan said. "As the executive director for equity, diversity and inclusion at Northeastern, I am excited to work with all members of the NEIU community to develop and implement programming, policies, standards and protocols that move us toward true and equitable inclusion for all."
Roshanravan comes to Northeastern from Kansas State University where she served as a professor of American Ethnic and Gender, Women and Sexuality Studies, faculty advisor to multicultural and feminist student organizations, and chair of the Arts and Sciences College Committee on Diversity. In each of these roles, Roshanravan focused her leadership on programmatic and policy transformations that enabled greater equity and inclusivity for all members of the campus community, something she plans to continue at Northeastern.
"During my hiring process, President Gibson expressed early on a desire to reorder the DEI Diversity, Equity, and Inclusion (DEI) acronym to prioritize the "E" and put equity first as it relates to fostering diversity and inclusion," Roshanravan said. "I agreed wholeheartedly with her desire to do so. My doctorate is in philosophy, but the kind of philosophy I studied foregrounds the historical perspective and worldviews of the colonized and racially dehumanized. I take history very seriously in thinking about building equity and true inclusion within higher education." 
Roshanravan's academic research, pedagogical approach, and administrative style focus on coalition-building across diverse communities. She earned her doctorate from the State University of New York at Binghamton in the interdisciplinary program of Philosophy, Interpretation and Culture. During her time at Binghamton University, she co-founded a local chapter of the Incite! Women, Trans and Gender Non-Conforming People of Color Against Violence movement and became a member of La Escuela Popular Norteña (EPN) a bilingual folk school based in Valdez, New Mexico, for radical movement and political education against cultural, racial, sexual and class oppressions. As a member of EPN, Roshanravan helped to develop educational materials for the National Incite! Movement Against Violence Against Women of Color and collaborated with members of the national anti-state violence group Critical Resistance to develop frameworks for communities to address, repair and end interpersonal conflict and violence. Toward the end of her tenure as co-director of EPN,  Roshanravan co-authored a successful Sustainable Agriculture Research and Education (SARE) grant to fund a community farming project centered on growing quinoa to support the health and economic autonomy of impoverished rural Hispana/o communities in the region. 
"Given the historical legacy of excluding Black, Indigenous and other people of color from academia, diversity inside the walls of higher education is a notable accomplishment," Roshanravan said. "But the presence of diverse students and employees is not a measure of true inclusion. True inclusion requires unlearning the colonial mindset permeating every aspect of university and disciplinary norms and challenging the ways they justify inequities." 
Roshanravan is co-editor of several books and special journal issues on the praxis of deep coalition-building at the intersection of multiple differences, including "Asian American Feminisms and Women of Color Politics," "Speaking Face-to-Face: The Visionary Philosophy of María Lugones," and "#WeToo: A Reader." As Executive Director of Equity, Diversity and Inclusion, Roshanravan will report directly to President Gibson and sit on the President's Cabinet.
Faculty and staff are invited to sign up for Fall 2021 Safe Zone training, which Roshanravan will lead. Safe Zone is designed to educate NEIU faculty and staff about sexual orientation and gender identity, create a visible network of allies to provide support to members of Northeastern's lesbian, gay, bisexual, transgender and queer (LGBTQ) communities, and provide accurate information and resources about sexual orientation and gender identity issues. To be Safe Zone-certified, participants are required to attend three training sessions—LGBTQ+ 101, Intersectionality, and Becoming an Ally—within two academic years. 
Roshanravan also acknowledges that, with programs like Safe Zone and other signature programs put in place by the Angelina Pedroso Center for Intercultural Affairs (APCDIA), Northeastern has a long history of supporting marginalized communities. Though she may be the first Executive Director of Equity, Diversity and Inclusion, she is mindful of the work others have done and is learning about the legacies of those who created a foundation of inclusion at Northeastern, such as Professor Emeritus of World Languages and Cultures Angelina Pedroso and founding Associate Vice President of the Angelina Pedroso Center for Diversity and Intercultural Affairs, former Dean of Academic Development and Professor Emerita of Teacher Education Murrell J. Higgins Duster, who were instrumental in creating the APCDIA. 
"In the three months that I've been at NEIU, I have discovered strong commitments among faculty, staff and students to make not only the campus but also the world a more just and caring place," Roshanravan said. "With this groundwork in place, the possibilities for building true equity and inclusion are endless. I am honored to be a part of bringing these possibilities to life at NEIU."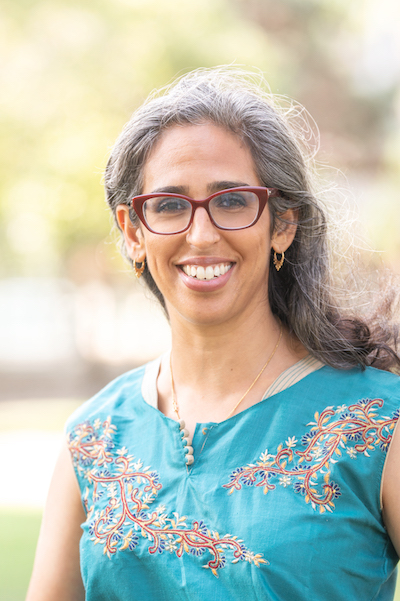 Shireen Roshanravan