After an extensive national search, Northeastern Illinois University has named Kimberley Buster-Williams as its new Vice President for Enrollment Management. She will start on Jan. 3.
Buster-Williams is a nationally respected strategic enrollment management practitioner with nearly 30 years of experience as a university administrator, enrollment management leader, researcher and author. Her enrollment management teams have received national awards such as the Council for Advancement and Support of Education Circle of Excellence Award and Social Media Strategy Award.
Buster-Williams comes to Northeastern from the University of Mary Washington (UMW), where she is currently serving as Vice President for Enrollment Management. During her tenure at Mary Washington, Buster-Williams created the university's first strategic enrollment management plan and modernized operations with the full implementation of UMW's first customer relationship management tool, first predictive modeling tool, and the first document imaging software in undergraduate and graduate admissions. Under her leadership, the percentage of students of color at Mary Washington grew from 23 percent in 2014 to 30 percent in 2021. In addition, UMW enrolled its largest first-year class in history, and saw a significant increase in its incoming first-year academic profile.
Previously, Buster-Williams served as Acting Associate Vice President for Enrollment Management at Northern Illinois University (NIU), reinvigorating enrollment operations and growing enrollment and applications in key Illinois collar counties. Before arriving at NIU, Buster-Williams served as Director of Admissions at the University of Michigan-Flint (UMF). Under her leadership, UMF realized a 29 percent increase in new first-year enrollment (2005-2011), and a 200 percent increase in international student enrollment. In addition to her leadership roles at the University of Mary Washington, Northern Illinois University, and the University of Michigan-Flint, she has also held positions at Old Dominion University and Johnson & Wales University.
Buster-Williams has had a noteworthy impact on the enrollment management profession as it relates to researching and chronicling the history of higher education from a Strategic Enrollment Management (SEM) perspective. She is the author of the recently published book "History of American Higher Education A to Z: A Primer for Enrollment Managers." Buster-Williams also serves as the Assistant Director of AACRAO's SEM Endorsement Program.
Buster-Williams is a member of Delta Sigma Theta Sorority, Incorporated, and is the immediate past president of the Greater Fredericksburg Chapter of Jack and Jill of America, Inc. She earned an Ed.S. degree in Higher Education Administration, a master's degree in Education Administration, and a bachelor's degree in English, all from Old Dominion University.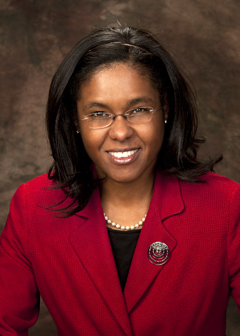 Kimberley Buster-Williams