Less than a month after she crossed the stage at Commencement, Northeastern Illinois University alumna Alaa Basatneh is heading to Washington, D.C., as the guest of U.S. Rep. Mike Quigley (D-Illinois) to attend President Barack Obama's final State of the Union Address on Jan. 12.
"When the congressman invited me, I was speechless. I was really excited," said Basatneh, who first met Quigley in November while visiting D.C. to head a panel about the positive use of social media and youth empowerment in the Middle East. "This is an amazing opportunity to speak to media about what's happening in Syria and Muslim females in society."
Basatneh, who earned a Bachelor of Arts in Political Science, is featured in a documentary, "#chicagoGirl," and has earned international attention for her work fighting the Assad regime by organizing protests in Syria, mapping escape routes and sharing videos. She was born in Syria and moved to the United States with her parents when she was 6 months old.
"Over the past few months, we have seen a shocking and alarming rise in hateful rhetoric against Muslims in our nation," Quigley said in a statement. "Alaa is an incredible example of how to make an impact in our world and deserves to be celebrated. By attending President Obama's State of the Union Address, I hope that Alaa's story can help inspire love and compassion over fear and discrimination."
Basatneh, who graduated from Maine East High School and Wilbur Wright College before enrolling at Northeastern in 2014, leaves for Washington, D.C., on Jan. 10. During her stay, Basatneh will meet with news media, government officials, human rights organizations and other State of the Union Address guests. She is particularly eager to meet U.S. Rep. Keith Ellison (D-Minnesota), the first Muslim elected to Congress.
"My goal is to get students inspired and motivated," Basatneh said. "The education I got from Northeastern really prepped me for everything I'm doing. Walking down the halls of the Capitol, everyone I'm meeting and talking to, I had background knowledge, and that's because of the professors at Northeastern."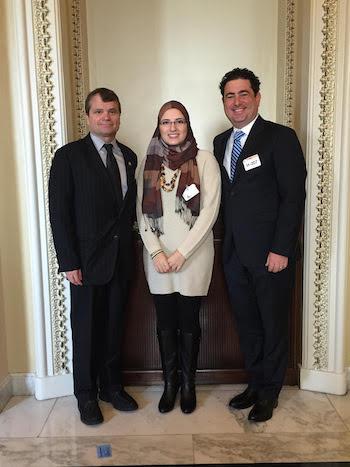 Pictured above (from left): U.S. Rep. Mike Quigley, Alaa Basatneh and "#chicagoGirl" director Joe Piscatella