If you ask Siobhán Cooke what she did over the summer, she might be tempted to ask you how much time you've got. She was that busy.
In June, the Northeastern Illinois University assistant professor of anthropology traveled to the Dominican Republic to continue ongoing research focused on Hispaniolan mammal evolution and extinction.
Then in July, she headed to the Tatacoa Desert in southwest Colombia for three weeks to work at a high-elevation paleontology site that dates back 11 million to 13 million years.
"At the end of the day you're tired, but it's a good kind of tired," said Cooke, whose Colombian expedition was partially funded by Northeastern. "It's constant discovery."
This was Cooke's second trip to the Tatacoa Desert after a brief visit in 2013 to get familiar with the project, which is closely tied with the local Colombian community. Cooke plans to return often to the site, where she works with Melissa Tallman of Grand Valley State and Andres Link of Universidad de los Andes in Bogota, Colombia.
"It's fun," said Cooke, who has taught at Northeastern since 2012. "I enjoy field work. I'm happiest when I'm walking long distances to find fossils."
While the fossils Cooke and her colleagues are collecting are millions of years old, they are valuable research tools today as Earth's climate continues to change and challenge species' survival.
"It's pretty interesting and important to see what the extinction process looks like," Cooke said.
Now back at Northeastern for the fall semester, Cooke said her international work is valuable not only to her research on extinct South American primates (with a special emphasis on the Caribbean region), but it has practical application for her students.
"In the classroom, I can tell students what field research is like," she said.
Cooke took a student with her to the Dominican Republic in 2013, but she has grander goals. Eventually, she would like to take a team of students to the Tatacoa Desert.
"Involving students in the research process is essential for moving the fields of biological anthropology and paleontology forward," Cooke said. "Today's Northeastern students will be the next generation of scholars."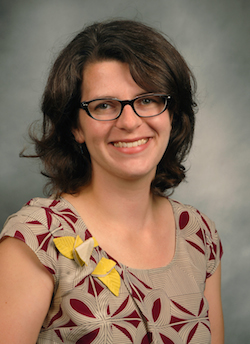 Siobhán Cooke