The Goldie artwork is a high-quality illustration that strongly represents the University's mascot—the golden eagle—and provides the NEIU community with an icon that can be used consistently to symbolize Northeastern with pride. To learn more about the approved use of the Goldie artwork, as well as the Northeastern Illinois University name, logo and icon, please review the official University Brand and Trademarked Property Policy.
---
The Artwork
There are two versions of the Goldie artwork. A stand-alone Goldie and Goldie artwork with the NEIU acronym. These versions are not substitutes for the full NEIU logo. For external marketing pieces, the artwork is supplemental and secondary to the full NEIU logo.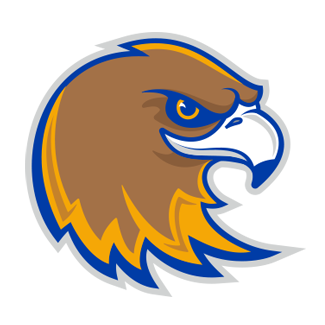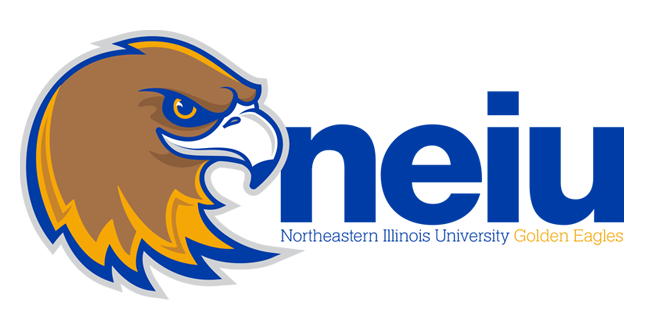 ---
The Goldie artwork must not be altered. Users may not add any elements or features (accessories, a body, department/college/team name, etc.) or eliminate any features (change colors) to/from the artwork. Goldie artwork must also be sized correctly--not stretched or skewed.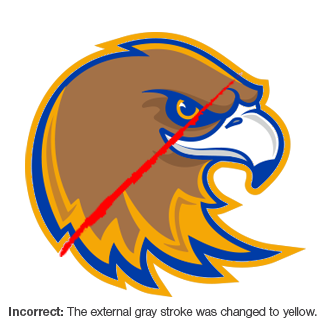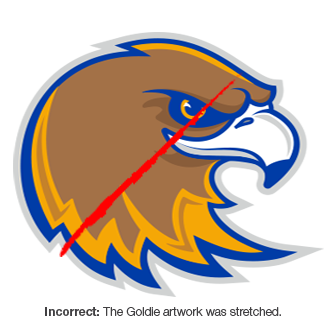 Requesting the Artwork
Please do not screen grab Goldie from the web. Currently, Marketing will determine where the Goldie artwork will appear. Unauthorized usage of the artwork will be asked to be removed. If you would like to use Goldie, please contact Marketing for a consultation. Additionally, Marketing has added templates to Marq (formerly Lucidpress) with the Goldie artwork that is now available to all users. Please contact Marketing for login credentials.
---
Effective Feb. 24, 2021, the former Goldie artwork may no longer be used in future marketing efforts. Please consult with Marketing to update any pieces that used the former Goldie artwork.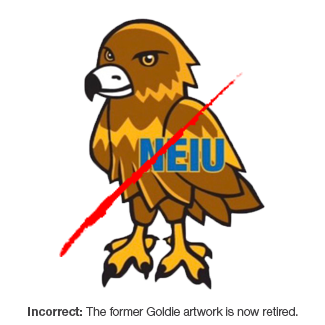 Artwork on Merchandise
Approved Goldie merchandise is available in NEIU's online bookstore. Please contact Marketing for the usage of Goldie artwork on merchandise outside of the NEIU bookstore.
Please note: To learn more about the process behind developing the Goldie artwork, visit the Goldie Mascot landing page.