News & Features
Katie Kelly arrived at Chicago Midway International Airport on a Sunday evening in January 2016. She was exhausted from the flight, but her spirits were high after her first trip to Las Vegas.
Katie asked the airline for wheelchair assistance, then sat next to a group of women who clearly were members of a University of Nebraska sports team. She parked her carry-on suitcase packed with medical supplies and cheerfully called her father to let him know she had arrived safely.
On the flight, Katie had experienced a prolonged coughing fit that produced blood. Coughing was no big deal for Katie—it was simply a fact of life for a woman with cystic fibrosis, a genetic lung disease that severely limits breathing capacity. She just didn't like when the fits resulted in coughing up blood, inviting stares from strangers who she worried would judge her for being a smoker or spreading germs from a nasty cold—neither of which was true.
As she waited at the gate, Katie experienced another coughing attack. Her face turned red, she gasped for air and she coughed up more blood. Then something unusual happened: One of the athletes in the red Nebraska sweats fetched some water from a nearby coffee shop, handed it to Katie and warmly said, "I hope this helps."
Katie was so moved that she wrote an email to the University of Nebraska's athletics office the next day. She explained that she had only 40 percent lung function due to the effects of cystic fibrosis, that she had experienced an awful coughing attack in public, and that one of the university's athletes—from which sport, she didn't know—had taken care of her in a time of need.
"It is actions like this that demonstrate there is still faith and humility in this world," Katie wrote in her email. "Be proud of your athletes and how they conduct themselves. They are something special."
Mary Catherine Kelly died two days later. She was 26.
Though she never saw it, Katie received a personal response from Nebraska Director of Athletics Shawn Eichorst. Katie had crossed paths with the women's bowling team that night at Midway, he said in an email, and he was proud to hear how the student-athletes had conducted themselves. "If there is anything that we can do to assist you and others in your fight with cystic fibrosis, please let us know," Eichorst wrote. "We wish you all the very best!"
Katie's parents were stunned when more than 700 people showed up to the wake on a frigid January afternoon, standing in a line that zigzagged through empty rooms and out into the parking lot for up to two and a half hours for a chance to pay their respects. The funeral home had never seen anything like it.
"Katie always had a smile on her face. She was smiling in every photo we had at the wake, and so were the people with her. She made everyone else's day," said her father, retired Chicago Fire Department Captain John Kelly. "We were too close to the source to realize how much influence and impact she had on other people."
If Katie's family didn't know before, they sure do now. Condolences and tributes poured in over social media. Friends sent flowers on Easter. Katie's childhood best friend even named her daughter Mary Catherine. There is sadness over Katie's passing, but those who knew her best and those who knew her only through a single email draw inspiration from a woman who never took a single day or experience for granted, whether she was in a classroom or a hospital room.
Katie was born at Resurrection Medical Center just down the road from the family's home in the Norwood Park neighborhood on the Northwest Side of Chicago. Doctors immediately recognized a problem and she was rushed to Children's Memorial Hospital, which became something of a second home over the years when she needed help fighting off the lung infections brought on by cystic fibrosis.
Doctors estimated Katie's life expectancy at 25, though her parents never told her that.
"She knew she had a short life," said her mother, Eileen, a human resources professional. "When she was old enough to read, she knew. That's what made her never say no to anything. It made her do more. She didn't procrastinate."
Katie grew up quickly, adhering to a strict regimen to remain functional: 30 pills per day, plus daily nebulizer treatments and bronchial drainage. Still, she developed diabetes and liver problems, common side effects for people with cystic fibrosis.
Despite the chronic lung infections, the daily medical treatments and the constant ingestion of medicines, Katie never complained and never wanted to miss out on anything. She participated in gymnastics and swimming, Girl Scouts and theater, and volunteered with the Make-A-Wish Foundation.
"Anything she wanted to try, we said OK," Eileen said.
At the 2008 groundbreaking for the Ann & Robert H. Lurie Children's Hospital of Chicago, which replaced Children's Memorial, Katie delivered the welcome speech.
"The one word that comes to mind when I think of Katie is 'sparkle.' She was so upbeat and enthusiastic," said Lisa Mulvaney, who worked with Katie through Lurie Children's Hospital's family services. "Katie was very driven and didn't let cystic fibrosis keep her back from whatever she wanted to do."
When the hospital began planning for its downtown location, Mulvaney recruited Katie to be one of the 12 inaugural members of the Kids Advisory Board to help better inform the developers on the needs of the patients.
"Katie had a ton of experience being a kid at the hospital, but she also had a ton of experience being a regular kid," Mulvaney said. "The Kids Advisory Board had a lot of input into this idea of destination spots—places to go in this hospital, what would be exciting."
Lurie Children's Hospital opened in 2012, and the Kids Advisory Board's handiwork is evident. In addition to patient rooms, the hospital holds an indoor sky garden, the front cab of a real fire truck and a salon for kids who aren't able to take showers.
When she graduated from high school in 2008, Katie set her sights on a traditional college experience. She enrolled at the University of Iowa, lived in the residence halls and joined a sorority. She also played a little coed water polo, but it was all too much. After a rough freshman year spent in and out of the hospital, Katie moved back home.
As alumni of Northeastern Illinois University, John (B.A. '83 History) and Eileen (B.A. '98 Board of Governors and Speech) encouraged Katie to enroll at their alma mater.
Katie did, and quickly felt at home—even seeing familiar faces from her childhood. "The first month she was at Northeastern, every day she would come home and say, 'Guess who I saw today!'" John said.
Katie told her professors about her lung condition and worked with the Office of Student Disability Services to collect notes when she was in the hospital for "tune-ups" that could last up to two weeks. She joined The Independent school newspaper, once writing a column encouraging more school spirit.
When she was in the classroom, Katie was impossible to ignore. "She was a go-getter time and time again—writing this sports story for The Independent, applying for that internship, that scholarship," Associate Professor of Communication, Media and Theatre Edie Rubinowitz said. "She was not defined by her disease or the likely time limit it imposed on her. It was as though she knew 'time was on fire' for her and she was chasing and cherishing the best parts of life: friendship, family, sports and her education."
In one of Rubinowitz's classes, she gave her students a classic journalism assignment: Bring an obituary that tells the story of someone's life. Katie presented an obituary for a friend who had died of cystic fibrosis. "She read the obituary, describing her friend's life more than her death, like a good obit should do," Rubinowitz said. Then Katie told the class that most people with cystic fibrosis don't live past their 30s.
"I felt some real learning happening in the class that day," Rubinowitz said. "And it wasn't just about obits. It wasn't even about cystic fibrosis. It was about educating people and reminding us all that while life can be short, it can also be very full.  Katie's focus on the learning, the work, the people around her—life, basically—was probably the most teachable moment I've had in any classroom."
In 2013, Katie earned her Bachelor of Arts in History, just like her dad. Yet despite perseverance, she still was frustrated that it took her five years, not four, to earn the degree.
"Katie found her niche at Northeastern," John said. "It's different than being away at school, but she found areas of things that she liked, classes she liked, teachers she liked. We're so proud of everything she accomplished."
As her hospital visits became longer and more frequent, Katie conceded that her dream of becoming a lawyer would not happen. Still, she never stopped learning. At the time of her death, Katie was enrolled in a paralegal program at Loyola University Chicago.
When word of Katie's death reached the University of Nebraska, Eichorst sent heartfelt condolences on behalf of the entire athletics program to a family he had never met for the loss of a daughter he had known only through her single email of gratitude.
"Katie was so kind and respectful when our bowling team had the opportunity to meet her, and we were all so touched by her letter," he wrote to John and Eileen. "We wish that the circumstances had been different, but rest assured that Katie made a positive impact on each member of our bowling team, and for that we are forever grateful."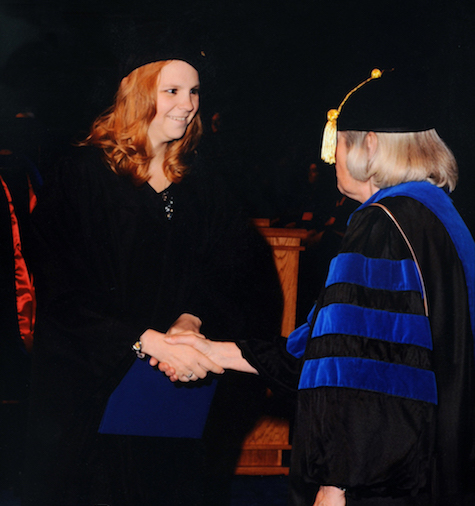 Top photo: John and Eileen Kelly hold a photo of their daughter, Katie Kelly.
Middle photo: Katie Kelly delivers remarks at the groundbreaking ceremony for the Ann & Robert H. Lurie Children's Hospital of Chicago on April 21, 2008. (Photo courtesy of the Ann & Robert H. Lurie Children's Hospital of Chicago)
Above photo: Katie Kelly shakes hands with President Sharon Hahs at Commencement on May 13, 2013. (Photo courtesy of the Kelly family)