News & Features
In the spring of 1984, a young Speech and Performing Arts major anxiously walked into the cramped and cluttered Ensemble Español Spanish Dance Theater office to apply for a student aide position. "Hi, my name is George," he said, introducing himself to Dame Libby Komaiko, the company's founder and artistic director.
Komaiko, who only one year earlier had become the first American awarded Spain's Ribbon of the Dame by King Juan Carlos I for the dissemination of the music and dances of Spain throughout the United States, looked down at George's résumé and then back up at the job applicant. "No it's not," she said. "Your name is Jorge." After a brief interview, she hired the nervous sophomore as her administrative assistant.
With Komaiko's fateful decision, George, the friendly theater student who just wanted to be like his Chicago buddies, evolved into Jorge, the charming and proud Puerto Rico-born man who would fall in love with Spanish dance, rise to become the company's top male dancer and eventually take the reins as executive director of Ensemble Español. "This company opened up this whole world of dance and the arts and this cultural richness," said Jorge Perez, who at 50 years old still dusts off his dance shoes for an occasional appearance with Associate Artistic Director Irma Suárez Ruíz. "When I saw the Ensemble for the first time on the stage, I was blown away. The drama, the music, the theatrics—I realized that yes, this is part of who I am."
Now more than three decades after he first walked through Ensemble Español's doors, Perez has plotted an epic year of performances, classes and residencies to celebrate the company's 40th year in residence at Northeastern Illinois University. The yearlong party will include the company's first performances in Spain, a trip to San Juan, Puerto Rico, and a show in a 4,000-person amphitheater in the historic city of St. Augustine, Fla., which also invited dignitaries such as the pope and the king of Spain to celebrate the 450th anniversary of the city's founding. Closer to home, the city of Chicago will give a stretch of Bryn Mawr Avenue adjacent to Northeastern's main campus an honorary name designation in recognition of Dame Libby Komaiko in August 2015.
Komaiko, a professor emerita of Northeastern who remains the company's artistic director, was too busy in the early years after the company's 1976 launch to think about what she was building. "When the Ensemble started with seven Northeastern students, we had just returned from a monthlong study at the Boston Conservatory of Music with legendary Spanish artists Nana Lorca and Jose Greco that was funded by Northeastern and the Union of Puerto Rican Students. I just thought, 'Well, let's see what happens.' I didn't even think about its future," said Komaiko, who made her first appearance at Northeastern in a sold-out 1974 performance that also featured her mother, concert pianist Dorothy Komaiko. "We just kept going. It's pretty amazing that 40 years are here already."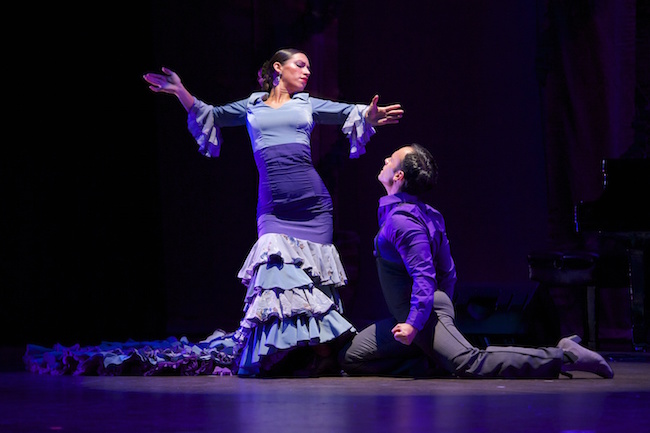 Dedicated to the presentation, preservation and promotion of the classical, folkloric, flamenco and contemporary dance and music traditions of Spain, Ensemble Español has established itself as an international player in the dance community as well as a valuable asset to the University through its Department of Music and Dance classes, community outreach efforts, social activism and promotion of academic achievement at all ages. The Ensemble now boasts 17 professional dancers (four full-time, two part-time), an 18-member youth company, three NEIU Foundation scholarships endowed by Professor Emeritus Bernard Brommel and a program endowment, also through the Foundation. It also is part of Northeastern's "Decade of Dreams" Master Facilities Plan that would allow the Ensemble to move into a bigger space.
Other universities have bigger endowments and grander facilities, but none has replicated what the Ensemble has done at Northeastern. "We are all grateful for the support of Northeastern's Board of Trustees, presidents, Foundation, administrative and educational leaders, faculty, staff, students and stakeholders these past 40 years," Komaiko said. "The future is bright thanks to the ongoing passionate leadership of Northeastern and our staff, dancers, teachers, guest artists, executive and advisory boards, committees, donors, partners and sponsors and of course the families, students and friends in our communities whom we look forward to serving for the next 40 years and beyond."
While Perez's personal and professional transformation was extraordinary, it was not unusual, the company's members and fans say. Once you see Ensemble Español, once you witness the drama, beauty and precision of its performances, you are hooked. That's what happened to Chicago Sun-Times theater and dance critic Hedy Weiss, who first saw Ensemble Español about 10 years ago and frequently praises the company in the newspaper. "The productions were so incredibly professional. From the dancing to the costumes, they were spectacular," she said of her initial impressions of the company. "People who see them become instant fans."
Here is how Weiss began a review of Ensemble Español's June 2010 performance at the North Shore Center for the Performing Arts in the Chicago suburb of Skokie: "The truth is, even if you were a dance aficionado living in Spain today, you would be hard-pressed to find the breadth and range and sheer brilliance of dance—from folkloric to flamenco to balletic riffs on both those forms—that was on display. ... This world-class company and its roster of guest artists never ceases to bedazzle its audiences with the variety, precision, beauty and heat of its performances."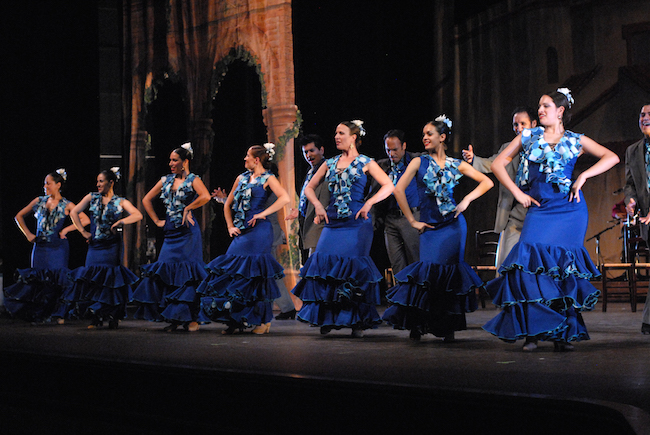 Komaiko attributes the company's success to the unique qualities of Spanish dance that transcend country and culture—"The character and the passion is so great; there are stories there," she said—but also to the dedication of the Ensemble's dancers and the family atmosphere that has sustained through four decades of rehearsals, injuries, setbacks and successes. Her greatest hope for the Ensemble is that it continues to build that family with more full-time professional dancers, giving the company a greater capacity to teach and tour in the United States and abroad. "Once dancers enter the family of Ensemble Español, they don't ever leave, even if they're not dancing anymore," she said. "I'm very proud of everyone."
One of Komaiko's prouder moments came in 2004, when one of her featured dancers had to back out of "Bolero" just a couple of weeks before the performances. Komaiko turned to the understudy, Monica Saucedo, who had just been promoted from the youth company. "This is a big deal," Komaiko told Saucedo, who at 16 was one of the youngest professional dancers in the company's history. "I'm trusting you with this." Saucedo didn't panic. "I felt like, 'Oh my gosh, this is a huge responsibility. I'm not going to let her down,'" she said. "And I think I did OK."
More than 10 years later, Saucedo still is making Komaiko proud. Any time the Ensemble performs "Bolero," she insists on playing the same part. "I was kind of thrown in there," said Saucedo, who earned her bachelor's degree in Secondary Education and Math from Northeastern in 2010 and now teaches math at the Chicago High School for the Performing Arts. "Everyone does step up. They know it's a big deal, they know it's serious. A lot of us have been in that position. Have you done your homework? Have you paid attention? Are you really ready to do this?"
Like Komaiko, Suárez Ruíz and Perez before her, Saucedo wants to remain a part of the Ensemble for years to come, perhaps helping to coach the youth company, which she joined at age 11. "That set the tone for my whole life," Suarez said, choking up with emotion. "Every day I'm really grateful and feel really lucky to even be a part of Ensemble Español."
Even some of the best dancers and choreographers in Spain are enamored with the company and its relationship with Northeastern. Juan Mata, a founding member of the National Ballet of Spain, equates the Ensemble's success with the University's success. "As a Spaniard, I am proud of knowing that in Chicago there is an accomplished Spanish dance and culture center that is underwritten by a university," he said. "That is an educational and cultural achievement that we have yet to achieve in Spain."
Paloma Gómez, a former member of the National Ballet of Spain who has collaborated with the company on several productions since 2007, said the Ensemble is viewed with "respect and admiration, like an unusual phenomenon for the strictness, intensity and quality of their work." Gómez has choreographed five Ensemble works—spanning the flamenco, folkloric, classical and contemporary dance styles—during the past eight years. "The Ensemble has an amazing future as one of the best Spanish dance companies in the world," she said.
With an ambitious schedule of high-profile performances and youth outreach planned for its 40th year, the Ensemble is poised to make that leap. "Critics call Ensemble Español a hidden treasure," Perez said. "It is our mission to ring the bells and tell people we are here. We don't want to be hidden. We are a world-class company and center for Spanish dance, music and education."