News & Features
When Pedro Castillo enrolled in a Typography 2 course at Northeastern Illinois University in Spring 2022, he had no idea what he was in for.
"I never had to create a font before or knew what typography was," Castillo said. Every day that I think about it, I'm just so emotional. It's incredible what's happened from just a simple class project."
Castillo, who's now entering his senior year as a Graphic Design major, came to Northeastern from Harold Washington College. Prior to that, he'd been living between Puerto Rico and Chicago, where his mother resides. He was originally a business major, but at some point, something that he couldn't really explain shifted and he changed his major to graphic design, which he now believes was the best decision of his life. 
"I'm an artist," Castillo said. "I'm a well-rounded artist. I think that being in graphic design has only strengthened my artistic background. I happened to find a new passion in graphic design. There's so much to graphic design. There's endless possibilities."
Castillo learned that lesson well last term when Associate Professor of Graphic Design Vida Sačić assigned students a project. They were to create their own font. Castillo said the details were so broad he wasn't sure exactly where to start, so he began with research. 
It didn't take long before he came across the work of the late artist Lorenzo Homar, a painter, master printmaker and calligrapher who, like Castillo, was born in Puerta de Tierra, Puerto Rico. Homar studied at the University of Puerto Rico, which is in the neighborhood where Castillo lived.   
"At first it was just research," Castillo said. "I was just trying to find what I  wanted to do and how to do it. Lorenzo Homar had created some posters in the 1950s that really spoke to me. That's where the seed, so to speak, was laid and where the tree ended up growing. As the research progressed, I ended up loving the handmade designs he did of his posters and created a typeface to mimic that design and pay him homage for his fantastic work."
As Castillo began to hone his project and create drafts, Graphic Design Instructor D Josh Cook suggested to Castillo that he should look into obtaining high resolution images of Homar's work. That suggestion led Castillo down a path he never could have imagined. 
Castillo began to email websites that had discussed and showcased Homar's work. Some, like the Graphic Arts Collection at Princeton University, were well-established. Other sites were miscellaneous and Castillo had no way of knowing who was behind them. Yet, he reached out anyway. 
When he got a response from one of those seemingly random sites stating the recipient was a friend of Homar's and he would pass his message on to Homar's family, Castillo was taken aback. 
"Lorenzo was a key person in the 1950s in Puerto Rico," Castillo said. "He was the center of Puerto Rican art at the time. He was everything from a director to a teacher to a father. He was an important figure of the 1950s generation of Puerto Rican graphic arts." 
True to their word, Homar's friend—Robert Coane, a visual artist and contemporary of Homar's who was greatly influenced by him—contacted Homar's daughters and shared Castillo's message. Homar's daughters, Susana and Laura, reached out to Castillo to share their support of his work and offer their assistance in helping him obtain copyrights of their father's work to help Castillo turn Homar's work into something new: four "Enzo" (short for Lorenzo) font families: Regular, Display, Alternate and Display Dos.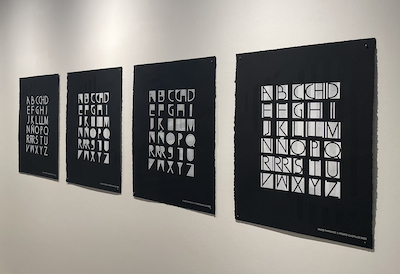 Photo courtesy of Marwen
At the same time, Castillo, who is an alumnus of Marwen, a Chicago-based nonprofit that provides free visual arts and college and career programs for middle and high school students from under-resourced communities, was given the opportunity to showcase his work at Marwen's gallery as part of their 2022 Alumni Apprentice Exhibition. The opportunity, combined with his assignment—which was now a full-blown passion project—gave Castillo motivation and inspiration.
"There's so many things that coincidentally happened all at once, it just had to be meant to be," Castillo said. "It was more than just an exhibition of my artistic abilities. It's not what I expected. It's history in the making because this might be my first exhibition showcasing the font, but I have so many ideas and aspirations of things I want to do because of this."
Castillo's exhibit at Marwen ran for four weeks. He now has one font set fully completed and is working on completing the other three.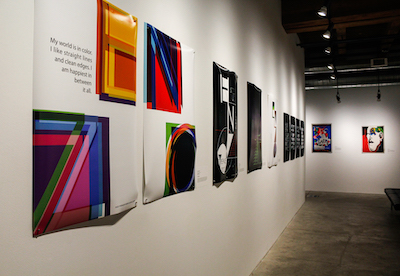 Photo courtesy of Marwen
"It is fascinating to me that all of this has germinated at NEIU, in my class," Sačić said. "It was a consequence of Pedro's interactions with my research on redesigning historic typefaces, a practice that I recently showed at the Chicago Typeforce 12 exhibition. Homar is a renowned, yet underrepresented, Puerto Rican artist. For all of this to come out of a class assignment is heartwarming." 
Castillo now has his sights set on the future. He already has clients awaiting the release of the Enzo typeface and hopes to have the complete font family available by late December 2022. His other goals include earning a user experience/user interface design certificate from Northwestern University, getting hired as a graphic designer and completing his master's degree. 
"I'm hoping to have the complete typeface family completed by this Christmas, which is an ambitious goal, but it will be a nice gift to myself and others," Castillo said. "I'm also already planning on using this research and project for my future thesis for my master's degree. Being able to pay homage to Lorenzo Homar and his work through my own work, and to have the support of his family to do that is amazing. I think if we don't explore our heritage or our culture, we won't know the obstacles that our past went through to get to where we are today. If they didn't pave the way, we wouldn't be here."