Northeastern Illinois University has again been ranked No. 1 in the state for graduating students with the least debt. Read more about Northeastern's national status, details of a research study conducted by five members of the University community and more in Noteworthy at Northeastern.
Around the Commons
A new national ranking
Northeastern students graduate with the lowest student loan debt among all four-year public and private institutions of higher learning in Illinois, according to a new report. Northeastern ranked 27th among all four-year colleges and universities in the country, and 13th among all four-year public institutions. The report was released by LendEDU, an online student loan and student loan refinance company. Northeastern also was highly ranked in the first three reports, issued in 2016, 2017 and 2018.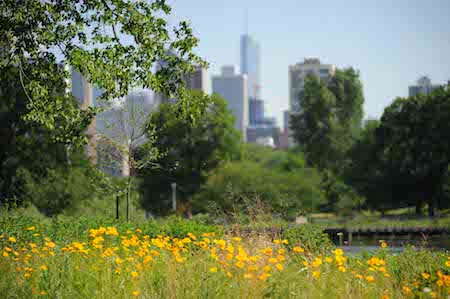 Urban wildlife research
Artificial light is causing important behavioral and ecological changes in Chicago's urban wildlife, according to a study published in the journal Scientific Reports. The study was performed by a team of seven researchers from Northeastern Illinois University, the Lincoln Park Zoo and Lafayette College. Using both laboratory and field techniques, the study concluded that exposure to levels of artificial light common in Chicago altered circadian activity patterns and significantly changed animal behavior.
And there's more!
"Book of Abstracts of the 18th Applied Stochastic Models and Data Analysis International Conference with Demographics 2019 Workshop" published an abstract of a paper co-authored by Department of Mathematics Chair Lidia Filus. The paper, titled "Construction of Universal Representation of k-Variate Survival Functions," was presented at ASMDA2019 in Florence, Italy, in June.

Political Science Professor Ellen Cannon has successfully completed the 2019 Summer Institute on Curriculum Development in Critical Antisemitism Studies at St. John's College, Oxford, United Kingdom. She has joined the Institute for the Study of Global Antisemitism and Policy International Academic Advisory Board.
In the media
Casino developments
Chicago is getting a casino ... or is it? WTTW's "Chicago Tonight" interviewed Associate Professor of Economics Michael Wenz before a feasibility study for appropriate sites was delivered, then invited him on set for a panel discussion after the study was released. "The financiers, banks and developers will ultimately have a say in whether or not they think they can make a go of the project," Wenz said. "When it comes to feasibility it makes more sense to look at: Does the site have enough infrastructure? Does it have the right labor market? Can it be successful from the point of view of a community rather than from the point of view of a developer?"
Also in the media ...
Dancer Music and Chicago Dancers United previewed Ensemble Español's Aug. 17 performance in Dance for Life benefit concert and gala at the Auditorium Theatre. The dance company will perform an excerpt from a piece that was choreographed as a tribute to the late Dame Libby Komaiko.

Professor Emeritus of Economics Edward Stuart participated in a RELATE Corporation podcast to discuss his world travels.
To do
Coming next week!
#FollowFriday
Biology Department
From news about the latest research to uplifting comedy, the Biology Department brings a little bit of everything to its Facebook and Twitter accounts. Follow along!
Do you have a story tip? Let the Office of Public Relations know!
Mike Hines, Director of Strategic Communications, m-hines@neiu.edu, (773) 442-4240