Commencement has arrived! As Northeastern Illinois University gears up for Sunday's celebration of the graduates, read the latest on which faculty members have been awarded emeritus status, how a new grant from the National Science Foundation will fund an important conference, and which Music student performed at the Obama Foundation Holiday Gala.
It's all in this week's edition of Noteworthy at Northeastern.
Around the Commons
Here comes Commencement
Interim President Richard Helldobler recently shared words of encouragement with the soon-to-be graduates in the video above. For anyone who can't attend Commencement on Dec. 17, the ceremony will be streamed live at neiu.edu beginning at 2 p.m.
Professors Emeriti
Northeastern has awarded emeritus status to five retiring faculty members who will be honored during Commencement. Northeastern awards the prestigious status to eligible retiring faculty members upon the recommendation of the department or program, with the concurrence of the dean and the provost, and with the approval of the University president.

NASA research presentation
Environmental Science major Lynnette Murphy gave a poster presentation on Dec. 11 at the annual meeting of the American Geophysical Union in New Orleans. Murphy presented research she conducted during a summer internship at NASA Marshall Space Flight Center in Huntsville, Ala., about the effect of land-use/land-cover change and climate change on water near three major cities in the Great Lakes region. Lynnette was interviewed by National Geographic, spoke with professionals who were familiar with her research topic, received advice about continuing work from a researcher at NASA Goddard Space Flight Center, and spoke with other attendees who specifically added her poster to their list of research to check out. "I had a great experience that made me even more excited about research and a collective effort by the scientific community to gain more knowledge by asking questions," she said.
National Science Foundation grant
The National Science Foundation has awarded Northeastern a $100,000 grant to help the institution organize and host a two-day regional conference on enhancing undergraduate STEM education at Hispanic-Serving Institutions (HSIs). The project is titled "Catalyzing Progress in Undergraduate STEM Education with Insights from Midwestern HSIs," and the resulting conference will explore STEM education and pedagogy and will identify issues related to STEM and HSI identity. The conference will take place May 3-4, 2018, at El Centro.
Performance for Obama
Master of Arts in Music Pedagogy student Javier Saume-Mazzei (pictured above on the far left) recently performed for President Obama at the Obama Foundation Holiday Gala as part of his work with the People's Music School.
And there's more!
In the media
Best Dance in Chicago
What an honor! Chicago Tribune dance critic Lauren Warnecke named Ensemble Español's "Raices" performance one of the 10 best of 2017. "Ensemble Español is forging a new future for flamenco—a visually striking, distinctly contemporary genre that echoes other concert forms without losing sight of its roots," she wrote.
Violence and technology
The Chicago Police Department is exploring the use of technology to slow the violence that has taken over some neighborhoods. In a story about the technology, The Atlantic quoted Associate Professor of Educational Inquiry and Curriculum Studies Lance Williams. "I have a huge concern with these technologies because corporations are benefiting and the community suffers," Williams told The Atlantic. "I don't want to be negative toward any tools that can reduce violence. But those are resources—[millions] of dollars—that could have been directed to these communities and young African American men for education."
To do
Ensemble Español Holiday Concerts
The Ensemble Español Spanish Dance Theater will perform its annual holiday concert in the Auditorium on Dec. 15 and Dec. 16. The Ensemble's full company will perform all three styles of Spanish dance: classical, folkloric/regional, and flamenco in the traditional and contemporary forms. Tickets range from $15-$30, with a $5 discount for Northeastern students, faculty and staff.
Mark your calendar!
Thursday Night Live: Sid Yiddish and His Candystore Henchmen, 10 p.m. Dec. 21, Student Lounge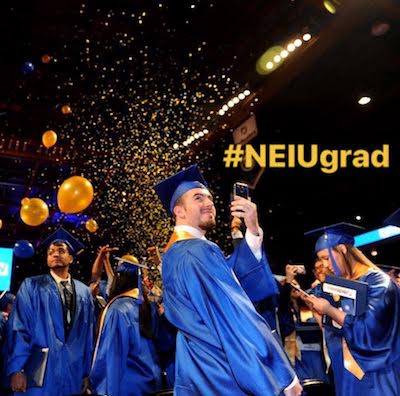 #FollowFriday
#NEIUgrad
We've gotten this hashtag trending in Chicago during several Commencement ceremonies. Let's do it again! Before you post it, tweet it or share it—tag it! Tag your Commencement pics and congratulatory messages with #NEIUgrad for a chance to be seen on the big screen at Commencement! And don't forget: If you can't be there, Commencement will be streamed live at neiu.edu.
Do you have a story tip? Let the public relations office know!
Mike Hines, Director of Public Relations, m-hines@neiu.edu, (773) 442-4240