Northeastern Illinois University's El Centro and Carruthers Center locations will be featured in the annual Open House Chicago event this weekend. Read about their participation, upcoming early voting opportunities and more in this week's edition of Noteworthy at Northeastern!
Around the Commons
Open House Chicago
Northeastern's Carruthers Center and El Centro locations will participate in Open House Chicago on Oct. 13. The Chicago Architecture Center presents the two-day free public event that offers behind-the-scenes access to more than 250 buildings across Chicago. No tickets are required and everyone is welcome.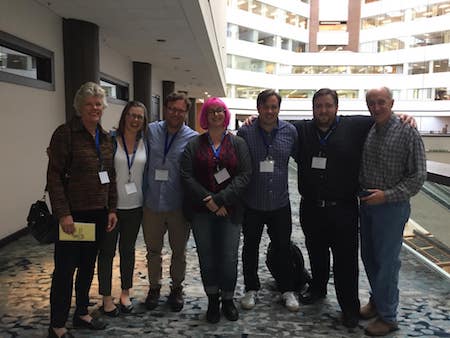 Popular culture research
Assistant Professor of English Ryan Poll accompanied several current and former students to present their original research during the Midwest Popular Culture Association Annual Conference in Indianapolis from Oct. 4-7. The presenters were:
Zachery Franks, "A Changing of the Guard: The Evolution of the Link of Horror Films and Monsters to Historical Trauma" (alumnus, B.A. and M.A.)
Katelyn Juerjens, "AACK! Gender and the Workplace in Cathy" (undergraduate)
William Peters, "Between the Panels and Me: How Closure Helps Readers Recognize the Trauma of Internal Colonialism in Gene Luen Yang's American Born Chinese" (undergraduate)
Lenore Pettinger, "The Collective Power of Women in Beyonce's 'Lemonade'" (undergraduate)
Ryan Poll, "Modern Myths: The Unfolding Class Warfare of Star Wars" (Assistant Professor)
Early voting
Two Northeastern locations will serve as early voting sites for Chicago residents who want to register or cast their ballots in advance of the Nov. 6 election. Early voting will begin Oct. 22 at El Centro and run through Nov. 5. Hours for El Centro voting are listed online. Early voting will also be available on the Main Campus in SU 003 from Oct. 31-Nov. 2. It will be open between 10 a.m. and 5 p.m. during all three days.
And there's more!
In the media
A marathon inspiration
A house fire burned 60 percent of Beau Zanca's body, and his inspirational story of recovery led him to the starting line—and the finish line—of Sunday's Chicago Marathon. Inspired by the people who helped him during rehabilitation, Zanca is a Social Work major at Northeastern "I get a lot of mixed reactions when I kind of tell people what the profession I'm going into, and that's almost motivation itself," he told Runner's World. "People say, 'Oh, it's so hard.' It is hard. But I think people who have endured a lot can pay it forward."
To do
'The Streets Are Talking'
The Fine Arts Gallery will hold a reception for its new exhibition, Jesse Howard's "The Streets Are Talking," from 6-9 p.m. Oct. 16. Howard combines imagery culled from many sources such as news reports about police brutality, witnessed homelessness and desperation, as well as rising activism such as The Movement for Black Lives. Howard creates his characters from lived experiences—both personal and those of others—and when viewing his work you feel their sorrow, defiance, determination, anger and resistance.
Jewel Box Series
The Akropolis Reed Quintet will perform as part of the Jewel Box Series at 7:30 p.m. Oct. 19 in the Recital Hall. The group was founded in 2009 at the University of Michigan and is the first ensemble of its makeup to win a Fischoff Gold Medal (2014), Grand Prize at the Plowman and MTNA national competitions, and six national chamber music prizes in total.
'Antigone'
Stage Center Theatre will open its season Oct. 18 with the premiere of "Antigone," the story of a young woman who confronts a tyrannical leader who believes he is above the laws of god and man. The ruler Creon issues proclamations, which serve his desire to have the ultimate control over right and wrong, and his advisors do nothing to stop him. Only Antigone stands up for what's right, even when it means turning her back on her own sister. Directed by John Bliss, the play will be performed Oct. 18, 19, 20, 25 and 26 and twice on Oct. 27.
Mark your calendar!
#FollowFriday
Stage Center Theatre
The new season of Stage Center Theatre productions will launch next week! Stay up to date on plays, events and auditions on the theater's Facebook page!
Do you have a story tip? Let the Office of Public Relations know!
Mike Hines, Director of Strategic Communications, m-hines@neiu.edu, (773) 442-4240