While the weather hasn't caught up with Northeastern Illinois University's academic calendar just yet, summer classes have begun! The new semester got off to an award-winning start as El Centro took home a prestigious honor from the Chicago Building Congress. We've got more on El Centro, faculty accomplishments and the continued good news from Commencement.
Around the Commons
Major award for El Centro
The Chicago Building Congress has awarded El Centro its prestigious Merit Award for new Chicago construction under $55 million. The announcement was made at the Chicago Building Congress 59th Annual Merit Awards on May 20 at the Chicago Marriott Downtown Magnificent Mile.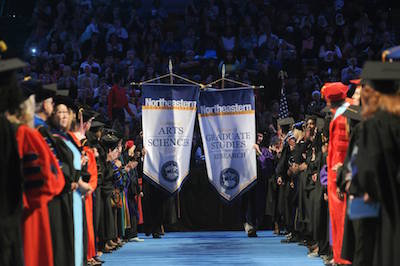 Photo call
Check out the newest photos from spring Commencement and the Golden Eagle 5K. And if you missed them, here are videos of Rita Moreno's speech, student Patricia Jaimes' speech and more!
Mateo makes book debut
Mateo Farzaneh fell in love with reading history and biographies at a young age. Now the Northeastern assistant professor of History has written one and is set to promote his new book, "The Iranian Constitutional Revolution and the Clerical Leadership of Khurasani," published in March by Syracuse University Press.
And there's more!
Just in time for the summer sessions, Divvy has installed a bike-sharing station on the Main Campus.
The College of Education has published its spring 2015 newsletter. Check out all of the good news!
English graduate students Zach Franks, Josh Friedberg and Christine Heckman as well as alumna Rebecca Wiltberger have had their abstracts accepted by the Midwest Popular Culture Association for its fall conference.
English Professor Bradley Greenburg will sign copies of his first novel, "When Lilacs Last in the Dooryard Bloomed," at an exclusive ticketed meet-and-greet on May 23.
Professor Emeritus of Mathematics Paul O'Hara has been nominated for a position of Professor Ordinarius at Istituto Universitario Sophia di Loppiano in Italy.
Economics Coordinator Michael Wenz published a data-focused analysis of the Cubs' pitching rotation in Baseball Prospectus.
Student Leadership Development is accepting applications from students, faculty, staff, alumni and the outside community to speak at TEDxNEIU on Oct. 9, 2015.
Department of Earth Science Coordinator Kenneth Voglesonger and Assistant Professor Elisabet Head presented papers at the Geological Society of America, North-Central Section meeting on May 19-20 in Madison, Wis.
In the media
More on Rita Moreno
The Windy City Times published a story about Rita Moreno's honorary doctorate and Commencement speech, and the Hollywood Reporter included Moreno in its roundup of celebrities who have received honorary degrees this spring.
Also in the media ...
Buzznews.net published a review of the Chicago Rhythm Fest, which included a description of an Ensemble Español piece "that had so much power and precision the whole audience was transfixed."
The San Francisco Chronicle gave Associate Professor of English Julia Iromuanya's debut book, "Mr. and Mrs. Doctor," a positive review, calling it an "exquisitely drawn novel."
The Chicago Tribune published a story about Poko Loko, an early learning center founded 50 years ago by Bonnie Clatch (B.Ed. '61 General Education, Elementary).
To do

American Spanish Dance & Music Festival
Ensemble Español Spanish Dance Theater's popular "Flamenco Passion" live dance and music performances will return to the North Shore Center for the Performing Arts on June 19 and 20. These performances are part of the 39th American Spanish Dance & Music Festival, showcasing the elegance and passion of Spain's dance, music and culture June 10 through June 28.
Mark your calendar!
#FollowFriday
@NEIU_LGBTQA
The LGBTQA Resource Center is excited to announce its new Twitter account! Follow along to stay connected with resources, news and information concerning LGBTQA identities locally, nationally and from around the world.
Do you have a story tip? Let the public relations office know!
Mike Hines, director of public relations, m-hines@neiu.edu, (773) 442-4240