If it seems like Ensemble Español is all over the place this month, that's because the Northeastern Illinois University resident dance company is all over the place. Ensemble Español has launched its 40th American Spanish Dance & Music Festival, which runs through June 25 with performances, panel discussions and workshops.
Get the latest on Ensemble Español—and more exciting dance news—in this week's edition.
Around the Commons       

A grant for dance
Arts Midwest Touring Fund has awarded Northeastern a $3,600 grant for the October engagement with Philadanco Dance Company. The event is co-presented by the University's long-running Jewel Box Series and the Ruth Page Dance Series. In addition to Phiadanco's previously announced Jewel Box concert at 7:30 p.m. Oct. 21 in the Auditorium, the grant will help fund an outreach performance for local K-12 schools earlier in the day. Members of Philadanco also will give two master classes.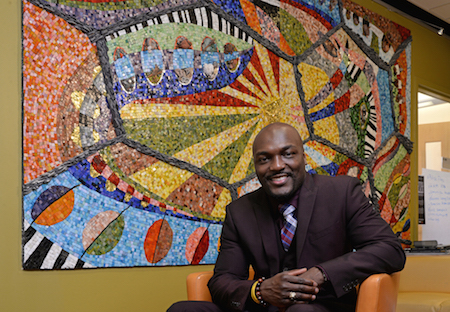 Finding fuel for the spark
Shawn K. Woods (B.A. '98 Criminal Justice and Sociology) is a high-energy example of how a good influence on one life can reverberate through the lives of countless others. A sought-after speaker, trainer and coach—as well as an author and an entrepreneur—Woods is an expert on rising above challenges and is eager to pass the lesson on. Read more about this inspirational alumnus.
Winter in Japan
Led by Japanese Instructor William Schoen and Department of World Languages and Cultures Administrative Aide Jeanette Hernández, 23 undergraduate students traveled to Japan for eight days in December to participate in the Kakehashi Project, the North American regional component of a people-to-people exchange between Japan and the world. Recommended for the trip by the Consulate General of Japan in Chicago, the Northeastern contingent listened to lectures on Japan's history, culture and politics; participated in homestay with Japanese families; and visited factories to observe skilled craftsmanship. The trip was coordinated by the Japan International Cooperation Center and fully funded by the Japanese government to strengthen and foster the U.S.-Japan relations for the next generation.
And there's more!
Northeastern will host a One Stop Enrollment Express from 10 a.m.-6 p.m. in Alumni Hall on June 15. Departments from across the University will come together to help students prepare for the summer and fall semesters.
Check out the new video for the Daniel L. Goodwin College of Education's Master of Arts in Community and Teacher Leaders.
If you missed the NEIU Alumni: All Access event featuring Jose Fulgencio (B.A. '10 Political Science) in April, the video of his presentation is now on YouTube.
In the media
'Passion and drive'
With the arrival of the 2016 American Spanish Dance & Music Festival, the Pioneer Press featured Ensemble Español. "The growth that Ensemble Español has undertaken has a lot to do with the passion and drive of the artists and staff, and the people who are touched by the work created here in the Ensemble," Executive Director Jorge Perez said.
Also in the media ...
See Chicago Dance gave a rave review to the Chicago Human Rhythm Project's "Stomping Grounds," in which Ensemble Español was one of five participating dance companies.
The Northwest Herald reported that Robert Lowen (B.A. '83 Board of Governors) has retired as chief of the Woodstock (Ill.) Police Department.
To do
Meet the master dancers
Ensemble Español and the Chicago Department of Cultural Affairs and Special Events will present "International Passion: A Panel Discussion" featuring an international roster of leaders in Spanish dance. This free event will take place at 12:15 p.m. June 14 in the Chicago Cultural Center's Claudia Cassidy Theater, 78 E. Washington St. This event is part of the 40th American Spanish Dance & Music Festival, which runs through June 25.
Mark your calendar!
#FollowFriday
All about YouTube
It's not just marriage proposal videos, of course. Check out Northeastern's official YouTube channel to see speeches from special guests, coverage of University events and messages from the president.
Do you have a story tip? Let the public relations office know!
Mike Hines, Director of Public Relations, m-hines@neiu.edu, (773) 442-4240