Earn a degree from Northeastern Illinois University? Check. Deliver speeches around the country? Check. Hang out with the first lady? Check. Alaa Basatneh's story will amaze and inspire you. Find out why she was the subject of a documentary—and how that led to an invitation to the Capitol—plus see the newest video from The Nest residence hall and more!
Around the Commons       
'We knew her when'
As Alaa Basatneh sat in the gallery for President Barack Obama's final State of the Union Address—a mere 15 seats away from first lady Michelle Obama—she couldn't stop thinking about the Supreme Court justices. "It felt surreal. The energy in that room," Basatneh said. "All of the lawmakers, the officials, the cabinet, the justices. I kept looking at the justices and thinking, I want to see expressions on their faces. They're supposed to be neutral." Basatneh can be forgiven for being a little shell-shocked. Less than a month earlier, she had crossed the stage at Commencement, having earned her Bachelor of Arts in Political Science from Northeastern. Read more on this remarkable recent graduate.
Tour The Nest
Northeastern's first residence hall will open in the fall! Check out the latest video and then schedule a tour of the newest building on the Main Campus.
Meet Chaelecia Cooper
When donors give to Northeastern, they support student moms like Chaelecia Cooper. A mother of four, Chaelecia graduated with a 4.0 G.P.A. in December 2015, earning her master's degree in Inner City Studies. She achieved this feat as she shuttled her children to school and practice, helped with homework and projects, and squeezed in fun family time.
And there's more!
El Centro has won Urban Land Institute Chicago's Vision Award for Innovation in Education. The Vision Awards "recognize the full development process—construction, economic viability, marketing and management, as well as design."
Northeastern will host a One Stop Enrollment Express from 10 a.m.-6 p.m. in Alumni Hall on June 15. Departments from across the University will come together to help students prepare for the summer and fall semesters.
Ensemble Español will perform in Chicago Rhythm Fest on June 4 at the Auditorium Theatre of Roosevelt University.
In the media
Paving the way for teachers
The Daily Herald and the Pioneer Press reported on Northeastern's partnership with High School District 214 on Educator Prep, a program that prepares high school students to become teachers by offering dual-credit opportunities, postsecondary support, guaranteed student-teaching placements and, upon graduation from college, interviews in District 214 or one of its partner districts if positions are available.
Golden Apple celebration
Dennis Kass, who completed his secondary teacher certification in history/social studies in the Daniel L. Goodwin College of Education in 2008, was included in WTTW's broadcast of the 2016 Golden Apple Awards (at approximately 19:00 of the video). The award recognizes outstanding teachers in Cook, DuPage, Kane, Lake and Will counties.
Also in the media ...
To do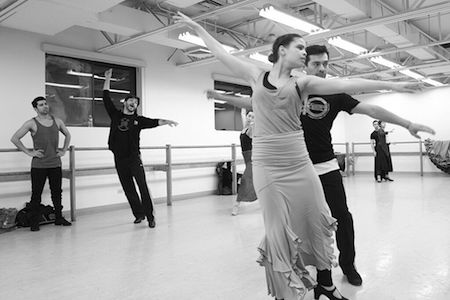 American Spanish Dance & Music Festival
Featuring three showings of its popular "Flamenco Passion" concerts, Ensemble Español Spanish Dance Theater will continue its 40th-year celebration with the 2016 American Spanish Dance & Music Festival from June 8-25. The annual event includes performances, classes, seminars and lectures showcasing the elegance and passion of Spain's dance, music and culture.
Mark your calendar!
#FollowFriday
The Nest
Thinking about student housing at Northeastern? Let The Nest tell you all about the benefits and conveniences of living on campus. Find and follow them on Facebook, Instagram and Twitter for construction updates, tour offers and application information.
Do you have a story tip? Let the public relations office know!
Mike Hines, Director of Public Relations, m-hines@neiu.edu, (773) 442-4240