Northeastern Illinois University is growing a new program in which students help their fellow students. Read more about the Student Philanthropy Initiative, the lineup for next season's Jewel Box Series and a workshop sponsored by the Daniel L. Goodwin College of Education in this week's Noteworthy at Northeastern.
Around the Commons
Student Philanthropy Initiative
When Byron Terry (pictured above) earned a Class Gift Scholarship, the award came as a tremendous relief. The $450 scholarship helped to pay for books, supplies and fees. "It basically filled the gap that I wasn't able to cover being a full-time student," said Terry, who is on track to earn a Master of Arts in Inner City Studies in December. Founded in 1996, the Class Gift Scholarship Fund has developed a tradition among Northeastern Illinois University's graduating seniors who use the fund to give back to students like Terry who share the same financial challenges and academic goals. Before accepting the Class Gift Scholarship, Terry happily agreed to participate in a new program that encourages Northeastern students to help fellow students. It's called the Student Philanthropy Initiative, and it's gaining traction in its second year at Northeastern.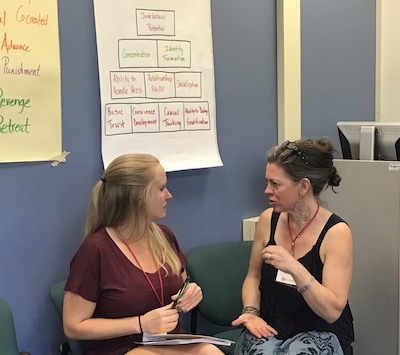 Positive Discipline in the Classroom
The Daniel L. Goodwin College of Education partnered with SEL Chicago to offer a two-day workshop to teachers on July 17 and 18 called Positive Discipline in the Classroom. Here is a photo from the event and a flyer with additional information. Led by Positive Discipline Certified Teacher Kristin Hovious (pictured above, right), the workshop was designed for teachers, counselors, school staff and administrators who want an effective discipline approach based on Adlerian Psychology, that integrates social and emotional learning while reducing challenging student behaviors. "Bottom line, we know kids need role models who can help them navigate confusing or challenging social situations," Goodwin College Dean Sandra Beyda-Lorie said. "We intend to support teachers who strive to create culturally responsive and positive learning environments for their students."
And there's more!
Watch the highlights video from the 46th Annual Chuck Kane Scholarship Golf Event, which raised $20,165 for student scholarships last month.
In the media
To do

Jewel Box Series
The Jewel Box Series, now in its 19th year, will return for the 2018-19 season with a lineup of diverse artists from all over the globe to perform in the acoustically superior Recital Hall and spacious Auditorium. The eight-concert series will begin Sept. 28, and offers music from a variety of genres through May 17, 2019. For the first time, the series also will feature an improv comedy group. "From big, elegant brass to grooving bluegrass, the 19th season of the Jewel Box Series encompasses variety and outstanding talent from around the world," Office of Cultural Events Director Christie Miller said.
Mark your calendar!
"The Locket" screening, 7:30 p.m. July 25, Auditorium
40 Oz. Sidekicks, 10 p.m. July 26, Student Lounge
#FollowFriday

CAPE classes
The Office of Community and Professional Education has announced a slew of new non-credit offerings—from a veterinary assistant information session to GMAT preparation—on Facebook. Follow along to see all of the latest!
Do you have a story tip? Let the public relations office know!
Mike Hines, Director of Strategic Communications, m-hines@neiu.edu, (773) 442-4240