Northeastern Illinois University sent more than 50 representatives to the annual National Diversity in STEM Conference and once again came home with an award. Find out which student was honored in Texas, who contributed to a new book and much more in this week's edition of Noteworthy at Northeastern.
Around the Commons
SACNAS award
Chemistry major Christopher Comber earned an award for best poster presentation in the area of Earth Sciences during the 2018 National Diversity in STEM Conference that took place in San Antonio, Texas, from Oct. 11-13. Under the direction of Earth Science Instructor Rebekah Fitchett, Comber worked with fellow students Ali Yaseen and Karl Gnaedinger to examine the use of herbicides in a regional prairie reserve. In total Northeastern sent 47 students and seven faculty and staff members (many of them pictured above) to the conference, which is sponsored by the Society for Advancement of Hispanics/Chicanos and Native Americans in Science. Northeastern's College of Arts and Sciences and the Student Center for Science Engagement provided much of the travel funding. Awards from the National Science Foundation, the National Institutes of Health, the U.S. Department of Education, the U.S. Department of Agriculture and the NEIU Foundation also contributed. Associate Professor of Biology Jorge Cantú delivered a presentation during the conference, and students were able to meet keynote speaker Ellen Ochoa, the first Latina astronaut.

'The Long Term'
Professor of Educational Inquiry and Curriculum Studies Erica Meiners has contributed to and co-edited a new book that examines the the U.S. prison industrial complex. Published in October by Haymarket Books, "The Long Term: Resisting Life Sentences, Working Toward Freedom" is a collection of essays that bring to light the silenced voices of people serving long-term sentences, often 60 to 80 years. Four other individuals with connections to Northeastern also contributed to the book.
ZERO TO THREE fellow
Assistant Professor of Social Work Aimee Hilado has been selected by ZERO TO THREE, the leading nonprofit dedicated to ensuring babies and toddlers have a strong start in life, for its 2018-2020 Fellowship Class. ZERO TO THREE Fellows are a network of diverse leaders spanning professions and sectors who have the knowledge and passion to be change agents for infants, toddlers and their families. "My goal is to increase understanding around the importance of infant-early childhood mental health among trauma-experienced refugee and immigrant families, and the diverse systems and professionals that touch these communities," Hilado said.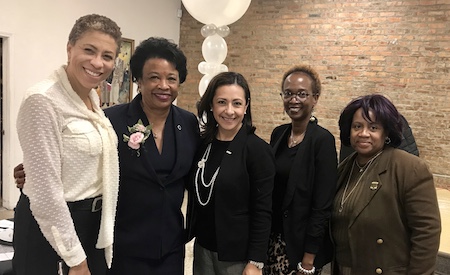 A presidential honor
President Gloria J. Gibson was honored by the Illinois Committee on Black Concerns in Higher Education during an Oct. 19 reception for six African American women who serve as college presidents in Illinois. Above, Gibson (second from left) is joined at the reception by (from left) Carruthers Center Director Andrea Evans, Executive Director of Government Relations Suleyma Perez, Director of Scholarships Michelle Morrow and Director of Financial Aid Maureen Amos.
ChicagoCHEC check-in
The Chicago Cancer Health Equity Collaborative (ChicagoCHEC) disseminated findings from three of its eight funded pilot research projects that focus on addressing barriers to cancer prevention, treatment and survivorship prevalent among Chicago's underserved communities during its third annual community forum. Led by researchers from Northeastern Illinois University, the Robert H. Lurie Comprehensive Cancer Center of Northwestern University, and the University of Illinois at Chicago, ChicagoCHEC is a groundbreaking collaborative that fosters meaningful cancer research, education, training and outreach within the city's underserved communities. It is supported by a five-year, $17 million grant from the National Cancer Institute.
In the media
To do
'Star Wars'
Assistant Professor of English Ryan Poll will lead the latest Community Conversations event at 7 p.m. Oct. 29 in the Golden Eagles Room. Titled "Star Wars: Cultures, Economics, Politics," the conversation will focus on how the fictional "Star Wars" galaxy is informed by wider historical, political and economic processes from the late 1970s to the present. Rather than a narrative that unfolds "a long time ago, in a galaxy far, far, away," Poll contends that "Star Wars" has been shaped by progressive social and economic movements throughout the decades from the protests against the Vietnam War to Occupy Wall Street and Black Lives Matter.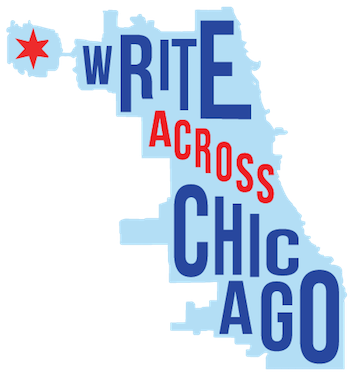 Write Across Chicago
The Illinois Writing Project in the Daniel L. Goodwin College of Education will celebrate Write Across Chicago, an October program of writing groups across the city, on Nov. 1 at the Harold Washington Library. RSVP is required for this free event. Many people in the 50 groups at library branches, businesses, schools and community organizations throughout the city will share their stories in small clusters. A panel discussion on the power of writing to bring people together will follow. 
Early voting
Two Northeastern locations will serve as early voting sites for Chicago residents who want to register or cast their ballots in advance of the Nov. 6 election. Early voting is underway at El Centro and runs through Nov. 5. Hours for El Centro voting are listed online. Early voting will also be available on the Main Campus in SU 003 from Oct. 31-Nov. 2. It will be open between 10 a.m. and 5 p.m. during all three days.
Mark your calendar!
#FollowFriday

#NEIUpumpkin
Celebrate the spirit of Halloween and your #NEIUspirit too! Download four custom stencils at neiu.edu/pumpkin and show us your jack-o'-lantern skills on Instagram. Tag your pics with #NEIUpumpkin so we can see your handiwork.
Do you have a story tip? Let the Office of Public Relations know!
Mike Hines, Director of Strategic Communications, m-hines@neiu.edu, (773) 442-4240