Student Government Association President Ashlei Ross will represent Northeastern Illinois University during the Lincoln Academy Student Laureate event this weekend in Springfield. Learn more about her honor, a national recognition for the Accounting master's program and a grant-funded project that sheds light on the lives of undocumented students in this week's edition of Noteworthy at Northeastern.
Around the Commons

Lincoln Laureate
Northeastern has selected Social Work and Inner City Studies major Ashlei Ross as its 2018 Lincoln Academy Student Laureate. Every fall semester, the Lincoln Academy of Illinois honors one graduating senior from each university in the state who demonstrates leadership and service contributions on campus and beyond, academic success, and extracurricular achievements. Ross and other student laureates from around the state will be recognized during a Nov. 17 ceremony and luncheon at the Old State Capitol State Historic Site in Springfield, and will be awarded the Lincoln Academy Student Laureate Medallion, a certificate of achievement, and a monetary grant.
A voice for undocumented students
Northeastern is one of 10 institutions nationwide to be awarded a $35,000 grant from the Online News Association's Challenge Fund for Innovation in Journalism Education. Northeastern's project, "DACAmentation: Humanizing Our Stories," aims to break myths about undocumented students and shed light on the challenges they face in the United States. The project is scheduled to include six podcasts in collaboration with Spanish Public Radio and two town hall meetings, which will be open to the public. The first town hall will take place at 7 p.m. Nov. 20 in Alumni Hall on the Main Campus. Panelists include Tanya Cabrera, associate director for equity and inclusion at the University of Illinois at Chicago; Maureen Fitzpatrick, associate vice chancellor of adult education at City Colleges of Chicago; and Miguel Angel Saucedo, director of strategic partnerships and special populations for Chicago Public Schools.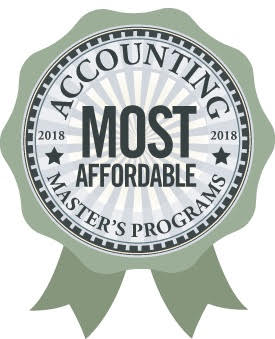 Recognition for Accounting master's program
Northeastern's Master of Science in Accounting has been named one of the most affordable accounting master's programs in the United States by AccountingEDU.org. The program was one of only two from the State of Illinois to make the list. Though tuition factors into Northeastern's ranking, a significant component of this distinction is based on the percentage of students who passed the Uniform Certified Public Accountant (CPA) exam on their first attempt, which is no small feat. The exam consists of nearly 300 questions and 28 task-based simulation problems.
And there's more!
Master of Business Administration student Hera Khan participated in a team that won first place for its presentation titled "Rural Hospital Crisis: What Will Save Them?" during the Beta Gamma Sigma Global Leadership Summit from Nov. 1-4 in Rosemont. Business students from 197 schools around the world participated in the summit.
Linguistics Professor Richard Hallett gave a plenary session titled "'From Baksheesh and Bazaar to Cheque and Kiosk': The Consilience of Linguistics and Tourism" during the Linguistics Across Disciplines Conference in India. He also co-presented the valedictory address, "Going Beyond Linguistics Across Disciplines," with Dr. Sangeeta Bagga-Gupta, of Jönköping University, Sweden. The conference was held to celebrate the 50th anniversary of the Department of Linguistics at Aligarh Muslim University.
Linguistics Instructor Karen Duchaj presented a paper titled "Which 'there' is there? George Harrison's dialect shifting in his late 1960s songs" during The Beatles' The White Album: An International Symposium from Nov. 8-11 in West Long Beach, N.J.
Four representatives of Northeastern presented at the Transforming STEM Higher Education conference in Atlanta, Ga., from Nov. 8-10. Assistant Professor of Mathematics Matthew Graham and MSTQE Director Brittany Pines co-presented "Transfer Students Impacts of Sustained Community College Partnerships on a STEM Teacher Preparation Program" for a session on Institution-Level Interventions, and retired Chemistry Professor Ana Fraiman and Acting Vice Provost Mark McKernin co-presented "Developing an Intradisciplinary STEAM Minor" for an Ideation/Innovation session.
Retired faculty members Steve Dundis (Professor Emeritus, Educational Leadership and Development) and Jim Blair (Communication, Media and Theatre) have launched a podcast titled "Learning for the Hell of It." The series will tackle various issues of education. Blair has also recently published two short stories, "Finding Home" and "Family," on StoryNews.
In the media
Political discovery
While clearing out a closet in the Ronald Williams Library over the summer, Administrative Assistant Bonnie Pfeiffelman discovered a treasure trove of hundreds of political buttons that had been donated and forgotten years before. (The Library, after all, is mostly concerned with books.) The Library put the buttons on display before Election Day and drew coverage from WTTW's "Chicago Tonight" and WGN News. Pfeiffelman was joined in the broadcasts by Associate Professor of History Joshua Salzmann and Assistant Professor of Political Science William Adler, respectively.
'Global Powerhouse'
Northeastern alumnus Henry Cárdenas (B.A. '78 Social Work) is on the cover of Pollstar's current Special Latin Issue. The magazine calls Cardenas a "global powerhouse" whose rise began during his days throwing disco parties as a Northeastern student. Cárdenas founded Cárdenas Marketing Network, which has grown into, well, a global powerhouse. "I created a 'battle of the DJs' event and the disco parties went from 700 to 5,000 people," he told Pollstar. "I was a promoter already without knowing it and it was going to be my life."
Presidential priorities
President Gloria J. Gibson appeared on CAN TV to talk about Northeastern and her priorities as the new leader. Joined by Chief of Staff Mike Dizon, Gibson discussed the role her parents played in instilling in her an appreciation for education. "Education changes the trajectory of a student's life and also the family life," Gibson said. "We look at the students holistically at Northeastern, so providing for access, opportunity and the success of our students—those are my top priorities."
Also in the media ...
ABC7 hosted Proyecto Pa'Lante Academic Advisor Elizabeth Villarreal to talk about the role the Illinois Legislative Latino Caucus Foundation scholarship played in her life and continues to play for Northeastern students.
CLTV's "Politics Tonight" hosted Assistant Professor of Political Science William Adler to talk about post-election ballot debates.
To do

The Capitol Steps
For the first time, the Jewel Box Series will feature an improv comedy performance when The Capitol Steps take the stage on Nov. 16. The group was born in December 1981 when some staffers for Sen. Charles Percy were planning entertainment for a Christmas party. In the years that followed, many of the Steps ignored the conventional wisdom ("Don't quit your day job!"), and although not all of the current members of the Steps are former Capitol Hill staffers, taken together the performers have worked in a total of eighteen Congressional offices and represent 62 years of collective House and Senate staff experience.
Mark your calendar!
#FollowFriday
Ronald Williams Library
The Library is up to something fun! Follow along on Facebook as each week the Ronald Williams Library shares original research by Northeastern faculty members that appear in the Digital Commons. Recent featured research was Associate Professor of Biology Aaron Schirmer's article on the relationship between student sleep patterns and academic performance and the Faculty Research and Creative Activities Symposium.
Do you have a story tip? Let the Office of Public Relations know!
Mike Hines, Director of Strategic Communications, m-hines@neiu.edu, (773) 442-4240