It's always award season at Northeastern Illinois University!
Find out who's earned his second fellowship in South Africa, which instructor has been honored by Northeastern students and which alumni have earned recognition for their service, leadership and success in this week's edition of Noteworthy at Northeastern.
Around the Commons
South African fellowship
Associate Professor of English and African/African American Studies Chielozona Eze has been awarded a fellowship by the Carnegie African Diaspora Fellowship Program, his second South Africa-based fellowship in as many years. Eze will travel to South Africa in May and June of 2017 to work with Stellenbosch University and Professor Louise du Toit on a project titled "Decolonizing the Curriculum: Exploring the Interplay of African Philosophy and Literature for Curriculum Co-development and Collaborative Research."
Alumni Awards
The Alumni awards were presented during NEIU Weekend at the Golden Gala on Sept. 17. Who won? Check out the award winners and videos of their stories and their acceptance speeches.
What a view!
If you have not seen the new aerial view of the Main Campus, El Centro and the Carruthers Center, be sure to check it out now!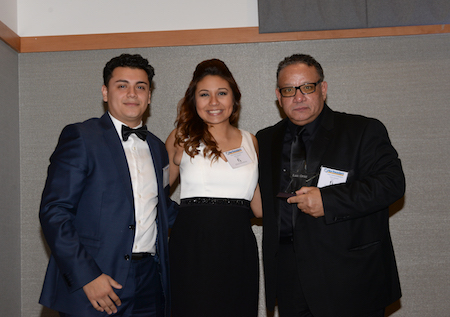 Teacher of the Year
The Student Advisory Council of the College of Business and Management presented Instructor of Social Work Luis Ortiz with the Teacher of the Year award during the 24th Annual Etiquette Gala on Nov. 4. Assistant Professor of Management and Marketing Dilek Yunlu and Professor of Educational Inquiry and Curriculum Studies Nicole Holland were the other finalists. College of Business and Management Office Manager Ruth Johnson was presented with the Appreciation Award.
And there's more!
In the media
Election rewind
CAN TV broadcast the "Historical Perspective of the 2016 Presidential Election" panel that took place Nov. 7, the day before the election, in the Ronald Williams Library. Historians Theodore Anderson, Jane Dailey, Jonathan Daly and Zouhair Ghazzal explored how differing interpretations of the 2016 U.S. presidential election are informed by the perspective of history. The day after the election, Professor Emeritus of Economics Edward Stuart appeared on WTTW's "Chicago Tonight" to discuss the economic ramifications of the election results.
Also in the media ...
The Chicago Tribune mentioned Northeastern Illinois University in an editorial about the Chicago Star Partnership with the City Colleges of Chicago. Northeastern joined the partnership in November 2015.
The Polish Daily News published a story on the Polish-American Heritage Celebration that took place at Northeastern on Oct. 27.
To do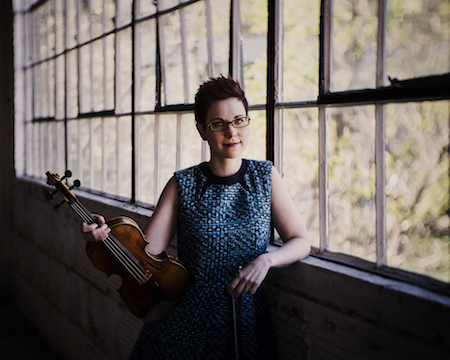 Jewel Box Series
Fiddler, singer and stepdancer April Verch will perform Nov. 18 as part of the Jewel Box Series. While Verch is perhaps best known for playing traditional fiddle styles from her native Ottawa Valley, Canada, her performances extend into old-time American and Appalachian styles and beyond, for a well-rounded tour-de-force of North Americana sounds.
ASCAC Midwest Conference
The Carruthers Center will host the Association for the Study of Classical African Civilizations Midwest Region Conference on Nov. 11-12. Among the highlights will be a two-part panel on Nov. 11 titled "Discord or Harmony: Science, Spirituality, and the Paradigmatic Bounds of Knowing," which will explore the ties between ancient African wisdom and the modern problems faced by people of African descent. The two-day conference also will include conversations on topics such as self-discipline and self-love, race and culture in the Caribbean and South America, and African-centered curricula.
Mark your calendar!
Tyler Bohm exhibition, through Nov. 18, Fine Arts Gallery
Food Truck Friday, 4-7 p.m. Nov. 11, Lots D and J
Student Pantry Holiday Food Drive, 1-3 p.m. Nov. 14, Village Square
Jazzy Mondays: Phil Seed, 6:30 p.m. Nov. 14, Carruthers Center
Biology Department Plant Sale, 10 a.m.-4:30 p.m. Nov. 15, Greenhouse (BBH 337)
Brass Studios Showcase, 3:05 p.m. Nov. 15, Recital Hall
NEIU Faculty Recital, 7:30 p.m. Nov. 15, Recital Hall
Mateo Farzaneh lecture: W & Barack, 11:30 a.m. Nov. 16, Pedroso Center
Senior Guitar Recital, 7:30 p.m. Nov. 16, Recital Hall
Las Comadres, noon Nov. 17, Pedroso Center
String Studios Showcase, 3:05 p.m. Nov. 17, Recital Hall
"Suicide Squad" screening, 6 p.m. Nov. 17, SU 215
Junior Piano Recitals, 7:30 p.m. Nov. 17, Recital Hall
Fall Opera Scenes, 7 p.m. Nov. 18-19, Auditorium
#FollowFriday
Veterans Services
The Office of Veterans Services assists veterans and eligible dependents with securing the use of educational benefits. All of the Veterans Services staff members are veterans themselves, and all have gone through the transition from military to college, including the benefit application process. Check out photos from today's Veterans Day ceremony on the Main Campus, then follow the office on Facebook for workshop, job fair and social event information.
Do you have a story tip? Let the public relations office know!
Mike Hines, Director of Public Relations, m-hines@neiu.edu, (773) 442-4240