That's it, folks! Another calendar year is in the books at Northeastern Illinois University.
We've got stories, videos and photos from Commencement, a final tally on a fundraiser organized by Educational Leadership-Higher Education graduate students and a special holiday video in the year's final edition of Noteworthy at Northeastern.
Around the Commons
Commencement rewind
Adapting a moment made famous by her former boss and mentor, alumna Alice McGee announced she had a special gift for the graduates from none other than Oprah Winfrey during Northeastern's Commencement ceremony. Check out more from Commencement and graduation-related events: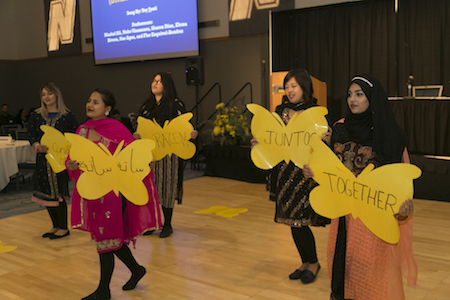 For students, by students
Each year, Associate Professor of Literacy, Leadership and Development Gabriel Cortez challenges his Human Relations and Leadership class to create a group activity that results in learning and real-world impact. This year's class not only organized an event to raise awareness about undocumented students—they also made it a fundraiser that pulled in more than $9,600 in pledges and contributions to support scholarships and resources for undocumented students at Northeastern.
And there's more!
All Northeastern locations will be closed Dec. 23 through Jan. 2, and will reopen Jan. 3. Spring 2018 classes begin Jan. 8.
Melrose Park Elementary School brought about 300 fourth- and fifth-grade students for a visit to Northeastern last week. The school's principal, Leticia Valadez, is a triple alumna of the Daniel L. Goodwin College of Education.
El Centro has published its Fall 2017 newsletter.
The NEIU Foundation has created a Year-End Giving guide.
Northeastern will host a Transfer Tuesday event on Jan. 9.
In the media
Autism and the holidays
The holiday season can be difficult for people with autism. WGN interviewed Northeastern alumnus Christopher Jones (B.A. '15 Psychology), supervisor of life skills and job coaching at Have Dreams, about how people with autism can thrive during this time of year.
Chicago Board of Health appointment
Northeasern alumnus Juan Calderon (B.A. '14 Interdisciplinary Studies) has become the first openly gay Puerto Rican/Latinx man named to a seat on the Chicago Board of Health. "This appointment means a great deal to me," Calderon told The Windy City Times. "I want to be a voice that helps intersect the community and its development to public health, including encouraging Chicagoans to lead overall healthier lives. As a gay man, it is important to me to promote changes and improvements in the overall health of the LGBTQ community."
Also in the media ...
Patch reported that Rosi Rosas (B.A. '11 Interdisciplinary Studies) has been hired as YWCA Evanston/North Shore's human resources manager.
#FollowFriday
All about YouTube
It's not just Commencement videos, of course. Check out Northeastern's official YouTube channel to see the above holiday video, speeches from special guests, coverage of University events and messages from the president.
Do you have a story tip? Let the public relations office know!
Mike Hines, Director of Public Relations and Web Communications, m-hines@neiu.edu, (773) 442-4240