Finals and over and the hallways are quiet at Northeastern Illinois University, but the year is not over yet! Watch our last two videos of 2016, find out about a faculty member's prestigious lecture in Finland and get lots more in the year's final edition of Noteworthy at Northeastern!
Around the Commons
Happy New Year!
Before we turn the calendar to 2017, take a look at two new videos that are guaranteed to make you smile. Here is a highlights video from the December 2016 Commencement Ceremony:
And this is a fun look back at a busy 2016 at Northeastern Illinois University:
Reaccreditation for Music program
Northeastern's Music program has earned reaccreditation by the National Association of Schools of Music (NASM) through 2024. "The renewal of our National Association of Schools of Music accreditation is a tribute to the hard work of our faculty and staff, and especially our former and current students," said Travis Heath, acting chair of the Department of Music and Dance. "We are proud of this status and look forward to serving our students with world-class music instruction for years to come."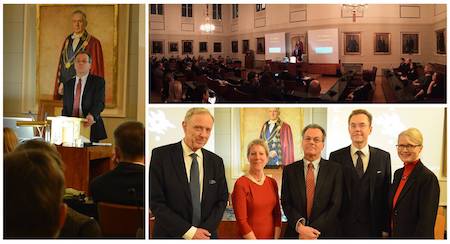 Fulbright speech in Finland
History Professor Patrick Miller delivered the prestigious Fulbright Bicentennial Inaugural Lecture on Dec. 8 in the Consistorium of the University of Helsinki. The lecture, which is part of his appointment as the 2016–2017 Fulbright Bicentennial Chair in American Studies at the University of Helsinki, was titled "The Long Civil Rights Movement: From the March on Washington to Arab Spring." The ceremonial lecture was attended by the university's chancellor, the U.S. ambassador's designated representative, the holder of the McDonnell-Douglass endowed chair in the Department of World Culture and Fulbright's CEO in Finland. The next day, Miller delivered the keynote remarks for an annual symposium of the Finnish American Studies Association. In the spring, Miller will teach two courses and participate in talks and workshops in Germany, Austria, Tunisia and Spain.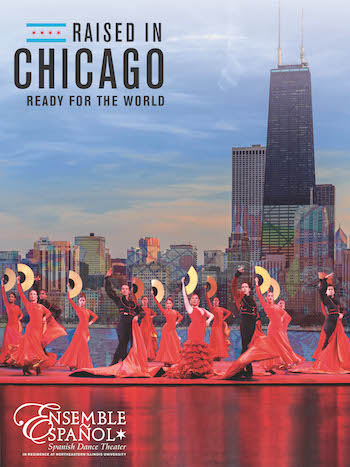 Major grant for Ensemble Español
Ensemble Español Spanish Dance Theater, which has been in residence at Northeastern for 40 years, has been awarded a major Growth Grant by Caerus Foundation, Inc. that will help the dance company expand its arts education programs and transition to a full-time professional company over the next three to five years. The grant has the potential to raise $1.5 million through a matching campaign over the next three years, and the NEIU Foundation has created a website for contributions to the matching effort. Ensemble Español also recently has been awarded a two-year, $50,000 grant from the MacArthur Fund for Arts and Culture at Prince.
And there's more!
Northeastern will be closed from Dec. 23 through Jan. 2 for December break.
If you missed it, here is this year's holiday video message from Interim President Richard Helldobler.
In the media
'Barber Shop Show'
Jacob H. Carruthers Center for Inner City Studies Director Conrad Worrill, who will retire at the end of the year, appeared on WBEZ's "Barber Shop Show" for a 28-minute interview about his past, the Carruthers Center and his future plans. "I'm going to a new phase of life," he said. "I'll be doing other work. I'll be doing a lot of writing. I'll be doing a lot of interaction with the next generation."
Also in the media ...
The Chicago Tribune published an obituary for longtime Northeastern professor Rosalyn O'Cherony.
WTTW's "Chicago Tonight" invited Economics Professor Edward Stuart back to talk about the 2017 outlook on the economy.
To do
Business organization induction ceremony
The College of Business and Management Student Advisory Council will host an induction ceremony for members of six clubs at 6 p.m. Jan. 20 in the Recital Hall. M.B.A. student and SAC President Alicia Mendoza will deliver a keynote speech on the value of diversity before the induction of members of the Accounting Associates Club, American Marketing Association at NEIU, American Production and Inventory Control Society at NEIU, Prospanica at NEIU (formally known as NSHMBA), Financial Management Association at NEIU and Student Advisory Council of the College of Business and Management. Anyone interested in attending is asked to RSVP to the College of Business and Management Dean's Office by Jan. 6 at cobmdo@neiu.edu or (773) 442 6104.
Mark your calendar!
Thursday Night Live: Dan Rico, 10 p.m. Dec. 29, Student Lounge
#FollowFriday
All about YouTube
It's not just Commencement videos, of course. Check out Northeastern's official YouTube channel to see speeches from special guests, coverage of University events and messages from the president.
Do you have a story tip? Let the public relations office know!
Mike Hines, Director of Public Relations, m-hines@neiu.edu, (773) 442-4240