The work of Northeastern Illinois University students and faculty members reaches far beyond the classroom. Read about a new fund that will support student travel, a student trip to Canada to study dark matter and much more in this week's edition of Noteworthy at Northeastern.
Around the Commons
A fund for travel
Economics Professor Emeritus Edward Stuart loves to travel. More than that, he loves to lead student groups on study tours. In fact, during his 31-year tenure at Northeastern, Stuart has led 17 study trips to cities such as Barcelona, Warsaw and Munich. Now a fund has been created in Stuart's honor to support student travel, both in study abroad programs and academic endeavors.
Dark matter study trip
With the help of donations from alumni and friends, Assistant Professor of Physics Orin Harris will travel with two students Aug. 21-23 to SNOLAB, an underground science laboratory near Sudbury, Ontario, Canada, that specializes in neutrino and dark matter physics. A member of SNOLAB's international Pico Collaboration team, Harris will lead the students in discussions and presentations about ongoing activities within the Collaboration. The trip also will include a visit to SNOLAB's 1.5-mile-deep cleanroom laboratory that is part of an active nickel mine.
A busy month for Michele Kane
Professor of Special Education Michele Kane co-presented a pre-conference workshop with Lamar University Professor Dorothy Sisk titled "Planting Seeds of Mindfulness: Creating the Conditions to Help Gifted Kids to Flourish and Bloom Intellectually, Emotionally, and Spiritually" at the 22nd Biennial World Conference of the World Council for Gifted and Talented Children in Sydney, Australia, on July 20. Kane made an additional presentation titled "Compassionate Empathy and Emotional Fragility: Supporting the Sensitive Gifted Child." In August, the Gifted Education International journal published a special edition on the topic of mindfulness and included an article from Kane for parents and teachers titled "Creating a Culture of Calm: Mindfulness Unfolding in the Classroom." And from Aug. 3-6, Kane was joined by Professor Emerita Ellen Fiedler and six Gifted Education graduate students (pictured above) at the Supporting the Social and Emotional Needs of the Gifted Conference in Naperville. The students were Alison Nelson, Jamie Fried, Natalie Scibior, Stephanie Combs, Adrian Morales and Rachel Helfer.
And there's more!
Ensemble Español will participate in Dance for Life on Aug. 19 at the Auditorium Theatre. Proceeds will be contributed to the AIDS Foundation of Chicago and Chicago Dancers United's Dancers' Fund.
To do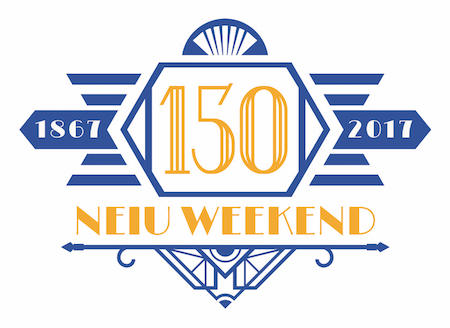 NEIU Weekend
Registration is now open for NEIU Weekend, scheduled for Sept. 15-16! Alumni, students, parents, faculty, staff and friends are all welcome as Northeastern kicks off the celebration of its 150th anniversary with live music, campus tours, a family picnic and of course the Golden Gala Alumni Awards.
Mark your calendar!
#FollowFriday
Daniel L. Goodwin College of Education
There's always something exciting going on in the Goodwin College! Stay up to date on the successes of the students, faculty and staff on Facebook.
Do you have a story tip? Let the public relations office know!
Mike Hines, Director of Public Relations, m-hines@neiu.edu, (773) 442-4240