We have a Commencement speaker—and she boasts an EGOT! (If you don't know what an EGOT is, you definitely want to Google it.) Find out more about plans for Rita Moreno's Commencement address, the Center for College Access and Success' new partnership and Family Day at the Carruthers Center for Inner City Studies.
Around the Commons
Hello, Rita Moreno!
Award-winning actress Rita Moreno will be the speaker for Northeastern's Commencement ceremony on May 11. Moreno belongs to an elite group of performers, having won each of the entertainment industry's most prestigious awards: the Oscar, the Emmy, the Tony and the Grammy. During the Commencement ceremony, Moreno will be awarded an honorary doctorate degree in recognition of her outstanding achievements. The news was quickly reported by the Sun-Times, My Fox Chicago and DNAinfo Chicago.
Spring Literary Conference
In partnership with the Chicago Area Reading Association, the Department of Literacy Education will co-host a spring literacy conference on April 18. Practicing and aspiring K-12 teachers can register for the event, where they will have the opportunity to engage in several breakout sessions focused on helping students develop academic vocabulary and enhance literacy skills. Peter Fisher, co-author of "Teaching Academic Vocabulary K-8," will be the keynote speaker.
Fellowship Initiative partners
The Center for College Access and Success has been selected to partner with JPMorgan Chase to support The Fellowship Initiative, an academic and social enrichment program that helps young men of color achieve personal and professional success.
A generous donation
Professor Emerita Elyse Mach is being recognized for her donation of recordings and transcripts of legendary jazz pianists to Yale University's Oral History of American Music archive. "Grand Pianists of Jazz" consists of a series of interviews by Mach with jazz greats such as Marian McPartland, Billy Taylor and Ramsey Lewis.
Mossadegh lectureship
Haleh Emrani, an entrepreneur, engineer, historian and philanthropist, will deliver the inaugural talk in Northeastern's Dr. Mohammad Mossadegh Servant Leadership Lecture series on April 17. Emrani's lecture is titled "Dawn of a New Era of Leadership: When Ideas in Business, Academia and Philanthropy Converge."
And there's more!
In the media

Tune in for 'The Homestretch'
"The Homestretch," a documentary that prominently features a Northeastern student, professor and alumna, will make its international broadcast TV premiere on April 13. In Chicago, the movie will air on WTTW at 9 p.m. Here is a Northeastern story about the student, Roque Sanchez (pictured above), from November 2014, when the movie screened on the main campus.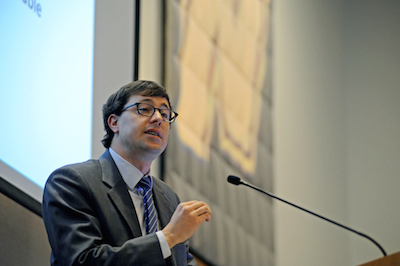 Ask him anything
Richard Kilpatrick, an assistant professor of Accounting, Business Law and Finance, was the latest faculty member featured in Northeastern's partnership with The Mash, the Chicago Tribune's weekly publication for teens. Kilpatrick answered questions about Twitter, internships and the difference between attending school in a city versus a "college town."
Also in the media ...
Al Jazeera America quoted Economic Professor Emeritus Edward Stuart in a story about the Chicago mayoral race.
WBEZ quoted Robert T. Starks, a professor emeritus at the Jacob H. Carruthers Center for Inner City Studies, in a story about how Rahm Emanuel won the Chicago mayoral election.
To do
Carruthers Center Family Day
The Jacob H. Carruthers Center for Inner City Studies will host its first annual Family Day on Saturday, April 18. In conjunction with the Carruthers Center's 49-year anniversary, Family Day was created to celebrate the center's activism and scholarship for the African-American community. There will also be an information session with admissions and financial aid staff for students desiring to further their education.
Mark your calendar!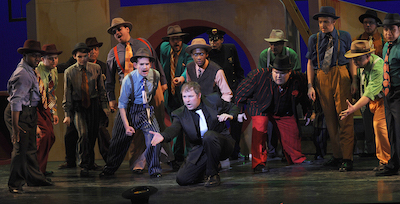 "Guys and Dolls" ($10; free for students and staff), 7:30 p.m. April 10-11, Auditorium
Asian American Heritage Awards Gala and Graduate Recognition, 5:30 p.m. April 10, Alumni Hall
Piano Showcase (free), 7:30 p.m. April 13, Recital Hall
Open Mic with AAARC (free), 3 p.m. April 14, Pedroso Center
Percussion Showcase (free), 3:05 p.m. April 14, Recital Hall
Long Night Against Procrastination (free), 7 p.m.-midnight, Ronald Williams Library
Composers and Songwriters Showcase (free), 7:30 p.m. April 14, Auditorium
Voice Showcase (free), 7:30 p.m. April 15, Recital Hall
Visiting Writers Series: Elva Treviño Hart (free), 3 p.m. April 16, Recital Hall
Computer Science Alumni Career Panel and Job Fair (free), 3 p.m. April 16, Alumni Hall
EmpowHERment Group (free), 3 p.m. April 16, Pedroso Center
"Unlikely Connections Examined: A Scholarly Journey" presentation by Mateo Farzaneh (free), 3 p.m. April 16, Pedroso Center
Jazz Lab Band (free), 3:05 p.m. April 16, Auditorium
NEIU Guitar Ensemble (free), 7:30 p.m. April 16, Auditorium
"Endgame" ($10), April 16, 17, 18, 23, and 24 at 7:30 pm and April 25 at 2 p.m. and 7:30 p.m., Stage Center Theatre
Jewel Box Series: Kontras String Quartet ($15/$25), 7:30 p.m. April 17, Recital Hall
ARTRAVAGANZA Juried Student Art Exhibition Reception and Awards (free), 6 p.m. April 17, Fine Arts Building
Junior Voice Recitals (free), 1 p.m. April 18, Recital Hall
Junior Guitar Recitals (free), 3 p.m. April 18, Recital Hall
#FollowFriday
#NEIUgrad
May graduates and guests: Let your pride shine! Use hashtag #NEIUgrad on all your Facebook, Twitter and Instagram posts on Commencement day for a chance to be seen on the UIC Pavilion's big screen. Go, Golden Eagles!
Do you have a story tip? Let the public relations office know!
Mike Hines, director of public relations, m-hines@neiu.edu, (773) 442-4240